We at Talking Hawks want to give Hawthorn fans an experience. Subscribe to Talking Hawks for exclusive fan experiences and get involved in livestreams with Hawthorn players
Sitting at 3-4 with a brand new game style, the Hawks are truly in their next generation and after a really encouraging performance against the Dees, the Dons await. 
The Hawks haven't played a team with a worse win-loss record than them since the Port Adelaide game in Round 2 and the Dons are in horrific shape, sitting at 1-6. 
Last Time We Played 
Round 14, 2021 
Hawks – 10.13.73 
Bombers 13.8.86 
Disposals – Mitchell 36, O'Meara 31, Impey 25, Howe, Scrimshaw 23, Wingard 22 
Goals – Koschitzke (3.2), Breust (3.1), Mitchell, Wingard (1.2)  
It was a high quality game at UTAS for the old enemies but Jake Stringer, Nick Hind and Sam Draper put on a clinic and with accurate goalkicking, got the job done over the Hawks. 
The Hawks rued their chances in the last quarter, kicking 2.5 to the Dons' 4.3. 
Team News
In's – Harry Morrison, Denver Grainger-Barras, Josh Ward 
Out – Liam Shiels, Connor MacDonald, Connor Nash (all managed) 
Mitch Lewis has a non-COVID related illness which will keep him out for another week but Jackson Callow gets another go and Changkuoth Jiath's hamstring is still keeping him out but an expected return in a week or two.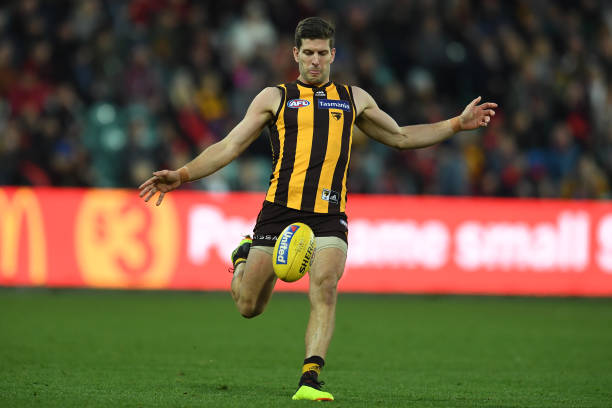 Nash was subbed off with quad tightness and will sit out and Liam Shiels as the 'plug and play' style year he's had drops out for Morrison but keep an eye on Connor MacDonald, who may come back into the side if Chad Wingard doesn't get up, with reports he may be a late out. 
Denver Grainger-Barras comes back after not getting up after a five day break and may be given the job on Peter Wright, although the resting ruckman looks more likely. 
How the Hawks win
The Bombers are the number one team in the competition for disposal efficiency but 15th for metres gained in the league. 
What does this mean? 
They're happy to handball and not take territory across the ground, which is how they're putting their defence under pressure.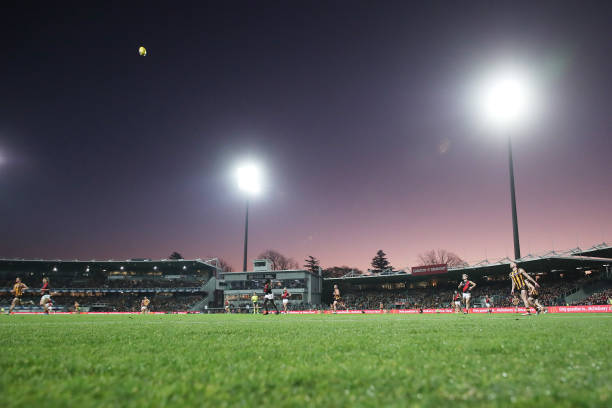 That defence that has let in (in order) 138, 97, 99, 99, 107, 93 and 103 points with an average of 105.1 points conceded per game. 
With the Hawks putting 81 on the Dees in a performance that left the almighty Melbourne conceding more points in a game this year than they have previously in 2022, the front half of the ball are going to get plenty of chances to put the Dons away. 
That leaves it up to the defence in order to stop the Dons staying with the Hawks in terms of scoreboard pressure. 
Jacob Koschitzke is coming off a four goal on a premiership defence, Luke Breust and Jack Gunston average over 1.5 goals per game against the Dons (Gunston over two) and in Round 1, 2021 against the Dons at Marvel, Dylan Moore kicked three in the third quarter. 
The Bombers are also a bottom six team in terms of pressure in their forward half and so James Sicily, Jack Scrimshaw, Jarman Impey, Blake Hardwick and Harry Morrison to clear the ball with speed. 
The wings are also a need for speed with Will Day, Morrison if he's there and potentially Josh Ward to continually move the ball forward as the Hawks are a top eight team for scores per inside 50, whilst ranking 17th for inside 50's. 
Concerns
The Hawks have been lauded with praise of an elite defence this season but in the last month, are averaging 100.5 points against. 
The Hawks have given up 3+ goals to ten different players in the last month which is a huge concern, as in the first three weeks, that number was three. 
Whilst the blame could be put on the likes of Sam Frost, DGB and the like, it's truly a lack of midfield pressure defensively that's causing a chasm between the centre square and the forward 50 for opposing teams to walk through. 
Darcy Parish and Zach Merrett don't have Jake Stringer to be that X factor but both still need to be treated with respect, regardless of current form. 
Parish is averaging seven clearances a game and Merrett is averaging nearly four so they still need to be made to be accountable. 
Speaking of needing respect, "Two Metre Peter" is another who needs it. 
With 17 goals so far this season, Wright is a contested marking beast and Sam Frost has his work cut out for him. 
TH Spotlight
Jai Newcombe 
Not only is he our sponsored man but the 'Duke' is averaging 25 touches, nearly seven marks and four tackles across the last three games and is rocketing into Peter Crimmins Medal contention. 
Whether he tries to nullify Darcy Parish, goes free or tries to nullify Zach Merrett, we are expecting big things from our man.