We at Talking Hawks want to give Hawthorn fans an experience. Subscribe to Talking Hawks for exclusive fan experiences and get involved in livestreams with Hawthorn players
25 points up halfway through the third quarter was a result most Hawks fans predicted and all that was needed was the coffin closed and lowered on a dismal Bombers performance and season. 
What transpired over the next 47 minutes of football was nothing short of shambolic, embarrassing and for some individual players, horrifying. 
Whilst we at Talking Hawks (and Daz specifically) do accept the good with the bad and know this is a rebuilding list, the big picture remains intact.  
So how did every player perform? 
Harry Morrison
Did not have his colours lowered all night which was pleasing, as he returned to the side after a week off. 
Played a bit off half back and wing and roamed the ground beautifully, having 23 touches, eight score involvements, seven marks, four clearances, three inside 50's, three rebounds, 460 metres gained and three intercepts. 
What's cost Morrison a higher rating is seven turnovers, resulting in three goals for the Dons. 
Rusty? Perhaps. 
Tom Mitchell
As raw as the loss is, what the 'kids first' policy has taught us, is Titch doesn't seem to have a Plan B to stay in games. 
Looking at other midfielders, Christian Petracca and Patrick Cripps can go forward and impact, Callum Mills is already an established half back flanker, Rory Laird was an All-Australian back pocket, Jack Steele and Josh Dunkley are tackling machines and even opponent Darcy Parish began his career at the graveyard that is half forward. 
Mitchell was lost throughout his 14 disposal performance and with 18 CBA's (centre bounce attendances), even a 'change of role' excuse isn't valid. 
Jarman Impey
Everything Jars does is seemingly the correct decision, but it's all a level of execution and he did it mostly well. 
However, only 11 metres gained per disposal was low for a player of his talent and five turnovers were not great but seven marks and 16 pressure acts was pleasing. 
James Worpel
Worpel has now had five games with 15 or less disposals. 
Yes, one as a sub but he was a sub after having five disposals against St.Kilda.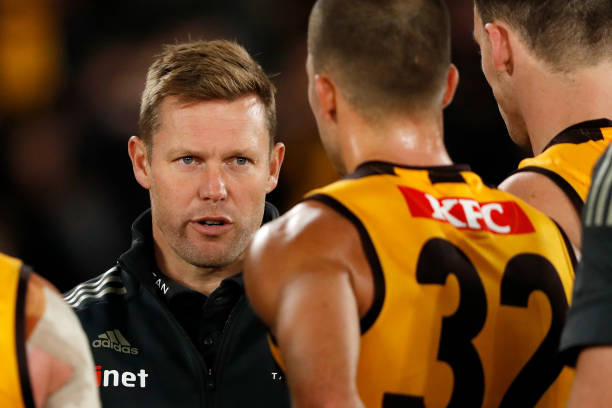 15 disposals at 67% efficiency, five score involvements and four clearances was the better parts of his day, 
However, he had 22 CBA's and nearly 82% TOG and did not influence the contest at all. 
The 2019 best and fairest winner is arguably the fourth best midfielder at the club which at 23 years old, is not where his development needs to be. 
James Sicily
Is the next captain and it isn't even close now.
Sis is a born leader and led by example for a lot of the game. 
Went at 91% DE across his 22 disposals (including 16 kicks), including seven marks, seven intercepts, seven rebounds and 499 metres gained. 
Showed some trouble jumping at the footy in a one-on-one contest however, having been out-marked by Aaron Francis (a failed defender), Ben Hobbs (a fourth gamer) and Kaine Baldwin (a third gamer) on occasion. 
Sam Frost
When your opponent kicks six, takes eight marks, kicks three goals in the last quarter and you concede four free kicks, it's a nightmare outing. 
Hasn't been a good fortnight for the Snowman. 
Jaeger O'Meara
Was the Hawks' best across all four quarters and the captaincy handover seems to have done him the world of good. 
Had 17 kicks amongst his 28 disposals, six tackles, six inside 50's, 25 pressure acts, 459 metres gained, five marks and four clearances. 
Not to mention 13 score involvements and 11 contested possessions. 
Also looked to have an extra yard of pace and spread from the contest.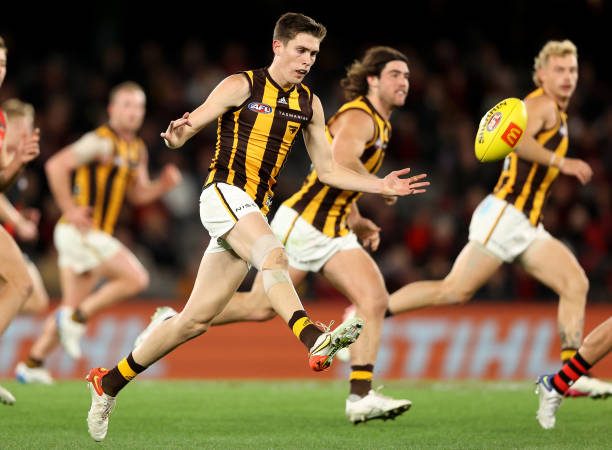 Will Day
Let's get the negative out of the way first of all: 
You 
Are
A
Right
Footer
Will! 
Whilst many things Day did were correct, mistakes in that last quarter are going to be magnified.
Day did have a good night beyond that, with 23 disposals at 91%, six intercepts, five marks, four rebounds and nearly 300 metres gained, and even had a clearance. 
Would love to see him play centre bounces in the second half of the year and moving forward, on a permanent basis. 
Dylan Moore
Making waves in terms of not only best and fairest calculations but an All-Australian spot as well. 
Another 20 & 1 performance (so close) but didn't use the ball as well as previous games (60% efficiency) but eleven marks and four score involvements are a plus. 
Played a lot higher up the ground the longer the game went on and finally broke his drought of scoring in the second half (a behind in the third quarter). 
Jack Scrimshaw
Is a top five heart and soul performer on the field is Scrim and had another outstanding performance at Marvel. 
25 disposals at 88% efficiency, seven rebounds, six marks, five intercepts, 281 metres gained, a dozen pressure acts and was a wall of composure all night long. 
Dimma has been a player who's finished higher in best and fairests than expected and I expect Scrim to be one of those finishers with these performances
 Blake Hardwick
It's not the first time Dimma has had a down game in 2022, but this was the least impactful game he's had so far. 
Took six marks which was nice but ten disposals and nothing else of note on the field or statistically, was not a performance worthy of his talent. 
Lachie Bramble
Didn't have a turnover at all across his 16 touches and was really composed across the night. 
Took five marks, had four score involvements, three intercepts and had a little less than 15 metres per disposal. 
Is coming back to form nicely. 
Max Lynch
After coming up against Max Gawn last week, all eyes were on Lynch in his response and in the first half, he dominated. 
He kicked 2.1, had ten disposals, took four marks, had six score involvements, 18 hit-outs, three clearances, three inside 50's and took three marks inside 50. 
Second half was much quieter due to a knock that led to a concussion test which isn't ideal but did really well. 
Jack Gunston
Oh, Jack. 
2.4! 
Could've (and should've) kicked five or more which was frustrating but he presented really well and showed his high footy IQ. 
Had ten score involvements, took eight marks and embarrassed more than one opponent, amongst 361 metres gained on the day. 
But Jack, kick straighter son! 
Was the best set shot goal-kicker from 2012-17 and it hasn't gone well this year so far.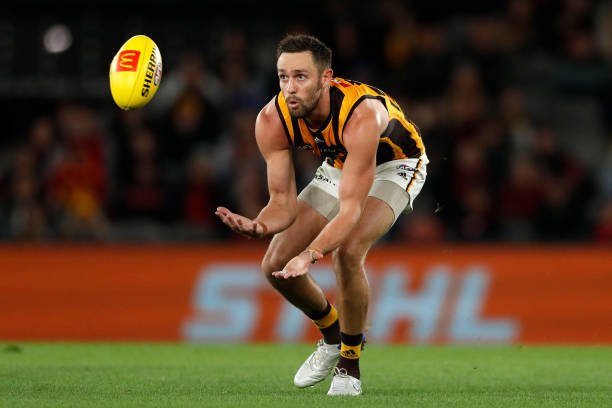 Luke Breust
Punky was just a non-factor in the game for long stretches which was really flattening. 
Only the eight touches and yes he kicked a goal, along with 14 pressure acts but only one tackle, two marks and all of that with 75% TOG. 
Jacob Koschitzke
Took his chances and kicked a couple of goals which keeps him out of the ire of the review and did his job as a tall. 
With Mitch Lewis out, being the No.1 tall has been a struggle for Kosi but ten pressure acts is really pleasing. 
With no Ridley or Jake Kelly, could've made it a big day but had a serious lack of supply in the last quarter and a half. 
Denver Grainger-Barras
Our man struggled to have any impact on the contest which wasn't the return to the side we would have loved to see but with a young player with plenty to offer, he's not the one to put the blowtorch on. 
Had three intercepts and used the ball at 100% which was nice but with a Jack Riewoldt matchup coming up, it needs to be a big bounce back. 
Josh Ward
One of the best games from Wardy in terms of his decision making and the week off did him the world of good. 
He used it at 86% but also saw the ground really well, put teammates in space and to quote what we usually say about Connor MacDonald; 'we can't wait for him to get 20+ disposals consistently.' 
Connor MacDonald
Nailed an absolute ripping set shot from 40-45 out to show his class and flair and finally brought his pressure that he showed at U/18 level, with three tackles and ten pressure acts. 
Was set for a rest this week before Chad Wingard was withdrawn and should get the rest this week and it's required; C-Mac didn't have an impact in the second half. 
Finn Maginness
Has grown before our eyes in the last fortnight. 
From an absolute lockdown role on Ed Langdon that earned him four stars to an 18 disposal, 78% efficiency, six score involvement, five marks, intercepts and four inside 50 performance that has made Daz (and plenty of other supporters) eat humble pie. 
Whilst this by no means establishes Finn as a walk up starter, his goal from 50 and his confidence, athleticism and ball hunting ability (eight contested possessions) was a glimpse into the future player he can be. 
Well played young man. 
Jai Newcombe
One of the best individual first halves we've seen since Tom Mitchell in 2018 was played by the Duke and he was stiff to miss out on best on ground, but he had six disposals in the last 76 minutes of game time. 
However, that first half of 22 disposals, six marks, four clearances and four inside 50's whilst going at 73% efficiency was simply outstanding and he even made Zach Merrett and Darcy Parish look less talented than him. 
Is now our best midfielder which is elite for Jai but not good for more experienced midfielders. 
Jackson Callow
Had some really good moments did Buckets and looks comfortable enough at the level.
Took two very nice contested marks, had a handful of hit-outs against Sam Draper and a half dozen contested possessions. 
No qualms here about maybe not a massive performance as way more senior players were not good enough and he was played out of position and put everything into it. 
Peter Schwab discusses the performance of the Box Hill VFL and VFLW teams