We at Talking Hawks want to give Hawthorn fans an experience. Subscribe to Talking Hawks for exclusive fan experiences and get involved in livestreams with Hawthorn players
It was truly a marvelous start to the game on Friday night, having a 26 point lead in the second quarter and looking really strong, before conceding 13 goals in a row and getting completely wiped off the park. 
4-10 and if the season ended now, would have Pick 4 (5 due to Brisbane getting Will Ashcroft) so all eyes will be on the top candidates (article coming soon and the youngsters coming through at the Hawks. 
So, the regular scheduled questioning continues here at TH, how did every Hawk go?
Harry Morrison
Had a really nice couple of moments but his down moments were really down. 
Laid three tackles but with 16 pressure acts, the conversion rate has to be better, only went at 50% efficiency. 
Had six score involvements which were handy but when the game slipped away from the Hawks in the third quarter, he had one solitary possession and it was a turnover. 
Mitch Lewis
Four years, four stars!
Fresh off signing a new deal to take him past restricted free agency, Lewis' new challenge was how would he play with a sense of off field freedom?
Players famously in the past can't back up a contract season so when he took a mark on the wing and three disposals later, floated across the pack to take a mark and kick the Hawks' first, the answer was clear.
15 touches, nine marks, 4.2, nine score involvements and a dozen pressure acts were an outstanding summation of his game and once this Hawthorn outfit can get an inside 50 game going, he'll be so dangerous.
Needs some forwards to help him, he can't run the show.
He really is special, is the No.76 pick in the 2016 National Draft.
Tom Mitchell
The rushed kick was back!
In today's AFL, when you've got the ball forward of centre, you need to be making plays for your forwards.
Had six score involvements but only the three inside 50's, which when you compare to a Marcus Bontempelli (11) or Tom Liberatore (six), it didn't stack up.
Won six clearances but only two out of the middle, out of 21 CBA's.
Is he a Hawk next year?
Jarman Impey
Took a nice mark in the second half and didn't waste the footy (82%), whilst always wanting to create from half back.
Had four intercepts, 15 pressure acts and when the chips were down in the third quarter, he had five disposals at 100% and a couple of tackles.
It wasn't his best game of the year but he was really solid throughout.
James Worpel
Welcome back Jimmy!
Played a better Tom Mitchell-esque game than Tom Mitchell did!
Only had nine kicks versus sixteen handballs which resulted in a stifled metres gained count but led the Hawks for clearances (seven) and contested possessions (16).
It isn't the type of game he needs to play consistently but it was a good return to the side.
Still needs to take care of the footy.
James Sicily
Another 22 disposals and nine marks for the main man down back but he was exposed in the air when defending Jamara Ugle-Hagan and Josh Sdhache.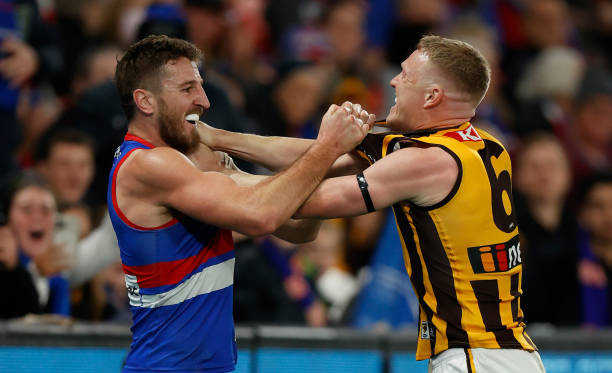 Most of it isn't his fault as Denver Grainger-Barras, Sam Frost and Kyle Hartigan weren't playing but when he had an opponent to deal with, he looked out of his depth.
Went at 91% efficiency (7 of his 8 turnovers were kicks longer than 40 metres and six of them resulted in either a contested mark to the Dogs or a free kick to the Dogs so he's a bit stiff), had nine rebounds and 514 metres gained.
Without the ball, he struggled and with it, he was very good. That's a three star for me.
Changkuoth Jiath
Wasn't CJ's day at all.
Had 16 disposals but six of them were turnovers, he looked panicked at times, laid one tackle, didn't rebound out of defensive 50, only put it inside 50 once and it was a behind and after that behind, had one more score involvement.
Is an excitement machine but there wasn't a lot to get excited about on Friday night.
Jaeger O'Meara
Had one of the quietest 21 disposal games in recent memory.
Had five clearances, five inside 50's, 22 pressure acts and over 300 metres gained so the stats will say this is really harsh.
Only went at 57% efficiency and his set shot spraying from 45 metres was the nail in the coffin on an unlikely comeback.
Didn't have the impact his stats suggested for mine.
Conor Nash
Played as the second ruck and got himself half a dozen hitouts, five score involvements and 18 pressure acts but his impact was minimal.
Yes, the role had an impact on his performance but when there's 13 centre bounce attendances, 11 ruck contests and only one clearance, that's a problem.
Just signed a two year deal and will have better performances than this.
Dylan Moore
We are starting to run out of positive adjectives for this man but my goodness, he is a young star and we can only hope the All-Australian selectors are looking at him.
16 disposals, eight tackles, six marks, 81% efficiency, seven score involvements, 22 pressure acts, 233 metres gained, four inside 50's and even had four centre bounce attendances.
Big Dylza's work rate is insane, epitomised by how he was the player who burst from the centre square to try and stop Rhylee West from kicking a goal late, when the game was done.
If you haven't got 13 on yours or a young one's jersey, it needs to be considered strongly.
Jack Scrimshaw
Best game of Scrim's career? Quite possibly.
26 disposals (most for the Hawks), thirteen intercepts (most on the ground), twelve marks (easily the most), five rebounds, four score involvements and 88% efficiency.
Gold Coast might be doing well but how they let this man go for a fourth round pick is insanity.
Their loss is one of the better gains post threepeat.
Blake Hardwick
Dimma's first quarter looked like pristine viewing; covered the ground magnificently, got the ball, used it well and looked as composed than ever.
From there, he played a lockdown role on Cody Weightman and the footy pundits will excuse Weightman's performance as a result of his elbow injury but he had one disposal.
Not in the first quarter, for the entire game!
Lockdown Dimma, back to his best.
What a star.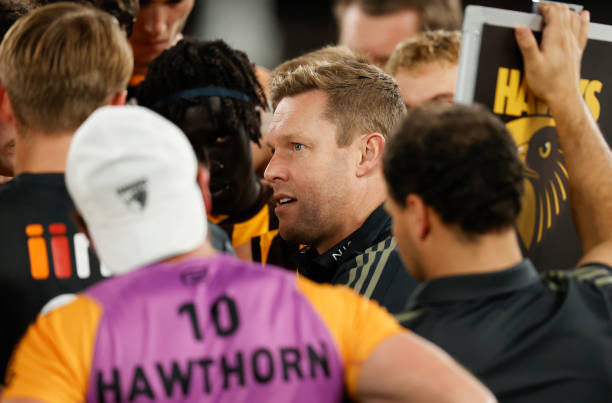 Lachie Bramble
This man has one of the best sidesteps in the league, period!
His ability to create space whilst in a pocket of room is extraordinary and he continually makes good decisions.
Went at 88% efficiency and the only blemish on his night was kicking two points.
Dan Howe
Looks really comfortable on a wing and stood up really strongly in the air.
The bit that is the gripe of the fans is how Daniel can make difficult kicks look like the easiest thing on a footy field but simple kicks look damn impossible.
Had four rebounds, three inside 50's, 14 pressure acts and 343 metres gained but eight turnovers resulting in five goals for the Dogs knocks a solid performance down a touch.
Harsh? Potentially but a 42 point loss will do that.
Luke Breust
Another three goals for Punky and went past former Hawks legend Dermott Brereton on the all time goalkicking tally, which was a fantastic performance.
Had 16 pressure acts and nearly 300 metres gained (which as an average would be rated above average for general forwards) were had by Punky and another underrated campaign continues.
Jacob Koschitzke
Took a really good grab after a quiet patch in the third quarter and from 35 on a slight angle, took four steps, lent back and missed it to the right.
That kick was the summation of Kosi's day as he only had half a dozen disposals (four of them turnovers) and no impact on the game.
Hasn't had a chance to be a centre half forward all year and even spent some time down back.
Is out of contract at the end of 2023 and it might be a career defining one for him.
Liam Shiels
Bit stiff on Pup here as he clearly had a problem with his neck and jaw. 
Only had the ten touches but 14 pressure acts and four tackles were solid enough but for a 250 gamer, couldn't get into the contest. 
Sam Butler
Was on track for a real stinker of a performance as all the 50/50 ball wasn't going his way but his last quarter was extraordinary. 
20 pressure acts for the game was really encouraging for the second round draft pick and his five disposal, two mark and one goal performance was a really good reward for effort. 
Whether Sam Mitchell wants to keep him in the side for the experience or go and dominate at Box Hill, he (and fans) know that the Hawks have got a beauty. 
Connor MacDonald
Was the most mature performance C-Mac's had at senior level. 
The bye clearly did him the world of good and a 19 disposal, six score involvement, four mark, 16 pressure act and 280 metres gained performance later, the boy from Doveton is having an impact. 
The other aspect of his game that was so pleasing was his kick to handball ratio (12-7) and his foot skills were mostly really good. 
How exciting is this draft group?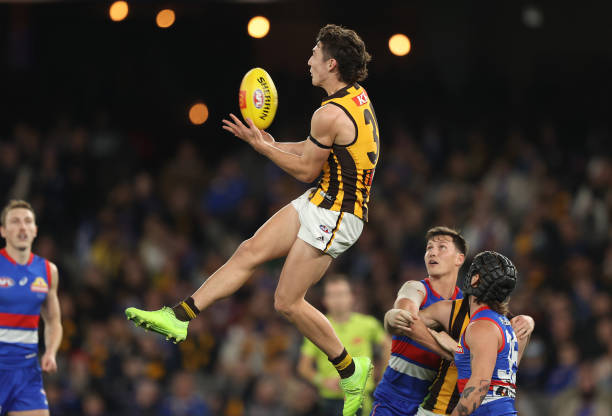 James Blanck
Well, hello there Mr Blanck! 
What an impact this young man had in his debut and with no senior key defender down there, he was extraordinary. 
He didn't lose a contest against Aaron Naughton all night and was pretty unlucky in a couple of contests. 
The draft needs have been lessened now that DGB and Blanck can grow together under Sam Frost and Kyle Hartigan. 
How clean is this bloke by foot too?! 
He's a gem. 
Ned Reeves
Wasn't the most encouraging sign that although he had 31 hitouts, the Hawks lost the clearances by eleven and he had nine hitouts sharked. 
Kicked a nice goal (could show a few teammates how to kick a set shot) and had four clearances but with no Tim English, a Jordan Sweet and Josh Schache combination isn't nearly as formidable and it wasn't a dominant performance at all. 
Has still got oodles of talent does Noodles and will be better for the run but with eight games left, he's got time to finish his year off magnificently. 
Jai Newcombe
His last two weeks haven't been his best and he wasn't at his prolific, bullocking self. 
He had some good moments and his goal late was good reward for effort.
Took five marks, had five score involvements, five intercepts, 26 pressure acts and 302 pressure acts, which all sound unreal but as part of a midfield group who were smacked around the park, he had 22 centre bounce attendances for one clearance. 
Zero stoppage clearances as well for the Prince of Poowong and with a Giant task ahead of them next week, he needs to be better around the contest.