We at Talking Hawks want to give Hawthorn fans an experience. Subscribe to Talking Hawks for exclusive fan experiences and get involved in livestreams with Hawthorn players
How good's a win? 
Whilst not filled with perfection for four quarters, there are a lot of positives to take out of this game, not the least of which was the Hawks' 1,000th win in the VFL/AFL! 
We did it for Ray, we did it for Paul, we did it for the fans and we will ride every bump with an ear splitting grin. 
So, how did every Hawk go? 
Harry Morrison
In the first two minutes, he'd missed two tackles and dropped a sitter of a mark that could've had him 40 out with a chance for a goal and the sunken hearts of Harry fans were evident through the screen. 
However, 90% of what he did after that was excellent; he kicked a goal, finished with 21 disposals, took seven marks, had five tackles, 27 pressure acts, 386 metres gained and four inside 50's. 
With a potential Karl Amon midfield move, Harry still has a spot on the outside of the contest and is developing very nicely. 
Laid the foundation for a four star performance but eight turnovers that led to four scoring chains for the Crows just knocks him down one. 
Mitch Lewis
Had eight stars in the first half! 
That was an unbelievable first half; ten disposals, three marks, five goals(!) and made a much improved Jordan Butrs look like a VFL defender. 
The service to him was elite, he was hitting packs and even kicked one in play on his left! 
Nick Murray played him a lot better by suffocating his space but the delivery to him inside 50 was poorer in the second and it's of no fault of his that he barely got a look in the second half. 
We know Aaron Naughton, the King brothers, Oscar Allen, Harry McKay and Charlie Curnow are going to be talked about for a long time throughout their careers but this guy is going to be a handful for a decade. 
Tom Mitchell
A six disposal and two clearance third quarter showed why Titch is still important to this footy club. 
The midfield group allowed the Crows back into the game through Rory Laird and Ben Keays getting first use of the ball and if it wasn't for poor field kicking, the Crows would've been a lot closer. 
Titch only kicked the ball eight times and had 160 metres gained but his handballs set up players in space. 
Conor Nash was on the receiving end a couple of times and Jai Newcombe was in the last to help set up a game sealing goal. 
Had six clearances, six intercepts, four tackles and 26 pressure acts in just the 74% of game time he had. 
Jarman Impey
Keep
Jars
Forward 
Permanently! 
Those vice like hands, his craftiness, speed and pressure around the ball were all on show and looking excellent!
Kicked 1.3 and could've easily had six which costs him in this ranking but when you're a smaller forward having four shots, seven score involvements, 21 pressure acts and 325 metres gained, there's a lot of love coming your way.
Took five marks too and gave a dynamic look to a forward line that kicked its highest score in a first quarter this year and the highest score the Hawks have kicked since the 117 against Brisbane in Round 10. 
James Sicily
Started on Taylor Walker and got exposed on the lead early in the piece and wasn't made to pay as much as you'd expect but from quarter time onwards, Sis was elite. 
Some of his kicking was with laser like precision which is to be expected from the man who kicks it like an arrow. 
He took another 13 marks, used the ball at 83%, had eight intercepts, seven rebounds, 520 metres gained and four score involvements. 
Hope the All-Australian selectors know your blazer size Sis! 
Just don't play on outside the boundary line, hot tip from Daz. 
Ben McEvoy
Welcome back skipper! 
It's so good to see you again! 
Laid four tackles and had 20 hit-outs but whilst you might be wondering; "does that really constitute a pass mark?" 
He came back from a fractured neck, we won, he's the skipper and we love him!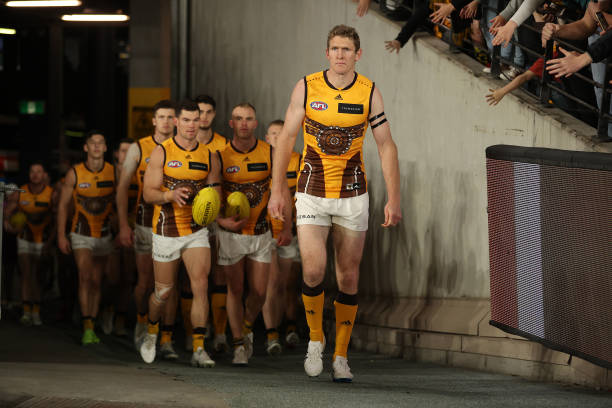 Changkuoth Jiath
Last week it was James Blanck and if there's going to be a controversial entry, this one looks like the talking point. 
24 disposals, eight marks, seven intercepts, 594 metres gained, four rebounds, three inside 50's and 16 pressure acts all look like top quality stats. 
However, what brings CJ back is the lack of plan that formulates when he's in motion and trying to set up a play. 
Too many times he kicked to grass or to the disadvantage of Jacob Koschitzke a few times so whilst the line breaking is ultra exciting, if the ball isn't going to productive places, it cancels out. 
Jaeger O'Meara
One of his best games in a Hawthorj jumper! 
It seemed like all of his 20 disposals packed a punch and when you add in 410 metres gained, 21 pressure acts, five tackles, four marks and a nice set shot goal, you've got a winner. 
He always wanted to go forward with the ball too with his seven inside 50's which is a KPI of how threatening he is on game day. 
More than a solid performance; one of his best. 
Conor Nash
Best game I've seen him play, period. 
The chase down tackles, the really nice finish, the 82% disposal efficiency, the balance of kicking and handballing into space, having eight score involvements and six intercept possessions, it was a clinical performance. 
Metres gained for such a big midfielder is a great indication of the damage so considering there was over 300 for just ten kicks (and twelve handballs), that's outstanding. 
Had 25 pressure acts and took five marks too. 
Dylan Moore
Us Dylan Moore fans (the TH family know who they are) are leaping for joy this morning thanks to a dominant best on ground performance. 
"19 & 1" sacrificed a goal for ten extra touches as he had 29, eight score involvements, eight inside 50's, seven marks, seven tackles, 498 metres gained, 28 pressure acts and five clearances! 
Had 15 centre bounce attendances too which was a career high and something we'd love to see more of in the future. 
Well played Moorey!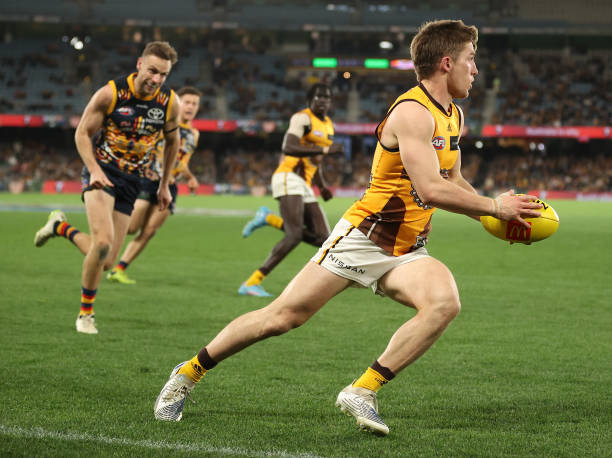 Jack Scrimshaw
Had some moments of unbelievable maturity down back and at times looked the only one who was competing in the air and neutralising contests in that third quarter. 
Also had moments where it looked like he'd never kicked a footy before but overall, Jack was good once again and might be the most consistent Hawk of 2022. 
Had another 25 disposals, nine intercepts, six score involvements, five marks and went at 72%. 
The Suns are going unbelievably well as we know but how they gave him up for peanuts is mind boggling. 
Blake Hardwick
Another who played one of the best games that we've seen them play is the great man Dimma. 
A career high 32 disposals, eight marks, seven intercepts, seven score involvements, 373 metres gained, five rebounds, four tackles and 14 pressure acts.
Looked and played like the general of that backline and Adelaide have zero small forward threats so he was freed up. 
Went at 88% efficiency too. 
Luke Breust
Didn't have a handball all game and when Punky is given eleven chances to kick the footy, he'll get you but he mightn't have with just a 36% disposal efficiency. 
Set up Mitch Lewis with a composed kick after shaking off an opponent, kicked two goals himself, had seven score involvements and laid five tackles. 
Isn't required to have any midfield impact as that isn't his role anymore but he looks threatening every time he goes near it.
Jacob Koschitzke
Had a couple of patches where it looked like he was going to be ripping the game apart in the third quarter. 
Had a nice finish around the corner and flew for everything but it just didn't stick for him. 
Had five score involvements which is a tick but the No.23 looks out of form. 
Denver Grainger-Barras
Four intercepts were encouraging and the three Crows talls only kicked five between them which seems a tick but Denver was barely noticed on Sunday afternoon. 
Had some game time as a bridge forward which didn't really work, didn't have an inside or rebound 50, gave away three free kicks, only took one mark (which was a chip kick sideways to him) and didn't lay a tackle. 
His actual defensive work was okay but his impact on the contest was minimal. 
Josh Ward
Looked really shaky in the first half in his return but his second half was strong. 
Had ten touches in that second half at 70% efficiency and had 266 metres gained overall, along with 19 pressure acts, three intercepts and two clearances. 
Was perhaps a lesser return than hoped for the top ten draft pick but he hopefully has a good run home. 
Connor MacDonald
Used the ball at 91% efficiency, along with six marks and four score involvements so he was fantastic when he had the ball but the problem remains that he didn't find the footy enough.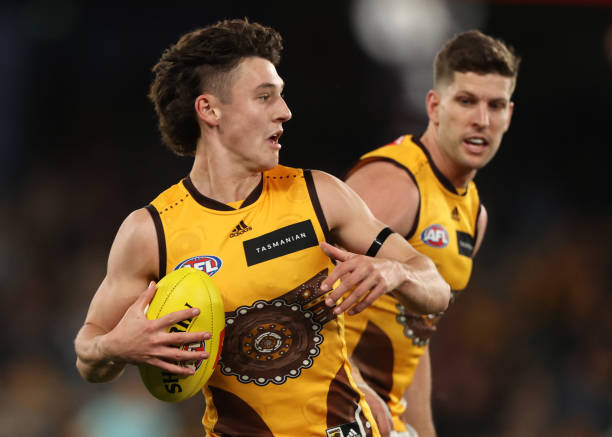 Only the eleven disposals read C-Mac's day so when he's having those stats with 20+, he'll be in the running for a late run five star performance. 
Finn Maginness
Coming into this week, Jordan Dawson was averaging 26 disposals in the last nine weeks, increasingly being a source of run, maturity, line breaking and forward 50 kicking that was causing headaches for opposition. 
Finn put a stop to that real quick by keeping Dawson to a season low (and the lowest he's had since Round 9, 2020) 15 disposals and although the former Swan had ten tackles, he had zero impact on this game. 
Maginness also laid seven tackles as well. 
What it means moving forward, it's hard to say and mat be even harder to predict but a massive tick for the son of Scott. 
Josh Morris
Looked shaky with the ball really early but the young lad put his head over it extremely well, showed some courage when required and worked his tail off all day. 
His impact wasn't the greatest but should be really encouraged by his performance and whilst he probably misses for Will Day next week, there's something there. 
James Blanck
Lost one contest all day. 
One! 
Blanck Space himself has this awesome ability to get an arm in, a body check with great timing and not lose one on one contests. 
Had a free kick against him that was egregious too but his ball use is another that stands out. 
Went at 92% efficiency so he'll never cough it up in bad ways and has the composure of a 150 game player and he's played three. 
What idiot only gave him one star last week? 
Ned Reeves
26 hitouts is a positive from the Reever and we always knew that when you've got two ruckmen, the impact is going to be lessened so this isn't a whack, just a fact. 
Kicked a goal and looked pretty good but if his game wants to go to another level, be a goal square threat and that will come, no doubt. 
Jai Newcombe
Had some moments in this game that just showed Hawks fans what a star this man is going to be. 
Had eight clearances amongst his 25 disposals, six inside 50's, five score involvements, 381 metres gained and 13 contested possessions. 
Didn't need to be a tackling machine but still had 15 pressure acts too.