Well, that was not a fun experience. 
In the first quarter, momentum was sliced apart by the whistleblowers and for the next two quarters, we had more turnovers than a Munich bakery. 
There does seem to be two pockets of Hawks fans; those who are only judging the first three quarters and those only judging the last. 
However, when asking how all 23 Hawks did when they stepped out on the park, we have to look at all of it. 
Here we go! 
Harry Morrison
Thought this was Harry's best game of 2022 and potentially of his career. 
Had 24 disposals, eight marks, seven intercepts, six inside 50's, six rebounds, 558 metres gained, 17 pressure acts, four score involvements and covered nearly 16km of territory. 
His six turnovers were high but if there's a positive, three of them were from kicks over 40 metres and of the other three, the Saints only kicked 1.1 from them so he wasn't necessarily punished. 
What is fantastic to see is how he's taking extra time to kick the footy, shown by 17 kicks and a disposal efficiency of 79%. 
Mitch Lewis N/A 
Has had a pretty poor four of the last five weeks has Mitch, with 0.1 against the Giants (albeit in the wet), 0.1 against West Coast, 1.0 against North and 0.1 this week. 
Didn't play half of the game (54 out of 117 minutes) due to a lower leg injury that looks like it could keep him out of the rest of the season. 
Tom Mitchell
It's not a great sign of your foot skills when fans are claiming you're kicking the ball too much, when you've only done it ten times. 
The frustration was justified though, as Titch on multiple occasions burned a teammate to wrap the ball around his body and kick to the Saints spare behind the ball. 
When he was around the footy and able to use his hands and be a link in the chain, he was one of the best, having 31 disposals at 81%, nine marks, 19 pressure acts, six score involvements, four clearances, four tackles and three rebounds. 
With the rise of young midfielders coming through, Mitchell's role in 2023 (if he's a Hawk) is going to be one to watch. 
James Sicily
For seemingly the tenth time in 2022, Sis with the footy was really good, and without it, poor. 
With the footy, 14 kicks, nine intercepts, six marks, six rebounds and 350 metres gained read his day but with no Denver Grainger-Barras, he looked lost. 
He wanted to go with Tim Membrey but was on the end of a defensive tag from Mitchito Owens, and both kicked a goal while he was their direct opponent. 
To sum up his day, Membrey finished with nine marks and played himself back into form and Sis dropped two sitters including one uncontested that spilled over the boundary line. 
Ben McEvoy
No one can tell us the Hawks don't walk talller with their skipper in the side. 
Rowan Marshall was the best man on the ground but when the going got tough in the comeback, Big Boy had five touches and six hit-outs, two to advantage. 
He finished with 26 hit-outs, 14 disposals, six score involvements, five tackles, four inside 50's, four marks, 22 pressure acts and a very nice goal. 
Has to play on next year while we develop the next generation of leaders at the Hawthorn Football Club.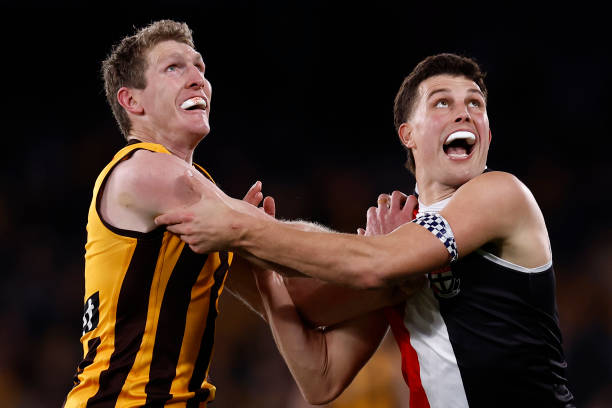 Changkuoth Jiath
Took five marks, laid four tackles and went at 86% efficiency, which are all fantastic. 
However, in the second and third quarters, when the Hawks needed to stand up and ride the wave, he had a combined four disposals. 
Had some good defensive moments on Dan Butler but CJ was nowhere his best. 
Jaeger O'Meara
Jaeger looks dangerous whenever he goes near the ball and although he was caught with the ball a few times, he was always looking to break a line and disrupt a very settled Saints defence. 
Finished with 21 disposals, 29 pressure acts, six inside 50's, four tackles, four clearances, four marks, 71% efficiency and 315 metres gained. 
Doesn't need 30+ touches to have an impact and has selflessly played a role on the half forward flank and allowed some younger mids to shine. 
Conor Nash
Was the Hawks' best at halftime, with 16 disposals and only one of them were ineffective. 
In the second half however, he had five touches and for the entire game, had two tackles, one mark, two score involvements, two inside 50's, one rebound and one clearance. 
Found the footy and used it beautifully and was an encouraging performance, but we can't help but think that more should've come of his good work. 
His kick to Dylan Moore in the second quarter, however? 
Outstanding. 
Will Day
Big Will looked more settled down back and was very solid. 
Had nine intercepts amongst his 19 disposals, 74% efficiency and had 463 metres gained. 
Looks at home down back but the problem for the Hawks is there looks like nine other blokes who look at home behind the football. 
Dylan Moore
21 and 1 gets you a tick every week and the No.13 was one of the Hawks best in those second and third quarters, for a combined 12 disposals. 
Took eight marks, had eight score involvements, laid seven tackles, had 329 metres gained and 31 pressure acts. 
Just one note on a non positive note Dyl. 
Five free kicks against, two that led to goals and four had scoring opportunities (2.1 and an out of bounds). 
Jack Scrimshaw
Started the game really well with five touches and two rebounds in the first quarters but only had four touches in the next two quarters. 
Eyebrows were raised in Daz's household when he nudged his opponent under the ball, played on and put it through, epitomised by the saying; "what's he doing there?" 
Had six touches (four in the forward half) in the last quarter and for the game, took five marks (two contested).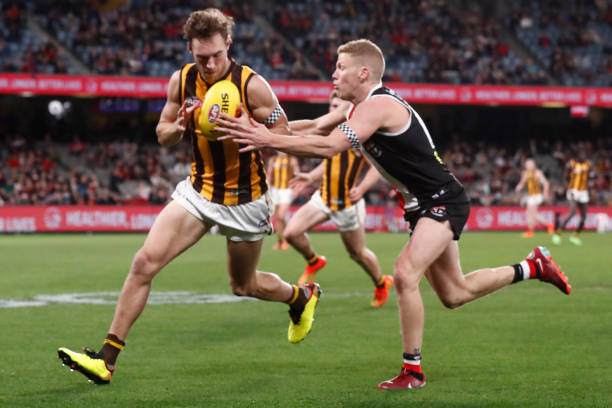 Blake Hardwick
Dimma is continuing his fine season and was good again, using the ball at 95% from 19 disposals. 
Had 437 metres gained, five rebounds, three inside 50's and won some good contests against Jack Higgins. 
Had a handful of intercepts as well and where he sits in the Peter Crimmins Medal count come the end of the year is going to be really interesting. 
Jack Gunston
From Aiden Bonar to Callum Wilkie, Jack had a mixture of a half decent opponent and abysmal forward 50 entries. 
Kicked the Hawks first from the goal line but just didn't have an impact after it.
Five score involvements and four inside 50's look good but 50% disposal efficiency and one tackle aren't enough from the great No.19. 
Luke Breust
Another senior player who was extremely quiet, Punky kicked the Hawks' last goal but apart from it, had five score involvements but his impact was minimal. 
Three turnovers, one tackle, one inside 50 and 93 metres gained read a day that didn't belong to the three time premiership star. 
Does have the reason of having awful delivery but the defensive pressure wasn't there. 
Jacob Koschitzke
Played three quarters for 16 metres gained and four disposals. 
Yes, he was injured with a thigh problem relatively early that restricted him to kicking only about 30 metres but his day was summed up when Jimmy Webster was able to spoil him twice in the first quarter. 
This is a centre half forward against a back pocket and not out-marking him. 
Big concern and hope his leg is okay. 
Josh Ward
How do you not love this kid?
Another 26 disposals and like before the Eagles game, we all wanted him to kick the football more and in the three games since, he's had 40 kicks and 32 handballs, which is the balance the outside midfielder role requires.
Took six marks, has had six score involvements, six inside 50's, five intercepts, five tackles, 17 pressure acts, three rebounds and three clearances.
He can try and take on too much by foot but a bit like the Hawks, when it comes off, the ground completely opens up.
His kick to Jai that resulted in a Ward-Newcombe-MacDonald-Butler sequence could be the highlight of the game, with next generation Hawthorn on full display.
Sam Butler
Was the only Hawk who looked like remembering what defensive pressure was, given his four tackles.
Deserved better than 1.2 but five score involvements, 14 pressure acts and three marks was a solid return.
Needs to stay in the side.
Connor MacDonald
Insert everything we said about Josh Ward; how do you not love this kid?
Another 19 disposals (16 kicks), 19 pressure acts, seven marks, six inside 50's, five score involvements and went at 84% efficiency.
When he fills out and gets the midfield time, he, Ward and Newcombe are going to be a frightening combination, alongside Dylan Moore and the top six draft pick in this draft, with Karl Amon on a wing.
Finn Maginness
It's pretty rare for a footballer to play four different roles in one game of footy but Finn was bestowed a quartet of responsibilities.
In tagging Jack Sinclair, he was outstanding, keeping Sinclair to three uncontested possessions in the first quarter and a half.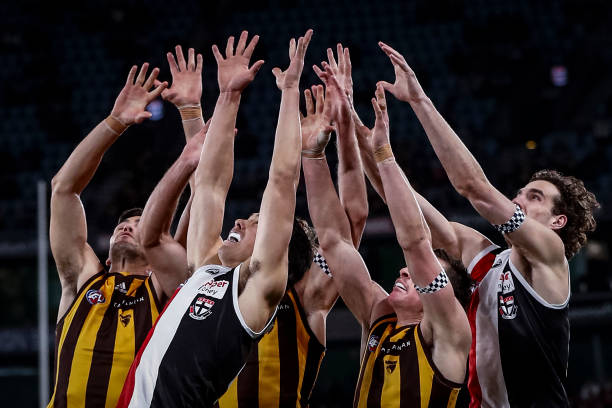 In tagging Brad Hill, he did really well, with Hill having four touches in the third quarter, when Finn was mainly on him.
In running with Jack Steele in the midfield, he was terrific, having three clearances amongst 15 centre bounce attendances.
The pressure (21 acts and seven tackles) was elite, six inside 50's are fantastic and 364 metres gained are very good.
The letdown was the ball use.
64% efficiency with a team high seven turnovers and considering he had 17 uncontested possessions, that's the next stage of growth in his game.
His growth already has been unreal too.
Josh Morris N/A
Don't think I've seen the Tank have a better start to a game than this one, and it was such a shame to see him go down.
Had ten touches for 197 metres gained, four intercepts, three tackles and three inside 50's.
Gave away three free kicks though which isn't ideal but he was a big ball of energy, with some outstanding kicks forward of centre.
James Blanck
Max King kicked 2.5 so it could've been a disaster day for Blanck, who gave King a bath in the first half, with only conceding two marks.
Blanck had four intercept possessions but with the ball, he isn't to be judged but should be judged without it and considering he was playing on a Pick 4 who the media keeps telling us is the best thing since sliced bread, he was good.
Emerson Jeka N/A
Came on as the sub and looked really solid as a defender, clunking a few marks and used the ball well.
Need to see more at AFL level we think and there's more evidence in 51 minutes on Saturday he's a defender than his other senior experience.
Very encouraging from the Jeka Express.
Jai Newcombe
In his 26th game, the Duke got tagged!
Marcus Windhager came off keeping Tim Kelly to four disposals and Jai struggled early, with his first two disposals being turnovers.
However, he went to a half forward flank and became a burst midfielder, as well as a scoreboard threat.
Kicked two goals from 21 disposals, took seven marks, had seven score involvements, five intercepts, 32 (yes, 32) pressure acts and only the four centre bounce attendances.
The rounded-ness of his game is continuing to develop, in a massive way.