By Liam McAlary 
From the reigning premiers to a team who lost by a point in a prelim, the Hawks' pre-season match ups won't be getting any easier as we take on the Pies this Thursday evening. 
However, it's the pre-season and results that mean less, with a higher priority on the performances of individual players and the way the team look being much more significant.
Despite a poor result against the Cats, the Hawks showed a bit but as the road to Round 1 gets ever closer, let's take a look at what we're keeping an eye on for the Pies game.
Forward Line Functionality
Although the delivery to the forwards was far from ideal against the Cats, the fact we kicked only seven goals in the first four quarters of footy is clearly a concern.
There's a balance of "Breust and Lewis were both out" but seven goals in a game of footy is nonetheless not good enough.
With Mitch Lewis out of the side (who kicked 20.55% of our goals in his completed games last season) and youngster Jai Serong unavailable with injury, the pressure will be on Fergus Greene, Emerson Jeka, Jacob Koschitzke, and the resting ruck to anchor the forward line and prove that some combination of them can lead us to a winning score.
How they combine to offer us a semblance of an aerial presence will be something we need to keep an eye on against the Pies, especially with talented smalls like vice-captains Luke Breust and Dylan Moore, as well as Chad Wingard, Tyler Brockman, and the newly re-signed Sam Butler buzzing around at their feet.
Moore simply has to play forward, because he can hit the scoreboard in a way that few of our other forwards can and he (along with Luke Breust) has also proven to be a reliable converter in front of goal.
The way we set up our forward line in more familiar and formalised conditions in Tassie (as opposed to match simulation at GMHBA Stadium) may give us some clues as to how we line up in Round One, especially with this being our last hit out against another club.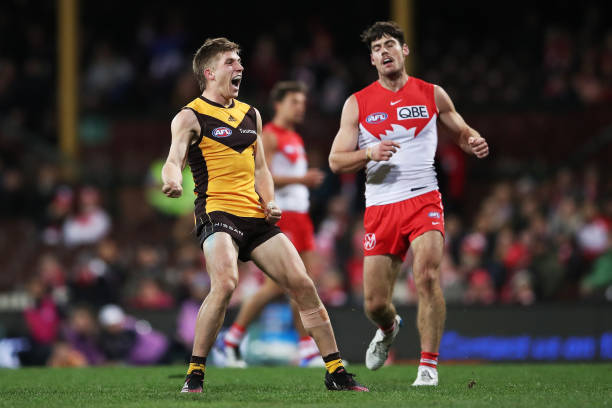 Given that we averaged around 2 goals per game less with Lewis out of the side in 2022 (10.43 in games he didn't play vs 12.86 in his completed games), how we sustain any kind of scoring prowess will be something we need to watch. 
Using the Hawk Highway
It's a thing now. Lock it in throughout 2023.
Fellow Talking Hawks alumnus Smithy has coined the term and Daz, Smithy, and I have all noticed the Hawks' relentless use of the centre corridor when we attended training at different times.
Attacking footy is a focus across all programs at the Hawks, with Bec Goddard wanting the AFLW side to play "ferocious and offensive" footy and Sam Mitchell emphasising a "no speed limits" approach for the men's side, so it's no wonder Bunjil Bagora needed resurfacing; the middle of the ground was getting too chopped up. 
With Tassie (a ground we tend to play exceptionally well) being a whopping 146m wide and over 20 metres wider than GHMBA,do we see an adjustment to make the most of the extra space?
We may see it being used in a zone defence, especially from the back half without the footy as pushing a Collingwood team who has some pace in Jack Crisp, Jordan De Goey, John Noble, Nick Daicos and the like wide, will give the defenders more time to block space in the back half, neutralising the offensive threats.
Midfield Combinations:
For years, many Hawthorn supporters have been annoyed at the monochromatic look and feel of our midfield group, and few have been louder on this than me. 
The best midfields of the last few years have balance and points of difference, something that our seemingly endless rotation of mainly inside midfielders between 5'11" and 6'1" with limited versatility clearly lacked. 
With the size, strength, and athleticism of Conor Nash, the added burst in Jai Newcombe's game, the class of Dylan Moore and Conor MacDonald, and Will Day's combination of size and class, however, it looks like we might finally be starting to get some options who aren't strong bodied, average sized, inside ball winners.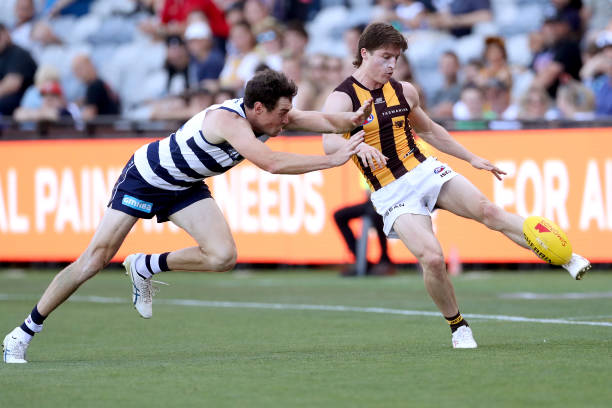 How we combine these players with the likes of Josh Ward, James Worpel, and Cooper Stephens (who is slightly bigger but might still be taken with a cautious approach as he recovers from concussion) is something that we need to work out, because some combinations are simply more effective than others. 
That doesn't even mention the likes of Cam Mackenzie, Finn Maginness, Josh Weddle, and Karl Amon, whose roles at centre bounces remain slight mysteries.
For example, a combination of Worpel, Newcombe, and Stephens is probably less likely to be effective than if Stephens were substituted for Nash, because he provides the size and athleticism to balance out two smaller inside bulls (although Jai can burst out the front of the stoppage).
I also can't wait to see which rucks work better with which combinations (will Lloyd Meek work better with slower midfields because he is more mobile or will we use Ned Reeves's extra size to try and feed better ball users like Cam Mackenzie?) 
Defensive Pillars:
With an embarrassment of riches when it comes to rebounding and intercepting defenders, our key position stocks are a bit less clear.
Emerson Jeka seems to have reverted back to the forward line, so that leaves us with Sam Frost, James Blanck, and Denver Grainger-Barras seemingly battling for two spots.
Frost is almost certain to play as a member of the leadership group, so that leaves two young key defenders battling for one position in the Round One side.
Denver was a high draft pick and clearly rated for his talent, although the "Blancket" is a superb one-on-one defender with great size, and is also severely underrated athletically. 
Speaking of size, Denver looks to be stronger and to have put on some size, although Blanck is still clearly bigger (they're pretty much the same height) but the biggest difference is Blanck isn't being moved in the contest the way Denver has when he's on Lloyd Meek and Jacob Koschitzke.
Given the Pies' lack of genuine key forwards, they may not be the best indication of which pairing will work down back in the early rounds, but how we line them up against the Pies will hopefully give us a good indication of the early season pecking order, as well as an opportunity to see how two young key defenders I really like are progressing.
We can't wait for the next time the Hawks hit the ground running in 2023 and we know you can't either.