By Liam McAlary
At the time of publication, there are five days until the Hawthorn men's team are back competing for four points, and although the so-called experts and some fans have predicted a grim season, there is still a lot to be excited about in terms of player development, and our attacking game style with our relentless use of the Hawk Highway.
Aside from Mitch Lewis, who looks set to miss at least the first few weeks, the medical room is pretty clear in terms of our top line talent so we will get a good early look at who Sam Mitchell sees as being important parts of our side both now and in the future.
As we get ready of the season, lets look at a few things to expect over the first month of footy.
Round 1: Home vs You Know Who 
Round One, hated rivals, 1983 premiership reunion, the… Bombers.
this game needs no further build up and if you aren't eagerly counting down the days for this game, then I don't really know if I can help you get excited. 
Finn is going to Zach Merrett here, with no real discussion or debate. 
Darcy Parish isn't the most damaging player with ball in hand (especially given the surrounding talent), Dylan Shiel has more turnovers than a Danish bakery, and Jake Stringer is unlikely to be fit for Sunday week.
That leaves one option so making a statement and stifling the new captain, who had just a 31.4% contested possession rate last season (whilst recording 5.5 inside 50s and seven score involvements from his 30.1 disposals per game) will be the task for the man fellow Talking Hawks contributor Tim has dubbed the "Human Padlock."
In all honesty, the fitness of our side might surprise us.
The Hawks had a number of last quarter fade-outs last year and have a young side without many pre-seasons under their belts but the kids have been flying in the running and Peter Burge will have the boys fit and firing.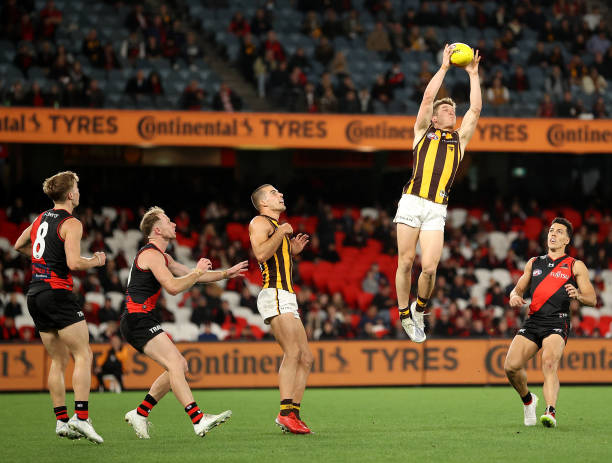 I think we want to learn how the ruck pair will handle someone who I think is a smoky for the All-Australian squad this year in Sam Draper, who is part of a cohort of young, athletic rucks set to take the completion by storm.
Does Lloyd Meek spend more time in the ruck to try and run with Draper and maybe even work him over defensively, allowing Ned Reeves to dominate the second ruck?
I am going to channel my inner Tim and Smithy here (a deep reach), but let's put it out there; I REALLY don't rate the team that we are playing against but I see this being a really close game with the Hawks maybe just eeking out a win by a single figure margin.
Round 2: Away vs Sydney 
We tend to play the SCG well and grand finalists who get belted tend to struggle, so this has the potential to be an intriguing game.
Finn has a range of options here, with Callum Mills, Tom Papley (if he plays midfield), and Luke Parker all being realistic options, although I think Chad Warner is so damaging when he gets the footy that he will be the target.
Although his kicking efficiency was a below average 58.7% last season, his ability to gain over 500 metres per game from 22.8 disposals, whilst also recording 2.2 shots at goal, 5.6 inside 50s, and seven score involvements is something that we will need to at least slow down, if we want to have a hope of winning.
I think we might be surprised by how well our backline stands up against the Swans, given our abundance of talented interceptors and rebounders and their relatively limited key forward stocks outside of a 36-year-old Lance Franklin, who was the only Swan above 190cm to average more than a goal per game in 2022.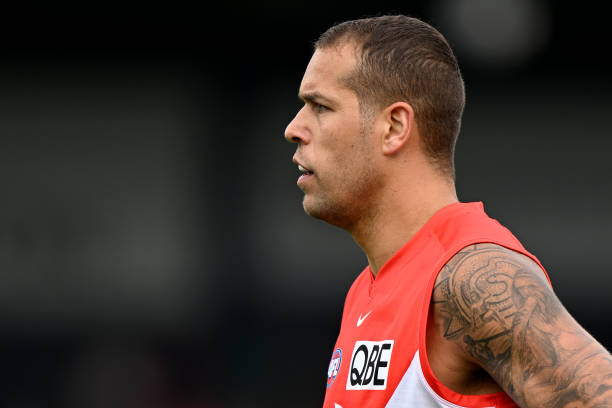 I think we might be more competitive against the elite small and medium sized forwards than the media and less optimistic fans (like I normally am) will expect. 
There isn't much space at the SCG so there will be a lot of contests where the ball hits the deck and goes into congestion, so I want to see how our very talented backline deals with this challenge that they won't be faced with too often but with the Swans' array of talented youngsters.
Ultimately, despite a valiant effort, I think that the Swans' array of weapons all over the ground will probably be too much, but it won't be as ugly as some predict.
Round 3: Home vs North Melbourne (Tassie)
There is not a Melbourne based fan who wouldn't give anything for this game to be in Melbourne, with the return of a four-time premiership winning legend to coach against the man he mentored in the biggest master v apprentice battle since the Battle of Mustafar. 
Nonetheless, the Hawks will be out to show that they remain the superior Tassie tenant, despite North Melbourne being almost certain to improve and now having one of the greatest coaches to ever live.
Finn will go to Jy Simpkin and will be hoping to replicate the phenomenal job he did last year, with Simpkin having almost no impact on the game and being limited to just 14 disposals at 43% efficiency, down from averages of 26.6 disposals at 63.7% efficiency. 
Dependent on the opening form of Luke Davies-Uniacke, he is another option but Finn v Jy has a history so it's a wait-and-see game.
I think we might be surprised by how effective North Melbourne's backline will be at bringing the ball to ground, even in the absence of Ben McKay, 
Griffin Logue finally gets a chance to play his preferred role and Aidan Corr might finally get his body right, so I think we might be surprised by how well the Roos exploit the absence of Mitch Lewis and his offensive prowess to bring the ball to ground or to intercept the ball and create counterattacks.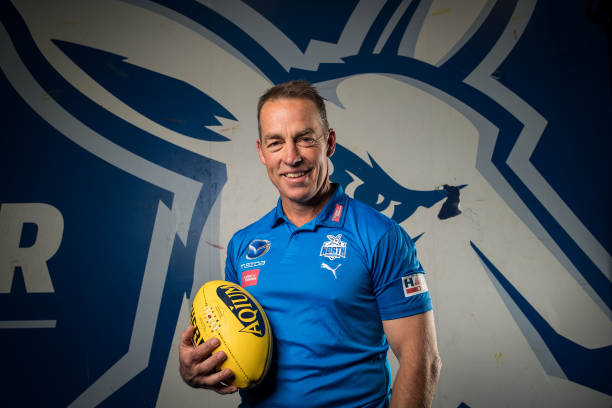 Consequently, my notepad will probably lean a lot on our small forwards, and how they deal with ball drops that look set to be controlled by our opponents, and whether they make the most of the vast spaces available to them in Tassie, if they can clear the initial congestion at ground level.
Sam Butler in particular (assuming he plays) is someone I want to watch in this game, because we know how smart Luke Breust and Dylan Moore are, to the point where it almost doesn't matter who is controlling the ball drop when those two are involved. 
Despite how non-competitive the Roos were last year, and the fact they were belted by a Bulldogs team I don't really rate in pre-season, the additions they have had both on the field and to their coaching staff (including a lot of Tassie expertise), I think this game will be really close. 
I think the absence of Ben McKay just sways it for me, though, with my prediction being that the Hawks edging out a very narrow win against an improving Roos side out for an early scalp. 
Round 4: Easter Monday
We all both love and hate this day, which has delivered classic after classic in the past 15 years, as we get ready to take on reigning premiers and bitter rivals Geelong (although there is a begrudging respect). 
Finn Maginness has a buffet of options to pick from, with Patrick Dangerfield, Cam Guthrie, and Mitch Duncan all being viable options, although I think Finn will try and replicate his Ed Langdon exploits by going to three time Hawthorn premiership legend and last year's Norm Smith medalist, Isaac Smith.
For all the tomoult our midfield is supposed to go through this year, I think they will be surprisingly competitive against the Cats, with Jai Newcombe and James Worpel looking really strong in pre-season, along with some combination of Josh Ward, Conor Nash (who can forget his tackle on Selwood last year), Cam Mackenzie, Connor MacDonald, Cooper Stephens, Will Day and Dylan Moore, with new recruit Karl Amon bombing up and down the wing. 
We matched them for clearances in this fixture last year, and there should be progression from our young mids and we will hopefully have a fit ruck for the full game this time. 
Our midfielders can expect to get top line service from Lloyd Meek and Ned Revees, the latter of whom was best on ground prior to his shoulder injury in the corresponding 2022 game, which we unforgettably won by 12 points, so I think a lot of so called experts will be surprised by our midfield's performance.
What I want to learn out of this game is pretty simple; how does Sam Mitchell and his team respond to getting punched in the mouth. 
At some point, this Cats team will get a run on and will metaphorically punch the Hawks in the mouth, so how Sam, the coaches, and the players respond on one of footy's biggest stages will be something I am keen to observe, and presents as a fascinating learning opportunity for fans. 
These games have a tendency to be ones where form and ladder positions go out the window and I do see this being a really good and competitive game which I cannot wait to watch from my Canberra apartment, although do I think the Cats will ultimately get the cream.
A 2-2 start would be fantastic and with all of the outstanding content coming on Talking Hawks, we aren't going for 18th in 2023.