How good is that winning feeling, Hawks fans?!
After what was a horror opening fortnight for our boys in Brown and Gold, a trip to the Apple Isle was the perfect setting for our first win of 2023.
It was a fantastic team effort with big statistical performances and consistently high star ratings for the first time since I have been given the reins.
So without further ado, let's get into the fun!
#1 Harry Morrison
It was a welcome return for Morrison, one of three successful changes made by the selection committee this week.
He had 24 disposals, seven marks and seven inside 50's and looked right at home on the opposite side of the ground to fellow wingmen Karl Amon.
The only thing that prevented Harry from a four star rating were a couple of killer clangers (five on the day), with multiple leading to North Melbourne goals.
#3 Jai Newcombe
The Duke just feels like he is working into the season beautifully, taking another nice step forward in this game.
He had 22 disposals, seven marks, five tackles, six inside 50's and eight score involvements while also hitting the scoreboard with a goal.
Similarly to Morrison, the only thing stopping me from giving Newcombe a four star rating were his seven turnovers.
#4 Jarman Impey
Before I start with the analysis, I just want to preface that there was nothing wrong with Impey's game at all, but compared to others on the day it just wasn't a stand out.
He had 17 disposals and took six marks on a day where Hawthorn dominated possession and played his role well.
The eye test told me he didn't have his usual impact and when looking at my favourite Impey indicator (metres gained), the 230 metres suggests a lesser impact than others.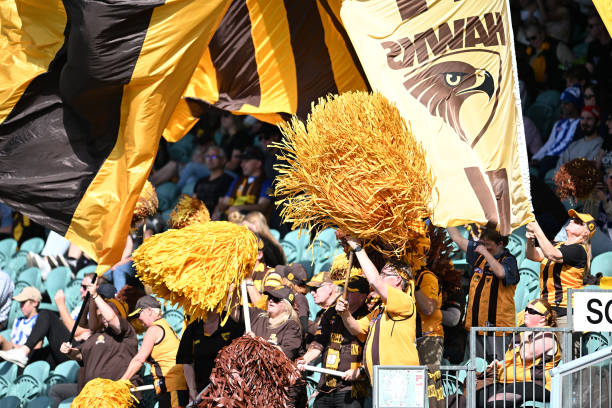 #5 James Worpel
In what had been a very tough opening two weeks, the return to form of James Worpel was one of the few shining lights!
He only had 15 disposals, four marks and only one tackle in this one, way down on his production so far this season.
With the lack of congestion and stoppages, with the Hawks dominating control of the ball, it wasn't a game style that suited him.
#6 James Sicily
In what will be a memorable day for Sicily, his first official win as captain of the Hawthorn Football Club, he lit up the stat sheet.
28 disposals and a ridiculous 18 marks, fifteen of those being uncontested, which shows both the game plan of controlling the ball and the reliance of the ball in Sicily's hands.
He is one of many in this piece unlucky not to have an extra star, but it was still a massive day for the skipper.
#7 Ned Reeves
While not perfect, the biggest of men showed some good signs this weekend.
Whilst still losing the hit-outs overall, Reeves had some good moments over Goldy! But that is something we know he can do.
It's the launching at the ball in marking contests, tackling when the ball hits the ground and dropping back in defence to take intercept marks that impressed me more.
These are things I was begging for and the reason he hadn't troubled the ratings in 2023 yet, but I saw signs of what he can do in this one.
#8 Sam Frost
A Hawk who is registering their first stars of the season, it was a much better day for the snowman in Tassie.
Frosty had 18 disposals, six marks and three tackles while keeping Coleman medal leader Nick Larkey to only two majors from five disposals.
Three stars may seem a little lean, but my goodness does he make me nervous when he has the ball in hand, making some awful decisions resulting in turnovers.
Nevertheless I was glad to see the better defensive job as a starting point!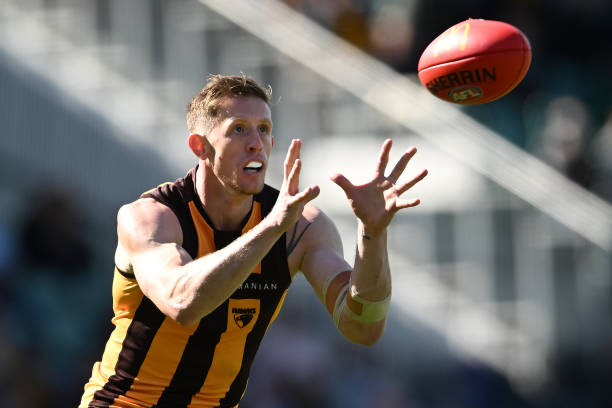 #9 Changkuoth Jiath
This is a combination rating and hopefully an easy one to understand.
Five stars for the first half and one star for the second half, so three seems bang on.
CJ was genuinely everywhere in the first half, was allowed to play as the loose man in defence and he dominated!
19 first half disposals and five marks later, he was on track for BOG at half time, Clinton Young in 2008 style!
But then he put on the Harry Potter cloak of invisibility in the second half with only two handballs to show for his sixty minutes of work. A very hot and cold day, but that first half was elite from CJ!
#10 Karl Amon
I think Karl and Harry Morrison have taken the symmetry of their wing roles a little too seriously, because they had a near identical game!
Amon had 24 disposals, five marks, seven score involvements, five clearances and five inside 50's, eerily similar to the work of the guy opposite him.
To buy into the comparison even more, Amon had six turnovers for the day which prevented him from four stars!
#11 Conor Nash
I absolutely loved this game by the Irishman, going head to head with Ben Cunnington for the day and beating him in nearly every major category.
Nash had more disposals (24), marks (3), tackles (6), score involvements (5) and inside 50's (2) than his direct opponent and provided the midfield with a hard edge.
We know he isn't perfect and will sometimes make some mistakes, but you can not question his effort and passion for both the game and the team.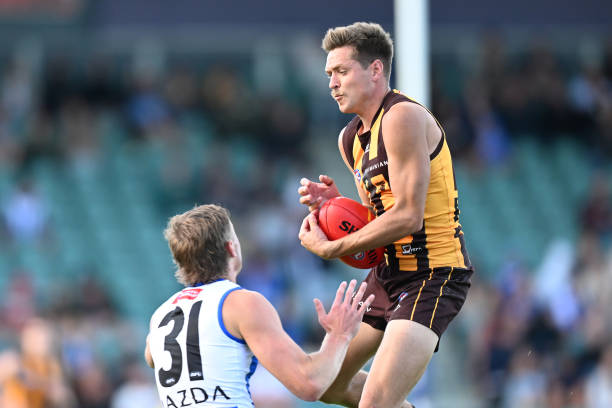 #12 Will Day
My goodness this man is seriously unlucky not to go back to back, I even had to sleep on the decision it was that close.
Day was enormous again in the midfield with 29 disposals, eleven marks, nine score involvements, five clearances and four tackles.
He also showed his sheer toughness when flattened by Griffin Logue in the third quarter only to bounce straight up and release the footy.
If there are any Hawthorn list managers reading this piece, do whatever it takes to re-sign this kid because he is a gun!
#13 Dylan Moore
It was awfully close between a few, but Dylan Moore is my best on ground this week in what was an awesome display of forward craft.
Moore had 26 disposals, 12 marks, nine score involvements, seven inside 50's and kicked two goals including the sealer late in the last quarter.
Moore and Day had nearly identical statistical output, but we don't win without Moore. With no tall forward named, it was key for someone to provide that link option at half forward and Moore did it perfectly.
Also, between me and you, how bloody good was the jumper tug after that second goal!?
#14 Jack Scrimshaw
For anyone who has been following Talking Hawks for a while, you would know I declared myself the CEO of the Jack Scrimshaw fanclub, so it is nice to start 2023 on a positive note!
In his return to the senior side, Scrimshaw was awesome down back with 25 disposals, nine marks, eight score involvements and all of this while going at a ridiculous 88% disposal efficiency.
Add in the cherry on top through a second quarter goal, with the reaction from his teammates proving what a loved figure he is amongst the playing group.
#15 Blake Hardwick
Welcome back Dimma! It was a very welcome return to form for our #15, who got the continuity I wanted for him with a full game down back.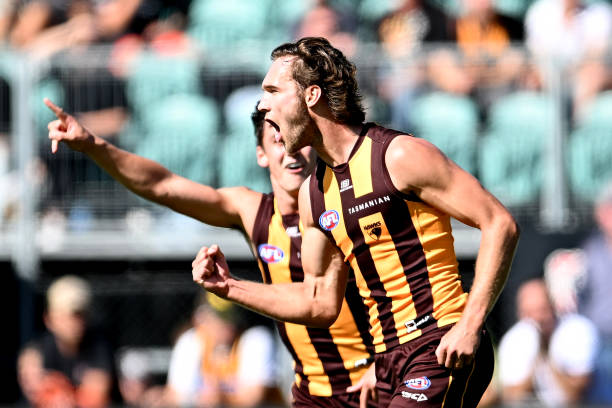 23 disposals, eleven marks, four tackles and four rebound 50's, it was Hardwick and Sicily who launched a lot of the Hawks attack.
I do believe he is better suited in his defensive role and hopefully with some scoring power down forward he can continue to do what he does best.
#16 Lachie Bramble
I thought Bramble was unlucky to be omitted based on his game in Sydney, but the performance of the three inclusions proved to be a great decision.
He came on as the sub late in the third quarter and played 30 minutes of game time and was handy without flashing.
#17 Lloyd Meek
Meek is someone who I have been seriously impressed by early in the season, especially last week in the horror trip to Sydney.
However, this just wasn't his day with eight disposals, seven hit-outs and one mark as well as a horror miss in front of goal in the last quarter.
He provided a good target when forward as the only tall and will continue to play a role, it just wasn't his day to shine today and that is okay!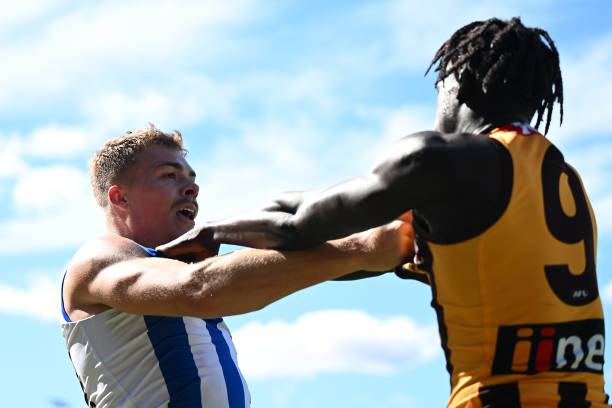 #22 Luke Breust
It was a tough day individually for the best small forward of the modern era and it isn't often he is kept goalless when the team kicks over ten.
Only eight disposals, five marks and two behinds for Punky and he more surprisingly didn't lay a single tackle on the day.
Credit has to go to Luke McDonald who did a fantastic job on him, but Breusty has earnt more than his fair share of mulligans.
#25 Josh Ward
After watching Collingwood on Friday night and seeing how good Scott Pendlebury still is and then watching Ward on Saturday, I can see the similarities.
Ward was silky smooth with 27 disposals, five marks and five clearances covering the ground beautifully and showing his class.
It is days like these that give us hope for the future, with Ward one of many youngsters to contribute majorly to a win.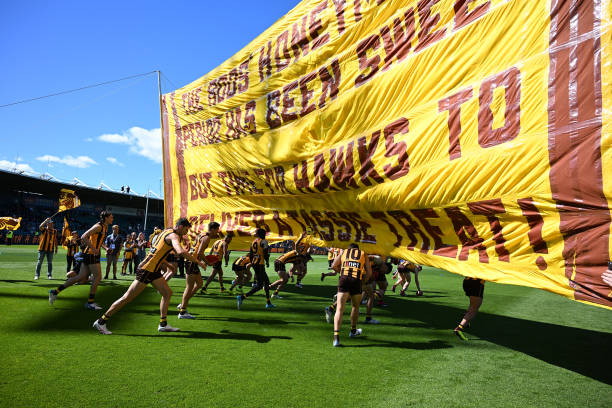 #26 Fergus Greene
With no genuine key forward picked in the side, it was going to be a tough ask for Greene to be the main target inside 50, but he did a great job.
He had 10 disposals, took four marks and kicked 2.2 but it was his work without the ball that impressed me.
He was crashing packs, bringing the ball to ground, chasing, smothering and doing all the one percenters while managing to constantly move and provide a target.
#28 Cam Mackenzie
My goodness, I absolutely love this kid and what he is going to be for this football club!
He had 20 disposals, five score involvements and four inside 50's which for a third gamer are great numbers, but he also had NINE tackles!
Not only is he looking like one of our cleanest ball users and decision makers, but also has the grunt and effort to lay nine tackles, the sky's the absolute limit for this young star!
#31 Connor MacDonald
This was probably C-Mac's best outing of the season so far and is making that high half forward role his own.
He had 16 disposals, five marks, three tackles, seven score involvements and kicked a goal.
Those seven score involvements from only sixteen disposals show that he is getting into dangerous positions and making his disposals count when moving forward.
#32 Finn Maginness
Every man in Australia plus their dogs knew that Finn was going straight to North gun Luke Davies-Uniacke for the game, but when "LDU" was an extreme late out it threw those plans in the bin.
Finn started at half back and did some nice things down there during the first half, using the ball at 91% from his 11 disposals.
However, he was tactically subbed out halfway through the third, proving that when he isn't tagging, the coaching staff don't see a role for him in the best 22.
#33 Tyler Brockman
This was the feel good story of the day and I'm glad he is the last jumper number in the list because it is the definition of ending on a high.
In his first senior outing for 18 months, Brockman was electric with 11 disposals, six marks, three tackles and three goals as well as seven score involvements.
Brocky was leaping at everything, providing manic pressure and looked like our most dangerous deep forward option this season.
I think I can speak for all fans when I say that we are excited to see what Brocky can do this season!!