By Liam McAlary
Last year, just about any Hawthorn supporter would have had the same answer to the question of what was our biggest area of concern; the midfield.
Our midfield last year looked homogenous, slow, somewhat old, and not really capable of playing at AFL level, ranking 18th in a number of key metrics.
Despite struggling to work back defensively, with the Hawks ranked 16th in the competition for tackles per minute of opposition possession and 14th for marks allowed in the first three rounds, the midfield suddenly looks much more exciting, ranked equal first in the competition for centre clearances.
Young midfield might be doing okay it seems! 
Including rucks, the Hawks have sent 11 players to centre bounces so far, with only two players (Karl Amon and James Sicily, who have by far attended the fewest centre bounces) being born before 1998. 
As someone who always casts an extra keen eye on the midfield, I thought I would take a look at how our rucks and midfielders have performed in the first three rounds of the season.
Midfielders 
First up, we need to talk about Will Day, the 191cm defender-turned-midfielder who Daz, Smithy, and I all observed at training and the intra-club training with the midfield and looking right at home.
Let's just say that he has more than shown his ability to handle the move, averaging four clearances, four tackles, almost five inside 50s, nearly eight marks, and 25.67 disposals per game (at 79.2% efficiency).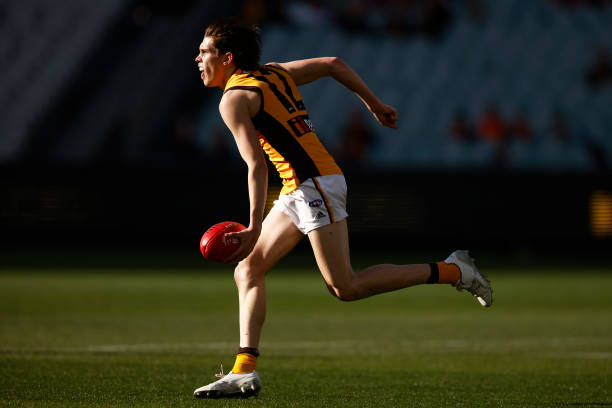 In terms of centre bounces, Day's attendance has correlated with terrific levels of success for the Hawks.
He has attended 38 centre bounces, of which the Hawks have won 27 and lost 11 and when the smooth moving South Australian does not attend the centre bounce, we have won 15, drawn two, and lost 23. 
Correlation doesn't always equal causation, until it does. 
Like cricket, a midfield needs partnerships and like that Adam Gilchrist/Michael Clarke partnership that secured the 2006/07 Ashes, Day's found some partners. 
Jai Newcombe, James Worpel, Josh Ward, and the Meath Menace Conor Nash have been Will's main partners for his CBA's, in a true youthful showing for the new Hawks. 
With Day and Newcombe together, 18 centre bounces have resulted in 14 wins and four losses, and the numbers are identical when he is paired with Conor Nash.
With Wardy, 10 centre bounces have netted us seven wins and Day combining with the resurgent Worpedo has resulted in 12 wins and five losses from 17 attendances together.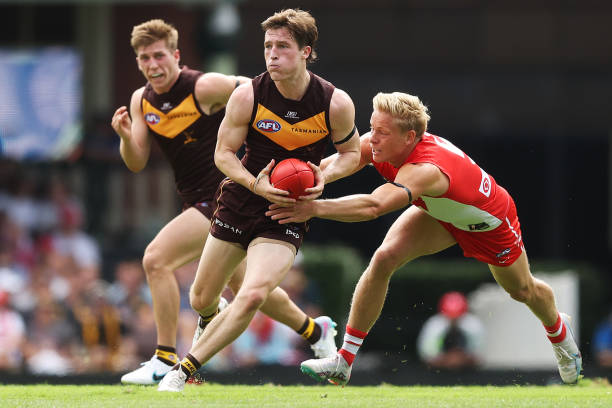 For the Worpedo, his ball use still needs work, with a below average kicking efficiency and an average disposal efficiency, although the young bull in our midfield has shown that allowing him to return to the coalface of the stoppage by removing Tom Mitchell from the mix is effective.
Who knew that allowing someone to play the role where they won the best and fairest and being injury free again would see them improving?
Worpel did not have his best game against the Roos, although he has so far averaged nearly six clearances (including over three centre clearances, rating elite in the AFL) per game, as well as over two tackles, six score involvements, six inside 50s (elite), 12.3 contested possessions (elite), 22 disposals, and an elite (by rating) 427.3 metres gained, showing that the 24-year-old is pushing towards his Peter Crimmins Medal winning form.
Interestingly, James Worpel and Jai Newcombe have combined 32 times for 15 wins, one draw, and 16 losses, so two very good centre bounce midfielders individually have combined at a below team average rate, although of the four times they have combined with Will Day as a trio, we have won three (75%).  
Also, how good's that No.7 draft pick going?! 
What has stood out the most about Cam MacKenzie is his composure and how well he has adapted to the speed of the elite level. 
The kid has played three games of elite level footy and is already an above average kick despite also being above average for his contested possession rate, so he can really play.
It is the addition of people like Cam Mackenzie who have helped turn our midfield from the worst in the league with a lot of very similar players all stepping on each other's toes, to one that looks like it has a solid foundation for the future.
11 wins and 15 losses from his 26 centre bounces isn't the best, although Frenchy is far from out of place in the middle, averaging nearly three clearances per game (including one centre clearance), three inside 50s, five tackles (rated elite, so he is clearly not a problem in terms of downhill skiing), over five score involvements, 16.7 disposals (almost half of which are contested), and 226.4 metres gained.
Finally, let's end the midfield deep dive with Talking Hawks's own Jai Newcombe, now bestowed with the famous number three.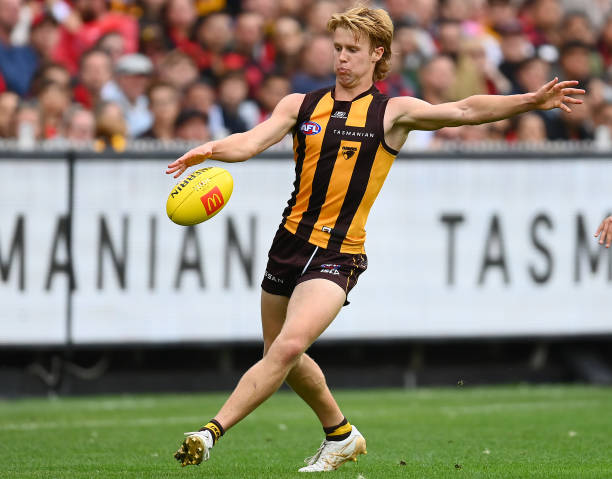 He has attended 51 centre bounces, with the Hawks winning 26, drawing two, and losing 23, although the 21-year-old has still been a more than competent player for us so far, despite all the extra attention from opponents.
He has averaged over three clearances per game (nearly two centre clearances, which is above average statistically), four tackles, over four inside 50s, over six score involvements, 22 disposals, and just over 400 metres gained.
His numbers may not quite be as spectacular as last year, but as he adapts to the extra attention (or other midfielders divert it), we here at Talking Hawks have no doubt that Jai will soon be back in full flight.
For other midfielders, Conor Nash's physicality is proving valuable and he is getting better every week, Josh Ward has worked hard every week and been consistently steady (both in the guts, having attended 25 centre bounces for 14 wins and a draw, and on the wing), and Connor McDonald has played more as a half forward or occasionally on the wing.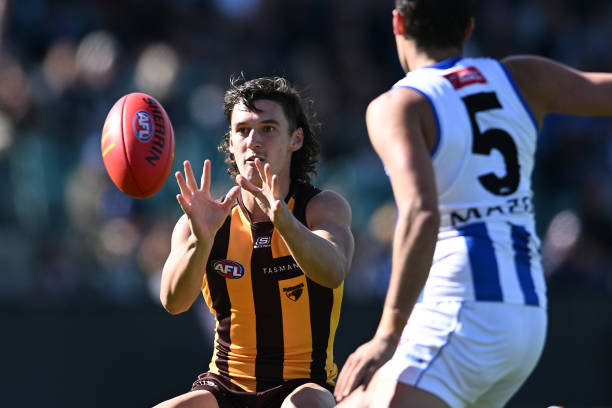 The Rucks:
In Rounds One and Two, our talented young beanpole in Ned Reeves, looked like a well below average ruck despite his size and obvious ability.
Largely ineffectual beyond his hitouts, Reeves recorded no clearances, no tackles, just two marks (both uncontested), 10 disposals (even kick and handball split), and 138 metres gained across two games.
I am a huge fan of Ned Reeves and have a special fondness for tap rucks, but the seven foot "Noodle"  was essentially that in the first two rounds once the ball hit the deck, virtually leaving us with 17 players on the ground after stoppages when he was out there.
In Round Three against Todd Goldstein (one of the most underappreciated players of the modern era), even if past his best, however, Reeves started to show the ability that had some media commentators saying he could be a top 25 player in the competition.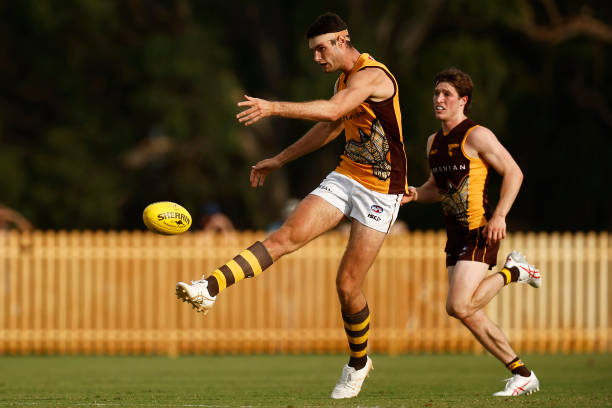 He laid  two tackles, five clearances (two centre), and nine disposals, in addition to his 25 hitouts from 49 ruck contests (the only person to record an above 50% win rate in ruck contests on the day).
The point of improvement? Being the get out of trouble target down the ground and creating a contest between the arcs and let his crumbing smalls around the park feast on the footy and drive it forward. 
The shorter but more imposing Lloyd Meek (a man who there is nothing Meek about) has offered less as a pure tap ruck, but in the first two rounds recorded five clearances (three centre, two stoppage). seven marks (all uncontested), eight tackles (all in Round Two, admittedly), 18 disposals, and 199 metres gained, offering a lot more presence once the ball hit the deck and was away from the stoppages.
Meek was serviceable against the Roos, recording one uncontested mark, two tackles, four stoppage clearances, eight disposals, and 109 metres gained, but  only recorded seven hitouts from 30 ruck contests.
In terms of centre bounce data briefly, Meek has attended 36 of which we have won 20, and we have won 21 of the 41 Reeves has attended, so the edge to Meek is slight, although different combinations have so far worked with different rucks.  
Has the start to the season been ideal? No. 
However, whilst the bookends of the field have been a cause for concern and the midfield's pressure issues have played a not insignificant role in that, the Hawks have something to work with in the engine room, which will hopefully drive us back towards the flag later this decade.