I am back for the player review this weekend and a very big thank you to Daz for filling in and doing such a great job last week.
Unfortunately for myself, I haven't chosen a very good game to come back and discuss, because the 69 point loss to Fremantle in Perth was hard to watch.
With optimism in my heart coming into the game, I thought the Hawks were a real chance, due to Fremantle's midfield struggles this year and that aspect proved true.
Sadly, the rest of the team couldn't rise to the occasion and were made to look second rate by a team that might use this as a catalyst to revive their campaign.
I could go on and discuss this game at length, but we know this is about the players and with poor play around the ground, this may not read well for some players.
#1 Harry Morrison
This one is a classic example of the statistics not telling a true story of what happened in the game because I didn't love Morrison's game.
For someone who didn't watch the game, they might argue that 24 disposals, eight marks and four tackles is a good game and on paper it looks that way.
However, watching the game and witnessing him butchering the ball by foot and making some poor and costly mistakes, as well as juicing his numbers in the fourth quarter when the game was gone.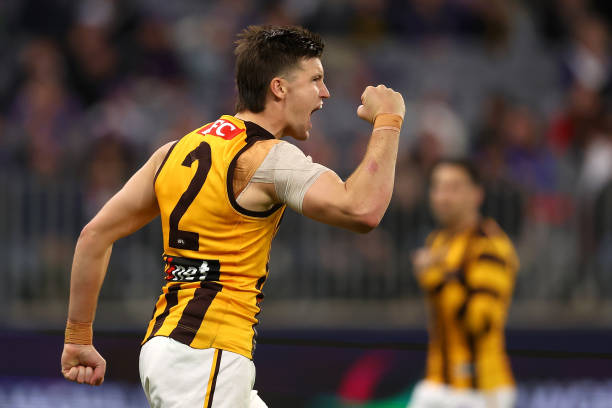 #2 Mitch Lewis
I struggled with this rating because I feel as though Lewis was a victim of the way his teammates moved the ball and entered inside 50.
He had 11 disposals, took six marks and kicked two goals as well as using the ball well when he got the chance.
Lewis also tackled well for a big man, laying some bone jarring tackles but he just did not get the looks required to do what he does best.
When he did though, he looked the goods.
#3 Jai Newcombe
The Duke was good without standing out in this one, but was a key contributor to the Hawks dominance in the midfield.
He registered 20 disposals, three marks, three tackles, three clearances and kicked a last quarter goal while also using the ball at 100% efficiency.
From a personal point of view, I think the less time Newcombe spends forward the better as he is obviously a top two option going through there.
#4 Jarman Impey
Impey has been someone that I have enjoyed watching this year and I think is really harshly judged by Hawks fans, but this wasn't his night.
The Hawks really lacked that signature run and carry out of the back half and Impey's lack of production is a reason for that with only 15 disposals and 236 metres gained.
Despite this, Impey is a very important piece and I don't think it is a coincidence that a really poor loss matches up with a down Impey game.
#5 James Worpel
This seems like it is going to be a weekly conundrum for me; how many stars can I take off Worpel for his poor disposal efficiency?
He was an absolute beast around the contest with six clearances and 25 disposals but my lord did he make some mistakes by foot.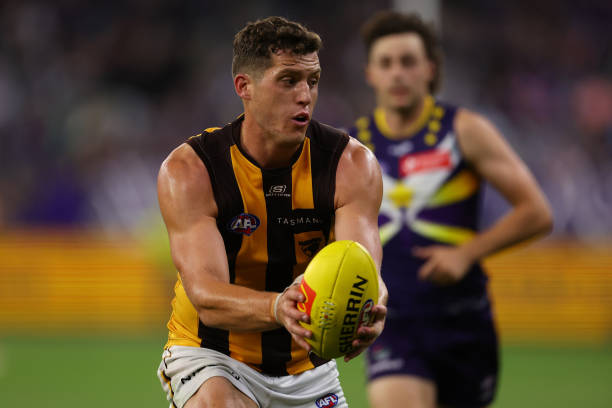 I don't love looking at disposal efficiency with him because a lot of his kicks are rushed from clearance, but at one stage he was going at 18% by foot!
Not everyone uses it like the coach used to but the Hawks had 13 of the first 16 centre clearances and scored 1.2 out of it.
Ball use was a big reason for it and the forwards didn't really stand a chance.
#6 James Sicily
This was one of the more disappointing captaincy and leadership performances that we have seen for a while from a Hawk captain and something I hope he can use as a learning experience.
The writing was on the wall when Sicily gave an obvious free kick away and abused the umpire which resulted in a 50m penalty and a goal.
It didn't get much better from there and yes he still got his 21 disposals, but did those disposals really amount to production?
#7 Ned Reeves
I really want to use the "his ankle just doesn't look right, let's give him a pass" card, but Fergus Greene was subbed in the third without an injury so I can't.
50 ruck contests attended, 16 hit outs, eight disposals and three tackles as well as a missed goal from 25 out straight in front.
He has had a good month the big man but this was a step back.
#8 Sam Frost
Another typical Sam Frost game and I would argue there was a typical Sam Frost moment that literally encapsulates his entire season in one passage of play.
He smothered a kick, which is a big tick but then missed a two metre handball before regaining the ball and kicking down the line straight to a Docker.
My question is, what is a 29 year old Frost bringing that a 21 year old Denver Grainger-Barras or 22 year old James Blanck can't?
#10 Karl Amon
Mr Consistent does it again and despite it not being his best game of the season, there is not a big gap between his best and worst.
25 disposals, eight marks, four inside 50's and three rebound 50's, Amon worked hard all night.
Fans were questioning the size of the contract but I personally think he is living up to it.
One wing is in good shape.
#11 Conor Nash
Another awesome performance courtesy of the big Irishman and this is the exact reason that Finn Maginness' role has been made redundant.
After having five disposals in the first three minutes, Sam Mitchell sent Nash to the in-form Caleb Serong, who is arguably a top five midfielder in the AFL right now.
Not only did Nash hold him to 19 disposals from this point on, he had 26 disposals himself with eight tackles and eight clearances!
#12 Will Day
Despite missing two games through suspension, Will Day is surely our most important player and featuring heavily in the PCM votes? 
This guy just keeps producing the goods, having 26 disposals, seven clearances and kicking a goal in the big time loss.
Not only is he putting up really good numbers, he also looks the part around the ball with the way he weaves through traffic and makes things happen.
#13 Dylan Moore
The one thing I will never question when talking about Dylan Moore is his effort, because he works hard from the first siren to the final one.
But like a lot of his teammates, this just wasn't his night and similarly to Mitch Lewis, he is a victim of the way the ball is being moved and used.
He had 19 disposals, had four marks and four tackles but had nowhere near the impact we are used to him having.
#14 Jack Scrimshaw
I really liked Scrimshaw's game and I think being thrown forward in the last quarter has hurt his overall statistics.
In the first three quarters when playing his usual role down back, Scrimshaw had 15 disposals at 100% efficiency while performing some really good defensive acts.
Thrown forward after the Fergus Greene substitution, Scrimshaw had only one fourth quarter disposal, but this was a mark, kick and goal!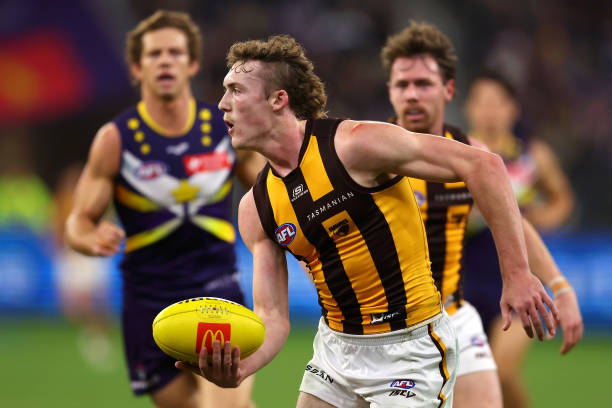 #15 Blake Hardwick
This was a really difficult rating for me because how much of an impact did he really have on the game?
23 disposals and 10 marks reads really well but he also made some really uncharacteristic mistakes by foot throughout.
I think overall, he gets a bit of a boost thanks to some of his teammates having more disappointing nights than him.
#16 Lachie Bramble
Came onto the ground when the game was already run and done so it would have been a tough position to get motivated for.
He had nine disposals and a couple of tackles which was good but the key theme with him is ball use, going at just 56%.
The big question with Bramble is where does he fit going forward? 
Was the sub purely due to Changkuoth Jiath being left at home and rested?
#17 Lloyd Meek
I have openly been a massive fan of Meek's work throughout season 2023 but I think this could be his best performance.
He has struggled at times as a pure ruck, but had more hit-outs than Reeves in less ruck contests which is a massive tick.
The other aspect of his game is as a forward and his hands looked fantastic, with six marks, four of them being contested down the line.
Against his old side, this was a massive tick for Meek as a ruckman and forward!
#20 Chad Wingard
I am going to go down the same path with Wingard as I did with Sam Frost earlier in the piece.
He had 12 disposals and kicked a goal, but dropped multiple chest marks and lacked any defensive pressure not registering a single tackle.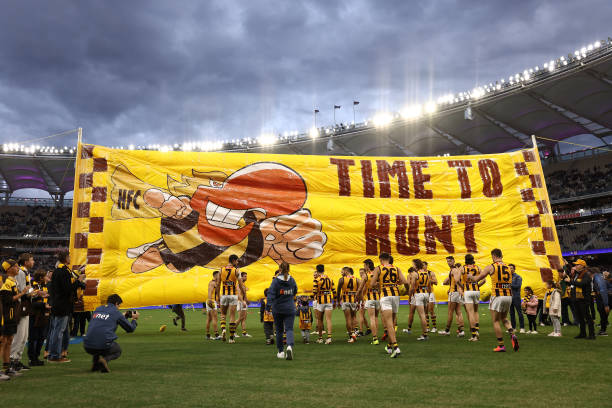 Like Frost, what is Wingard bringing to the team at 29 that Sam Butler at 20 and Jack O'Sullivan at 18 don't bring?
#25 Josh Ward
Ward burst onto the scene last year, playing some really good football as a young midfielder coming through.
But with the emergence of Nash and Day, the rejuvenation of Worpel and Newcombes dominance, is Ward an odd man out at just 19 years of age?
He had 15 disposals and three marks in a quiet night and only attended four centre bounces, so where does he fit moving forward?
#26 Fergus Greene
Unfortunately the state of Western Australia didn't know that the Ferg is the word, because it certainly wasn't last night.
He hasn't been a big disposal guy all season so four disposals isn't a shockingly low performance, but three of his four handballs had no impact on the game.
The interception and goal assist to Connor MacDonald in the first quarter was cool, but being tactically subbed out is essentially an automatic zero star game.
#31 Connor MacDonald
This seems to be exactly the same as his fellow draftee Josh Ward, but this role for MacDonald just isn't working.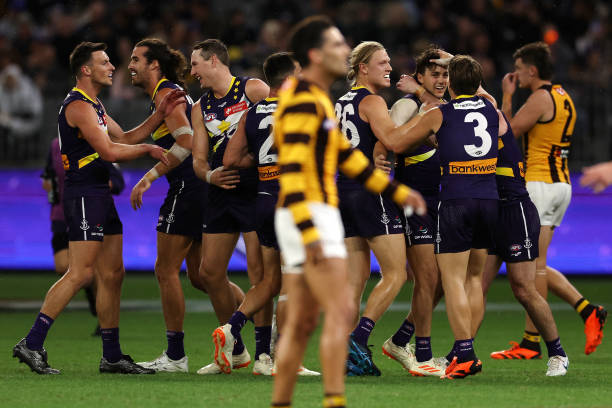 He went back to the VFL last week and had 37 disposals, five clearances and kicked a goal, playing as a pure midfielder.
But with the midfield mix i mentioned earlier, he is stuck as a half forward and had only 12 disposals and that aforementioned first quarter goal.
#33 Tyler Brockman
The young man wearing the famous 33 didn't have the greatest night down forward, not registering a goal but he looks dangerous!
Everytime he goes near the ball, I find myself wriggling towards the edge of my seat, waiting for something to happen.
While this wasn't his night, having only nine disposals and a behind, having that excitement is something for fans during this rough time.
#37 Josh Weddle
For someone in his second game, I thought Weddle handled himself pretty well considering the pace of the ball coming at him playing down back.
He had 12 disposals for the night and laid three tackles but had six intercept disposals and four one percenters.
Expecting someone in their second game playing as a tall defender to have 20 plus disposals is ridiculous, so let's judge him fairly.
#40 Seamus Mitchell
Another youngster early in his career that impressed me once again and while this has been a negative review, these are the performances us fans need to concentrate on.
Playing on a really good forward in Michael Walters, Mitchell had 14 disposals and four marks, while holding Walters to 14 disposals and a goal himself.
I would call that a genuine draw and considering Mitchell's experience and that amount of opportunity Walters had, that is a good performance.