It is fair to say that there have been times throughout the first half of 2023 that I have not looked forward to sitting down and writing this article. 
Well, today is not one of those days because the Hawks ran away with an emphatic 116-point win against a non-competitive West Coast side in Tasmania. 
It was an unbelievable effort by all who pulled on the jumper and a serious reward for effort, as the signs have been there in patches without the result since the Round Three win over North Melbourne. 
While a small, but vocal, minority have taken to social media in disappointment about the possibility of missing out on the number one draft pick, I couldn't be further from that mindset. 
So here are all 23 Hawks who played at UTAS stadium rated. 
#2 Mitch Lewis ⭐ ⭐ ⭐ ⭐ ⭐
Last week we lived by the cliche save your best to last with Seamus Mitchell getting the BOG nod from me, but this week we have done the inverse. 
Our big hulking forward looked in career-best form with a personal best six goals, but a ridiculous 24 disposals from full forward and eight marks. 
It isn't a coincidence that our best scoring game was with Lewis firing and as the continuity and chemistry keeps building with this young midfield, hopefully, there are more bags of goals to come. 
#3 Jai Newcombe ⭐ ⭐ ⭐ ⭐
As will be the trend throughout this article, it is going to be positive reading for fans of the man known as Duke. 
The midfield bull continued his rich vein of form today gathering 24 disposals, nine tackles, seven clearances and a late goal. 
Newcombe continuously drew praise from the Fox commentary team regarding his strength around the ball and ability to dispose of the football through contact. 
#4 Jarman Impey ⭐ ⭐
Before analysing his performance, I want to praise Jarman for the design of the jumper worn by him and his teammates for Sir Doug Nicholls Round. 
Now purely based on his game, it wasn't Impey's most productive day, but I feel it was through his teammates' good work up the ground. 
He only had 14 disposals and three marks with just 169 metres gained and no rebound 50's, but with only 29 West Coast inside 50's, it made things difficult for Jarman to impact.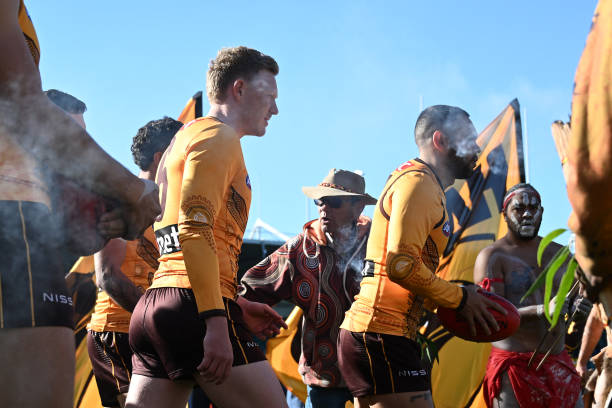 #5 James Worpel ⭐ ⭐ ⭐ ⭐
Considering the genuine domination from the Hawk midfield on the day, it shouldn't be surprising that two of the bulls have four stars to show for it. 
Worpel had 27 disposals, eight clearances, and six tackles while kicking a classy fourth-quarter goal while using the ball at a very respectable 70%. 
He did give away four free kicks, but multiple of those were due to pure effort looking to tackle and pressure, which Sam Mitchell won't be overly disappointed in. 
#6 James Sicily ⭐ ⭐ ⭐ ⭐
The captain did his best brick wall impression in this one at Tassie, ensuring that the rare West Coast attack was put away immediately. 
Sicily had 30 disposals, took 11 marks, registered eight one percenters and seven inside 50's and played the role of the distributor with 600 metres gained. 
After what has been a rough start to his tenure as captain, it was good to see Sicily play well in a dominant victory. 
#7 Ned Reeves ⭐ ⭐ ⭐
With the lack of talls in the Eagles lineup, it loomed to be a day where Reeves could stand up and dominate. 
Before being subbed out in the third quarter with an ankle injury, Reeves had 32 hit-outs with seven disposals and four clearances. 
It was the same ankle that has been giving him trouble recently, but fingers crossed the big man was subbed through precaution.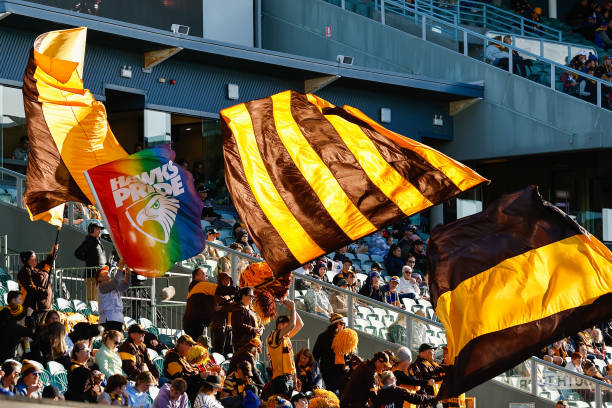 #8 Sam Frost ⭐ ⭐ ⭐
We got the positive side of the enigma known as Frosty today with the lack of venom coming his way allowing him to play the way he likes. 
He had 19 disposals, took five marks and used the ball at 90% efficiency which is nearly unheard of considering his tendency to produce all-time brain fades. 
The thing with Frosty is when things go right when he is involved things get exciting, highlighted by his play on and handball to Tyler Brockman that led to a Mitch Lewis goal.
#10 Karl Amon ⭐ ⭐ ⭐
It was a quiet start for Mr Consistent, having only nine first-half disposals but he worked into the game beautifully. 
As the game went on and opened up, Amon came into his own and finished the game with 23 disposals, six inside 50's and seven score involvements. 
I think my favourite aspect of Amon's game was his seven tackles, not something he is particularly known for, but he showed that inside and outside ability in this one. 
#11 Conor Nash ⭐ ⭐ ⭐ ⭐
Nash is one of many who can consider themselves very unlucky not to walk away with the five stars, given the dominance of many individual performances. 
The big Irishman was huge again, with 30 disposals, eight marks, eight tackles, eight clearances and nine score involvements. 
The thing that makes his form so impressive is he is getting these numbers while taking care of the opposition's best midfielder, keeping Tim Kelly to a non-impactful and ineffective 26 disposals. 
#12 Will Day ⭐ ⭐ ⭐
The win and result for the team were fantastic, but this was also a really valuable learning experience for Will Day. 
A hard tag got sent to him from the outset and he was restricted to just 14 disposals in the first three-quarters of the game, significantly down compared to his lofty standards so far. 
Will was able to break the tag in the last quarter and have ten disposals, enjoying the party that was a 116-point victory, but will also learn a lot from the day.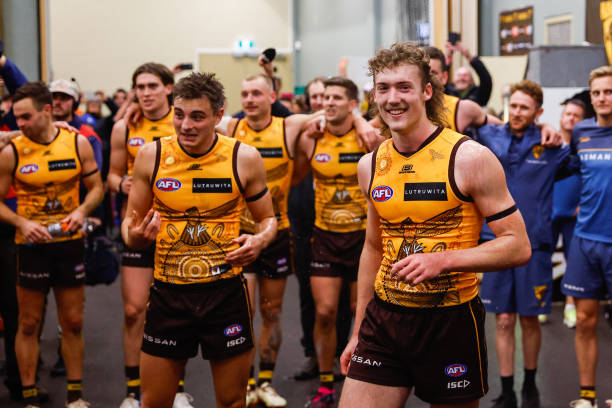 #13 Dylan Moore ⭐ ⭐ ⭐
After being somewhat down on form over the last few weeks, it was good to see Moore get back to some positive form. 
The pocket rocket had 22 disposals, six inside 50's, six score involvements and kicked a goal himself. 
He still has some more room for improvement based on this performance, but that purely speaks to the quality he has. 
#15 Blake Hardwick ⭐ ⭐ ⭐
Similarly to Impey, the lack of West Coast offensive production probably hurt the individual numbers of Hardwick.
Dimma had 17 disposals at a more than tidy 82% efficiency with four marks and defended beautifully the rare time he was forced to. 
Hardwick is another one who has seen some rough times post-2018 finals campaign, so it was good to see him enjoy a big-time win.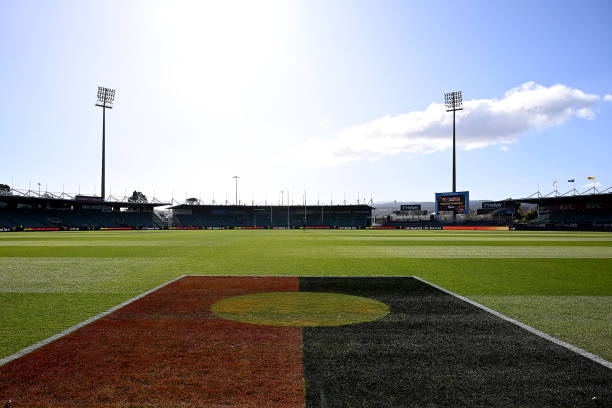 #16 Lachie Bramble ⭐ ⭐ ⭐ ⭐
As someone who has been on the fringes throughout the season so far, Bramble took his chance against inferior opposition with both hands. 
Playing on a wing with the omission of Harry Morrison, Bramble had 24 disposals, took seven marks, had seven score involvements, six inside 50's and kicked a goal. 
21 of his 24 disposals were kicks, showing confidence in his foot skills and while he made a few mistakes, the 701 metres gained was a positive for the Hawk attack.
#17 Lloyd Meek ⭐ ⭐ ⭐ ⭐
I have been a massive fan of the work of Lloyd Meek throughout the season so far and he took another stride today. 
Against Melbourne last week he showed he can handle the number one ruck role and with the substitution of Reeves, he was nothing short of dominant. 
Post Reeves exiting the game, he had 14 disposals, and five tackles and was fantastic in the ruck, showing his force in the air and on the ground.
#22 Luke Breust ⭐ ⭐ ⭐
The star small forward hadn't had his best month, but the blowout win against the Eagles was a fantastic opportunity for him to get back amongst the goals.
Punky finished with 14 disposals, kicked three goals, took five marks and laid five tackles using his signature pressure. 
With the 500-goal milestone in sight, it has been a privilege to watch him play footy. 
#23 Jacob Koschitzke ⭐ ⭐ ⭐
Like some of his teammates, this extended training drill was the perfect opportunity for Kosi to play himself into some form and confidence. 
He hadn't registered a goal so far in 2023, so for him to kick two will do wonders for his confidence as well as take some strong marks inside 50. 
The thing that I liked the best was his four tackles because effort always churns out results and he put in plenty today. 
#28 Cam Mackenzie ⭐ ⭐ ⭐ ⭐
Not only did we as fans get to witness a 116-point victory for the first time in a long time, it was the youth and future who contributed to the result.
Mackenzie is the first of a few examples, having 22 disposals, five tackles, eight score involvements and kicking two goals for himself. 
The result allowed Mackenzie to play some more midfield time and he showed these flashes that have our fans excited.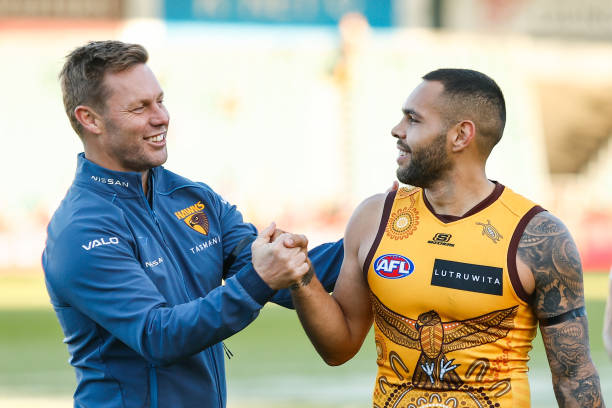 #30 Sam Butler ⭐ ⭐ ⭐
The mosquito fleet that the Hawks are building bought the heat in this game and Butler is proving to be an integral aspect. 
He had 16 disposals, nine score involvements, kicked a goal and looked really dangerous offensively. 
What he also bought was defensive heat, laying six tackles but more importantly five of those were inside our forward 50. 
#31 Connor MacDonald ⭐ ⭐ ⭐ ⭐
How does someone that gets injected into the game as a sub make his mark and stake his claim for a full-time role the next week? 
See this Connor MacDonald game as a prime example. 
He came in and played 51 minutes of game time, having 14 disposals, five score involvements and three clearances, making the most of his midfield time. 
The ridiculous part of his game was he had a team equal high nine tackles, equating to nearly a tackle every five minutes, showing the pure hunger he has to be a best 22 player.
#33 Tyler Brockman ⭐ ⭐ ⭐ ⭐
I can describe Tyler Brockman's game in two words, absolutely electrifying. 
That doesn't make for an outstanding article but my goodness he is exciting!
15 disposals, five marks, four tackles, seven score involvements, two goals and a never-ending supply of class, good things happen when Brockman touches the footy.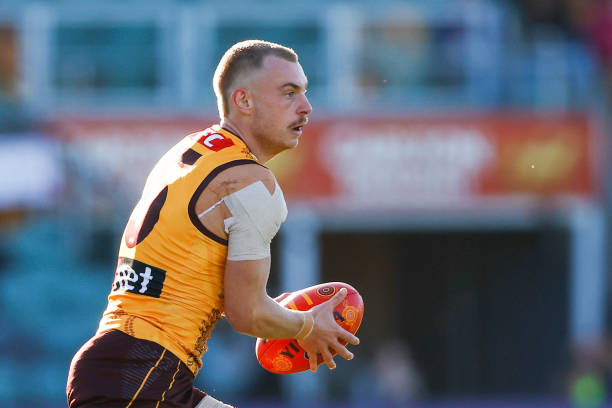 #36 James Blanck ⭐ ⭐ ⭐ ⭐
Now while I have to concede that Blanck probably owes his teammates a few adult beverages for this rating, he did all he needed to. 
The quality and quantity of ball coming Oscar Allen's way did not help his cause, but Blanck is the first defender this season to keep him to one goal and Allen had no impact on the game. 
Blanck himself showed positive flashes, taking numerous intercept marks in contests with Allen and contributing to the counterattack when possible.
#37 Josh Weddle ⭐ ⭐ ⭐ ⭐
The young man had one hand on the BOG mantle at halftime but has an all-time individual game by Mitch Lewis to blame for losing that grip on the BOG title. 
This doesn't take away from the ridiculous performance from the fourth gamer, having 28 disposals, seven marks, eight score involvements and kicking two goals from the backline. 
We all heard about the elite athletic profile during the draft process, but this game proved Weddle's true football ability and if fans weren't excited before this game, they have no choice but to be pumped now!
#40 Seamus Mitchell ⭐ ⭐ ⭐
Pretty sure Mitchell would have the best star-per-game average in 2023 and he just keeps producing the goods week in and week out. 
He had another very tidy 19 disposals, six marks, four tackles, four inside 50's and a lot of flashes of brilliance. 
Highlighted by fellow Talking Hawks contributor Liam's fantastic article last week, Mitchell is the definition of trash to treasure after being delisted as a small forward, to borderline first-picked small defender in 2