Well, what a truly bizarre experience that was.
At half time it was doom and gloom, with a half of footy as bad as we have seen this season, rivaling the second half disaster on Easter Monday against the Cats.
When looking through the half time stats, there was three or four Hawks in line to get a pass mark from me and the reading was going to be very grim.
However, this game we love is a four-quarter game and despite the result being decided, the fight shown in the second half was unbelievably admirable.
A number of players stood up and played strong second halves, making the reading throughout this piece a lot less negative than what it shaped to be an hour earlier.
So, how did every Hawk do? 
 #2 Mitch Lewis ⭐ ⭐ ⭐ ⭐
The big man up forward was starved of opportunity in the first half, but his numbers read seriously well for a tall forward in a 55 point loss.
Lewis had 20 disposals, took eight marks, kicked three majors and had a massive 13 score involvements, helping to lead the second half resurgence.
Considering the frustration of the first half, it would have been easy for Lewis to drop his bundle and be a non-factor, but he stood up and was a force up forward again.
#3 Jai Newcombe ⭐ ⭐
After a really rich vein of form over the last 6-8 weeks, this won't feature amongst Jai's best games at the end of season 2023.
In the first half demolition that Port gave our midfield, Newcombe had only nine disposals and struggled to have any impact on the game.
He got involved a bit more in the second half, finishing with 19 disposals and a goal, but didn't register a tackle which signified his lack of impact on the contest.
#4 Jarman Impey ⭐ ⭐ ⭐ ⭐
Jarman's unbelievable individual form continued against his old side with a massive performance in the jumper he designed.
33 disposals, six marks, five rebound 50's and a goal were the stats throughout his 534 metres gained on the day.
Fellow Talking Hawks contributor Tim has really pumped up Impey's leadership qualities this year and I think they were on full display. 
#5 James Worpel ⭐ ⭐ ⭐ ⭐
At the start of the piece, I mentioned the low amount of Hawks I had with a pass mark at half time and spoiler alert, this guy was one of them.
In the first quarter explosion that Port Adelaide had, it made it near impossible for the Hawks players to get their hands on the footy, but Worpel had 12 disposals.
He kept fighting and finding the ball, finishing with 35 disposals, nine score involvements, eight inside fifties and six clearances. 
It was a massive day and probably stiff to not be named the best. 
#7 Ned Reeves
It is fair to say I was unbelievably surprised when Sam Mitchell decided to tactically sub off Lloyd Meek ahead of Ned Reeves late in the second quarter.
Scott Lycett was made to look like a prime Dean Cox, before being subbed out tactically due to injury maintenance in the third quarter, with Reeves a genuine non-factor.
He may have finished with 31 hit-outs but the majority of those came against Jeremy Finlayson and Ollie Lord, the forward's who were forced to take the duties in the absence of Lycett.
#8 Sam Frost
I have been a hard critic of Frosty during season 2023 and whilst I have given him his due credit the last few weeks, this was a massive step back.
As part of the leadership group, I expected him to stand up in the absence of James Sicily, but instead he had not a single first half disposal, while Jeremy Finlayson and Todd Marshall kicked eight combined to half time.
He was swung forward and although he did find some space, he managed to fumble the opportunities that were presented to him in a summary of his afternoon.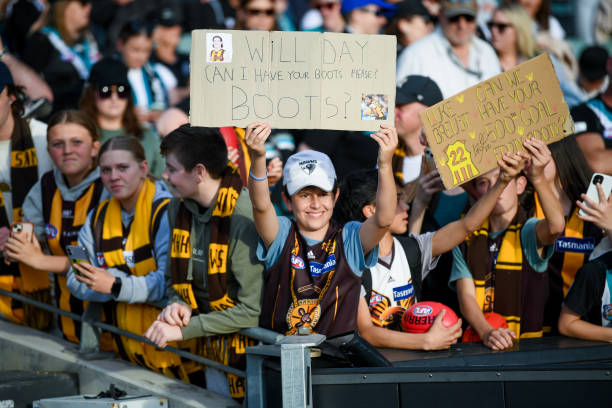 #10 Karl Amon ⭐ ⭐ ⭐ ⭐
In his first game against the club he had spent so much time playing for, Amon played a fantastic four-quarter game.
His ball use stood out, finding targets when no other teammate could, highlighted by his ten score involvements from 25 disposals.
There has been some negativity towards Amon around Hawthorn social media circles, but I don't know what else he could have done in this game to please supporters as I thought he was brilliant.
#11 Conor Nash ⭐ ⭐
This is the blueprint Conor Nash game, high handball and tackle numbers with low kick numbers, but this one just lacked impact.
Currently leading the Smithy Player Rankings leaderboard (spoiler alert), Nash has found success throughout the year with his team-friendly style of play but this just wasn't his day.
21 disposals with just four of those kicks and 17 handballs, six tackles and just two clearances, which is the big one for me.
Considering Zak Butters and Connor Rozee could be having their names called out on Brownlow night, the midfield have to cop the brunt of it. 
#12 Will Day ⭐
Just could not get involved in the game in the first half and did not look right to me before being thrown down back in a change of role.
He found some footy in the second half but had no real influence on the game with his 20 disposals, six kicks, 14 handballs and three tackles.
Was reportedly involved in a big collision at training and wore a heavy duty rib brace in this game which could have contributed to the down performance.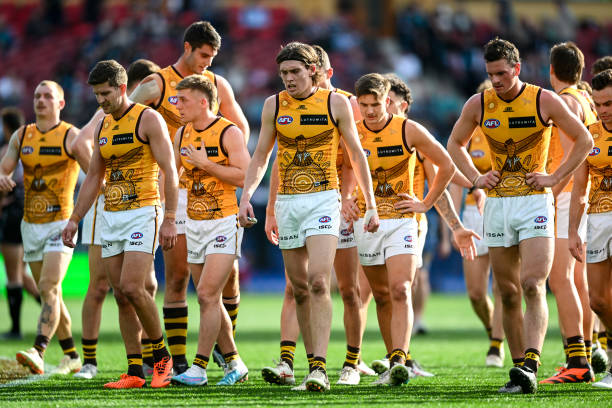 #13 Dylan Moore ⭐ ⭐ ⭐
A really bizarre game has to bring out some really bizarre performances and I think this is one of the weirder ones.
Moore finished the game with 22 disposals and seven score involvements, which reads nicely.
However, half of those 22 disposals came in the last quarter!
Only six disposals to half time and in a role that is so hard to play when losing, it must have been tough but I don't think it is a coincidence that the scoring flowed with Moore was involved.
#14 Jack Scrimshaw ⭐
A player who has been on the outside looking in since the start of pre-season, Scrimshaw got his chance again at senior level, replacing suspended captain James Sicily.
It is fair to say that things didn't go the way Scrimma would have liked, with just seven first half disposals including an egregious turnover that resulted in a Port goal.
I thought he showed some flashes of the old Jack Scrimshaw in the second half but this is a man severely lacking confidence at the moment.
#15 Blake Hardwick ⭐ ⭐ ⭐ ⭐
Considering the team gave up 151 points on the day, it is hard to picture that many defenders came out of the day on top of their direct opponent, but Hardwick is the exception.
Given the task of playing on Sam Powell-Pepper, Hardwick kept him to 18 disposals and no goals while collecting 25 of his own and nine rebound 50's.
Things didn't go to plan in the first half but for Hardwick to consistently win his one-on-ones and refuse to get beaten despite the carnage around him was fantastic.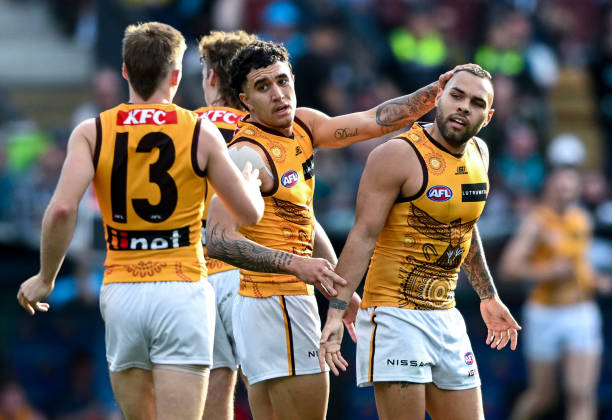 #16 Lachie Bramble ⭐
Had seemingly taken his opportunity on the wing with both hands with strong games against West Coast and St Kilda but this wasn't comparable.
Bramble looked really sloppy at times, fumbling the ball and made some really poor skill errors.
He seems like he is on a short leash with the coaching staff given his patchy appearances and with Harry Morrison dominating the VFL, will he get a shot at redemption?
#17 Lloyd Meek
When you get subbed out before half time on a tactical basis, it  usually doesn't reflect well on your performance.
I have been a fan of big Lloyd's work this season but the coaching staff didn't think his four handballs and five hit-outs in the first half were enough.
Despite the coaches decision, my confusion remains on why it was Meek before Reeves, considering Meek has shown a much larger array of skills around the ground.
#22 Luke Breust ⭐ ⭐ ⭐ ⭐ ⭐
I have officially run out of superlatives to describe this man and just how good he is and despite the final result being a disappointment on his milestone day, his personal performance was the opposite.
The little champion kicked five goals, took six marks, had nine score involvements, had a career high number of shots on goal and of course, kicked the magical 500th goal. 
Whilst the win would have been the ultimate prize to accompany goal 500, I hope a Talking Hawks five star rating is a close second!
Congratulations Punky!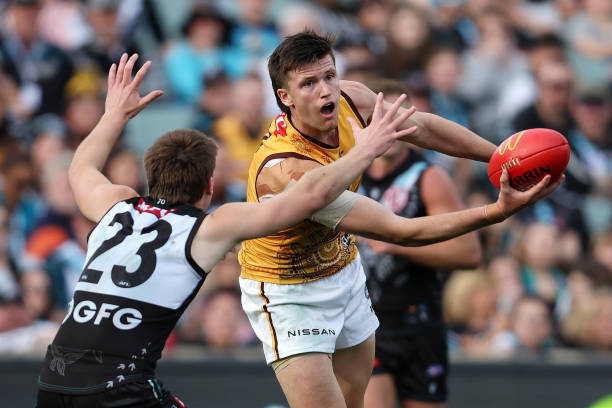 #23 Jacob Koschitzke
Had one of the few Hawthorn highlights of the first half with a massive hanger in the first quarter but then blazed to a two-on-one in the forward 50 that was only helpful if he was trying to recruit Dan Houston to the brown and gold. 
From there he was rarely sighted, having only the eight disposals and missing the one set shot he was gifted from a free kick.
Despite the forward line functioning beautifully after half time with 11 goals, Kosi just couldn't get near it and the heroics of last week are quickly forgotten.
#28 Cam Mackenzie ⭐ ⭐ ⭐
Starting as the sub, Mackenzie was inserted into the game earlier than most would have expected and had some really nice moments.
His chase down tackle on Zak Butters was a highlight of mine; setting the tone for the strong second half and symbolising the never-say-die mentality displayed by the group.
He finished with 12 disposals, four tackles, six score involvements and three clearances, thanks to the opportunity to play around the ball more.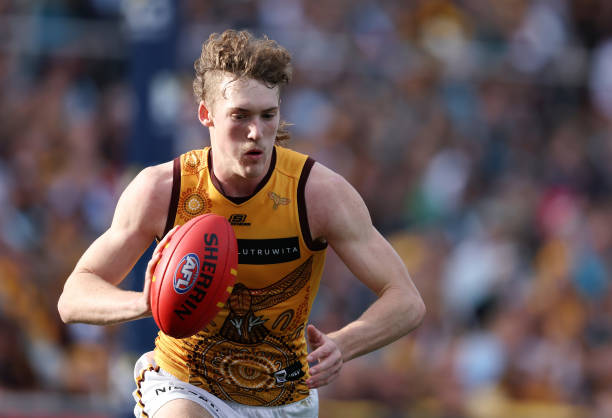 #30 Sam Butler ⭐
It is very rare to see multiple small forwards have a strong impact on the game and with Breust stealing the show, Butsy was one of the odd men out.
He had 12 disposals for the game, a couple of tackles and kicked a fourth quarter goal but didn't ever look menacing throughout.
In saying this, this was his first real down game since coming into the side and it would be disappointing to see him sent straight back to the reserves considering his age.
#31 Connor MacDonald ⭐ ⭐ ⭐
The second of three Mac's to talk about during this review and after a couple of impressive cameos as the sub, I think he used his full game well.
He had 20 disposals, seven score involvements, kicked a goal himself and like Mackenzie, got to spend some more time around the ball later in the game.
The big shift in MacDonald in my opinion is he isn't trying to do too much with the ball, which hurt him early this year, but is now comfortable with taking and executing the easy option.
#33 Tyler Brockman ⭐ ⭐ ⭐
I feel like a bit of a broken record when I talk about Brocky every week because I find myself saying the same line; things happen when this guy touches the ball.
He had 15 disposals and found himself higher up the ground than we have seen this year, took six marks, had seven score involvements, three direct goal assists and kicked one goal himself.
I think all fans would like to see him put a four quarter game together but man, the sky's the limit for Brocky.
#36 James Blanck ⭐
With the genuine pace of the ball coming his way in this first half, I genuinely felt bad for Blanck in the first half.
While the Port talls did have a field day, with Finlayson and Marshall kicking ten between them, I don't think Blanck was at fault for all of them.
He has shown the ability to play well against good opposition, but today just wasn't the day for him.
#37 Josh Weddle ⭐ ⭐ ⭐ ⭐
At quarter time, I was ready to give away my first ever negative star rating because this poor lad was having the definition of a nightmare down back.
The next three quarters showed the type of player and character this kid is, bouncing back from a start that not many 19 year old kids would be able to get over.
He finished the game with 25 disposals, six rebound 50's, two mark of the year contenders and the respect of not only the fans but the broader media who covered the game.
#42 Bailey MacDonald ⭐ ⭐
A massive congratulations to Bailey from the Talking Hawks family on playing your first game and there were some flashes to excite Hawks fans for sure.
It was the dictionary definition of being thrown to the wolves; having to try and defend the Port avalanche in that first half but he stood up at times.
Finishing with 10 disposals and six marks in your first game is nothing to be flat about and the experience he will gain will be so valuable as we move forward.