We are back for another classic game review and this one is going to be an absolute belter!
The two best games between these two sides are undoubtedly the two finals played between them in 2001 and again in 2014. 
However, if you are a regular reader of this series, you will know that finals are exempt from these articles so I had to dig a little deeper. 
While digging, I found a gold nugget and to continue the theme of the last couple of classic game reviews, it is yet another huge comeback. 
So let me take you back to one of my favourite seasons of football of all time, and more specifically, Round Eight, played down in Tasmania. 
Hawthorn had won all seven games to open their 2008 campaign and were proving themselves to be the most exciting offensive juggernaut in the AFL. 
With Lance Franklin dominating and a team revolved around clean ball movement, Hawthorn was averaging a ridiculous 125 points per game before the match. 
In Round Eight, they faced a Port Adelaide team recovering from an AFL record loss in the 2007 Grand Final, as well as starting the season 0-4, before gaining some momentum with three straight wins before this game.
This momentum carried itself into the first quarter of this game where the Power flexed their muscles, dominating all of the play. 
They piled on seven first quarter goals and if it wasn't for future centurion Lance Franklin kicking the only two Hawk majors for the quarter it would have been grim. 
With the first goal of the second quarter, Port Adelaide extended the lead to a sizable 38 points until Buddy snagged another one, making it three goals from three kicks. 
Could play, this lad known as Buddy. 
The Hawks needed an unsung hero around the ground to lift and it was in the form of big ruckman Robbie Campbell. 
Hawthorn dominated in the centre during the second quarter, getting themselves some clean centre breaks that led to goals, including two to midfielder Brad Sewell. 
After trailing by 38 points earlier in the quarter, the margin was chopped in half and at the main change, it was just 17 points in favour of the Power. 
When looking at the 2008 Hawks to this point, this margin wouldn't have scared Alistair Clarkson and his men, considering the offensive dominance throughout the first seven weeks.
The third quarter was a genuine ping pong match, with the ball flying around then Aurora stadium in Tasmania with both teams kicking big time goals.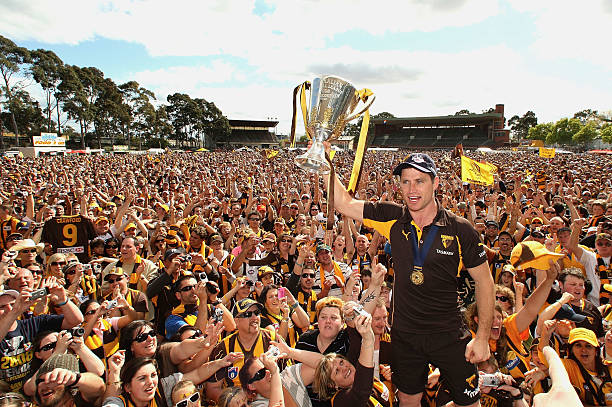 It was a blistering 60 second period that separated the teams, with Hawthorn kicking three goals in 60 seconds of playing time!
Yes, you read that correctly. 
Clinton Young, Buddy Franklin and Jarryd Roughead kicked late goals, with the centre dominance mentioned earlier in the piece playing a key role in the rapid nature of the scores. 
At three quarter time it was Hawthorn with a lead of seven points but with every bit of momentum on their side.
Weirdly, after 29 goals between the two sides in the first three quarters, the scoring dried up severely in the last quarter with only three last quarter goals combined. 
The stoppage clearance continued with Michael Osborne snapping truly before Mark Williams put the nail in the coffin with 70 seconds to go.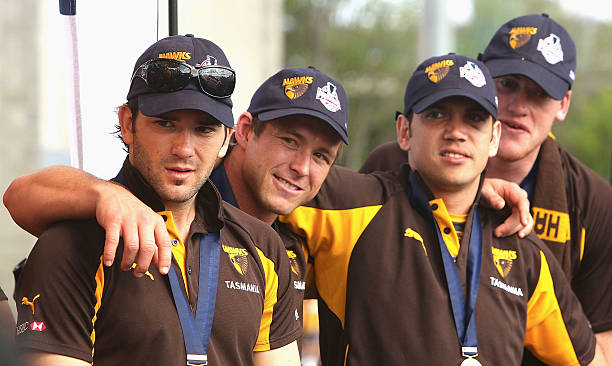 Apart from winning the Hawks a fantastic game, that goal came with some more after-match consequences with Mark Williams choke symbol after the goal causing some controversy. 
Nevertheless, it was a massive win for the boys in brown and gold who would go on to bigger and better things later in the season. 
The final scores read
Hawthorn: 17.15.117
Port Adelaide 15.12.102
There were some big performances by individuals in this game, with Jordan Lewis having 36 disposals, Brad Sewell having 34 disposals and kicking two goals and Chance Bateman busting his gut, as per usual with 29 disposals. 
The big man Buddy Franklin kicked six goals, with the Robin to Buddy's Batman Jarryd Roughead booting three. 
This Hawthorn team has been my personal favourite to watch in my 26 years of life and watching old highlights of these games brings joy that is hard to imagine!