WHAT.
A.
WIN! 
Oh we are a happy team at Hawthorn and we are the mighty, fighting, Hawks!
Marvel Stadium and St.Kilda were both not opponents that had filled the Hawks faithful with much hope but the oly real complaint that we've got is we should've won by more!
Goalkicking is vital and in conditions of o rain and no wind, 8.16 at one stage isn't getting the job done.
However, the boys got it done late and we are on a two-game winning streak. So, how did every Hawk do?
Mitch Lewis ⭐️⭐️⭐️⭐️
A key forward having five shots at goal? YES PLEASE!
How crisp was that opening set shot, from 51, wrong side for a right footer and had the Tom Hawkins-esque left to right swing as well.
Opponent Dougal Howard didn't take a contested mark for the clash and Mitch lost just one contest on the day. 
Pick 76 still boggles my mind and he now has 52 goals in his last 20 games. 
If he's producing 55+ goals per season for the next handful of years, look out! 
Jai Newcombe ⭐️⭐️⭐️⭐️
Another lazy 30 touches for the number three and like Dermie did in the commentary, I laughed at the notion that he was a "nuggety" midfielder. 
Our man is a brute as his 13 contested possessions suggests.
Nine clearances, eight score involvements, seven inside 50's and 502 metres gained are just ridiculous numbers.
Did it all at 76% efficiency too. 
Jarman Impey ⭐️⭐️⭐️⭐️
Was the most complete I've seen Jars play in 2023. 
Went at 81% efficiency for his 26 touches that included 18 kicks, as well as seven intercepts, six score involvements, six marks and 534 metres gained. 
He played on more of a wing, with 56/44 splits between defence and offence. 
Mason Wood was dominant as well but it wasn't a case of "his opponent", Jars just hurt him when the Hawks had the footy.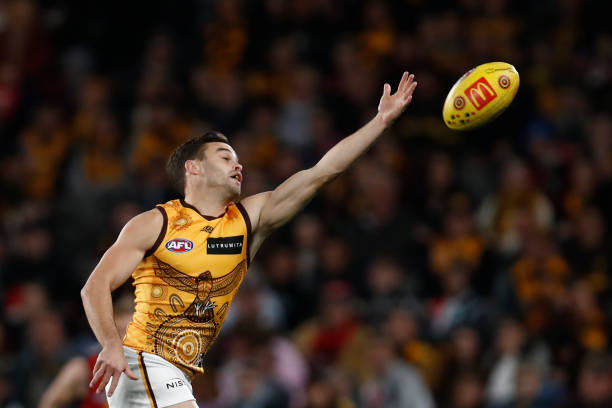 James Worpel ⭐️⭐️⭐️⭐️
Had the 24 touches and only eight kicks so four stars may look a little generous but don't fret; Daz has his reasons. 
Six clearances, four inside 50's, four tackles, 12 contested possessions and 24 pressure acts are nice numbers but the score involvements!
He had twelve. 
Yep, 12! 
FIFTY PERCENT OF THE TIME THIS MAN TOUCHED THE BALL, THE HAWKS SCORED! 
Well done Worpedo. 
James Sicily ⭐️⭐️⭐️⭐️⭐️
I mean, this was ridiculous. 
Why, oh why, was James Sicily ever a key defender? 
The man looked at Jade Gresham the way Daz looks at licorice; yeah, no thanks champ! 
Gresham had 15 disposals and a behind (still want him, Hawks fans?), while Sis played a captain's game reminiscent of leaders gone by. 
Why name his stats, when I can list them?
22 intercept possessions (not a typo, TWENTY-TWO) 
16 marks (four contested) 
I mean, to quote Sandy Roberts when Gary Ablett Sr tore away and launched a 55 metre bomb:
"What more can you say?" 
Ned Reeves ⭐️⭐️
Won 29 hitouts in 48 contests which is handy, but the Noodle had -29 metres gained for the day and took one mark. 
Being +24 in hitouts and -2 in clearances isn't a great level of production.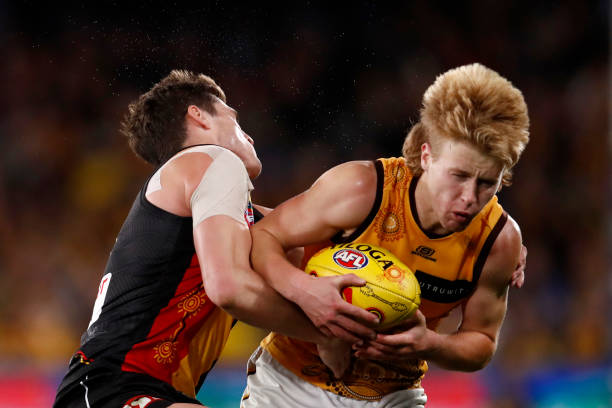 Sam Frost ⭐️⭐️⭐️
15 touches for Frosty and his opponent just kicked a goal and took two marks. 
The most boring review but for Frosty, that's exactly what we need. 
Karl Amon ⭐️⭐️
81% efficiency for 23 touches sounds pretty good for a wingman but there's two factors I can't ignore. 
1 – The fact he demanded Jai to give him the ball as he's running to the boundary, running to 40 out, still away from the goalface and missing a goal (knock on Jai for dishing it off too).
2 – St.Kilda scored off all four of Amon's turnovers. 
However, five score involvements and 479 metres gained is a tick. 
Conor Nash ⭐️⭐️⭐️⭐️
Did an amazing job defending Jack's Steele and Sinclair at stoppage, as well as collecting 27 touches, 10 score involvements, five tackles and four inside 50's. 
It's quite breathtaking that Nashy getting 27 wasn't spoken about in the media as its now fallen into the category of general expectation. 
Sam's masterpiece so far; the 198cm brute. 
Will Day ⭐️⭐️⭐️
In 2002, Michael Voss was robbed of a Norm Smith Medal because the votes were submitted 10 minutes before the siren and Nathan Buckley was the eventual winner. 
With about ten minutes to go in the last quarter, Daysy was on two stars as he was finding the footy but turning it over. 
His last ten minutes were great though and he ended with 30 touches, 11 score involvements, seven inside 50a and 597 metres gained.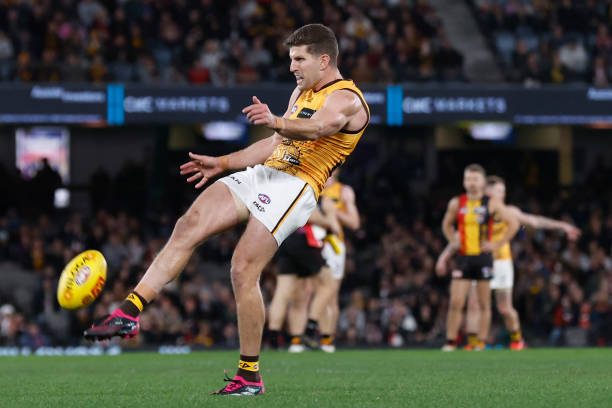 Dylan Moore ⭐️⭐️⭐️
Geez he was having a nightmare with a missed set shot, a missed handball to Sam Butler and then burning a teammate and not handballing over the top. 
However, unlike previous seasons where the closer to goal, the more dangerous he was, Moore was better up the ground. 
His goal should've been called back but he still nailed it, while finishing with 31 touches, five inside 50s, nine marks, nine score involvements and 484 metres gained. 
His role is frustrating Hawks fans but if he converts, 31 and 4 snags is five stars. 
Blake Hardwick ⭐️⭐️⭐️⭐️
Didn't turn the ball over, Jack Higgins was barely influencing the game, he went at 82% efficiency and took six marks. 
Don't let this go under the radar, his 17 touches were good but his defence was better. 
Lachie Bramble ⭐️⭐️⭐️⭐️
I owe Lachie an apology. 
A supreme doubter I was and after his first passage of play, that was justified. 
Three fumbles, a half-turnover and then a turnover wasn't the start our No.16 wanted. 
However, he was awesome for the rest of it, finishing with 23 touches, 87% efficiency, 438 metres gained and stood up in that last quarter. 
Great game Lachie.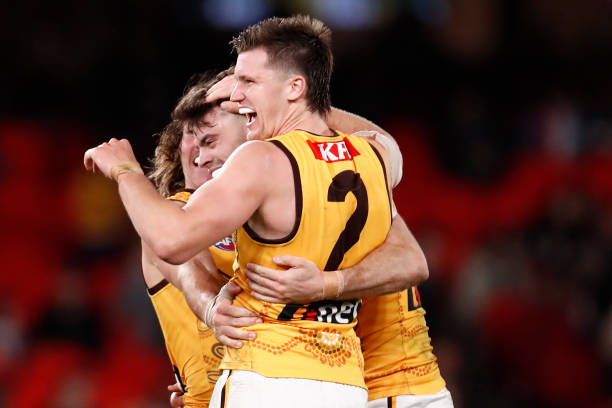 Lloyd Meek ⭐️⭐️⭐️
Six score involvements, five marks and four tackles was the catalyst for a pass for the Meek Man. 
Only had the 13 hitouts but looked comfortable against Rowan Marshall. Would've loved to see him kick that snag from the set shot. 
Luke Breust ⭐️⭐️⭐️⭐️
PUNKY! 
Just didn't get to 500 goals after a couple of uncharacteristic set shot misses but made Ben Paton and Jimmy Webster look silly at times. 
3.2 from 11 touches, two extra score involvements and the footy IQ was at an all-time high. 
Jacob Koschitzke ⭐️⭐️⭐️
Could that kick have saved Kosi's career? 
10 disposals, six marks, two behinds and a dozen score involvements read Kosi's day. 
However, the hit from 45 metres out to grab the lead for the Hawks will be a moment remembered for the remainder of the season. 
As a doubter, the six marks is a huge tick. 
The kick, even bigger. 
Well played Kosi, I hope it leads to bigger and better things.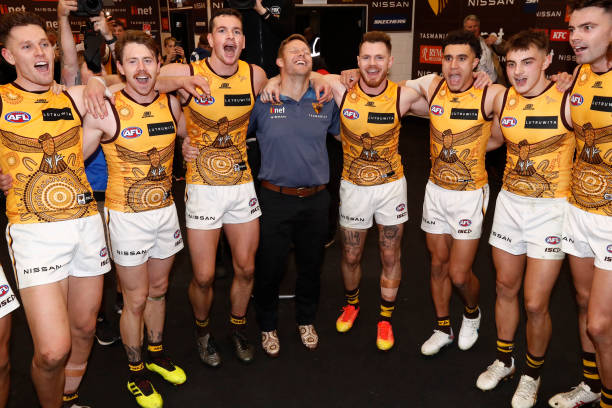 Cam MacKenzie ⭐️⭐️
Wasn't a game Cam Mack will look back on as one of his best, with his 14 disposal and 19 pressure act performance.
Used the ball brilliantly well, which is a huge tick. 
Sam Butler ⭐️⭐️
15 disposals for a small forward is handy, with a dozen of them being handballs. 
Lloyd Meek set his goal up with a great handball but with a player up his freckle, delivered on his left. 
Had 19 pressure acts and seven score involvements as well. 
Connor MacDonald ⭐️⭐️
Played 45 minutes of game time and had five touches, four metres gained and three score involvements. 
The Hawks had had so many set shots that should've gone through that when C-Max lined up from 15 out, there was a doubt. 
The great man slammed it home. 
For a sub, don't count your moments, make your moments count. 
Tyler Brockman ⭐️⭐️
I predicted Brocky kicking five and he did just that.
He had five kicks. That counts, right?
Just the eight touches for the electric small forward, with his goal being a highlight as he torched two opponents, running back to goal. 
Had another three score involvements and took four marks. 
James Blanck ⭐️⭐️⭐️
Max King flopped for a goal and from there, it was a genuinely good battle between Blanck and the 200cm star Saint full-forward. 
King did take a couple of nice contested marks but I thought Jimmy held his own. 
Josh Weddle ⭐️⭐️⭐️
Couldn't believe it at three-quarter time when a near five star performance from the previous week could've been followed up by a performance worthy of a one or two, with just the twelve disposals. 
Oh boy, that final quarter was electric! 
Seven disposals in the last to finish with 19, he went at 95%, had five score involvements and four marks, with burning off Brad Hill twice, a highlight 
Seamus Mitchell ⭐️⭐️⭐️
Copped a knock and fingers crossed he's okay but it was another 20-disposal game from the man who won't be wearing #40 come next season.
Six intercept possessions, 85% disposal efficiency, five marks, four score involvements, three inside and rebound 50s was a handy return.