It's not exactly breaking news but the Hawks are struggling for a centre half forward and it is a pressing need for the brown and gold in 2024. 
The Hawks have experimented with Jacob Koschitzke, Denver Grainger-Barras, Lloyd Meek and Max Ramsden in this role this season, with limited success.
Koschitzke is out of contract at the end of the season and unfortunately, has been unable to recapture his form of 2021, with only seven goals from eight games this year.
Grainger-Barras was drafted as a defender, but has been given a chance in the last few weeks, culminating in being subbed out of our last game against Richmond, without troubling the statisticians.
Meek and Ramsden are both ruckmen who can pinch hit forward, which is not something we can count on to pair with Lewis going into 2024, so who can we look at?
Sure, David Hale was a star ruck/forward in previous successful times but he did have a combination of Roughead/Franklin/Gunston and then Roughead/Gunston.
It was extremely rare to see him as the genuine number two.
Below are five highlighted players from opposition clubs who at some point, have been linked to the Hawks in some capacity.
While they have been ranked from least likely to most likely to come to the club, let us know who you want in the brown and gold next year!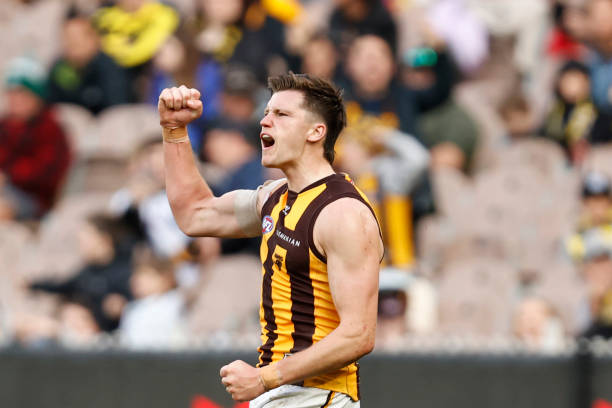 Ben King
Gold Coast
Age: 23
Games: 70
Goals: 122
Let's start with what we would call "the pipe dream"; something that is highly unlikely but not out of the realm of realistic possibility, considering the circumstances.
The Suns spearhead is 202cm and has just had his 23rd birthday, matching the timeline and profile of the perfect pairing next to Mitch Lewis up forward.
King has been suffering through a big time form slump, with his last goal coming in Round 15 against the Hawks and even being tactically subbed against Port Adelaide.
The big man is contracted with the Suns until the end of 2024 and has his twin brother Max playing in Melbourne for the Saints, so a move home wouldn't be a shock move.
What would make this deal difficult is the likely price, with King's best worthy of a bounty and the Suns holding the upper hand in negotiations.
If the Hawks could find a way to get this done, it is a no brainer, with a 47-goal 2021 campaign showing the star factor King possesses.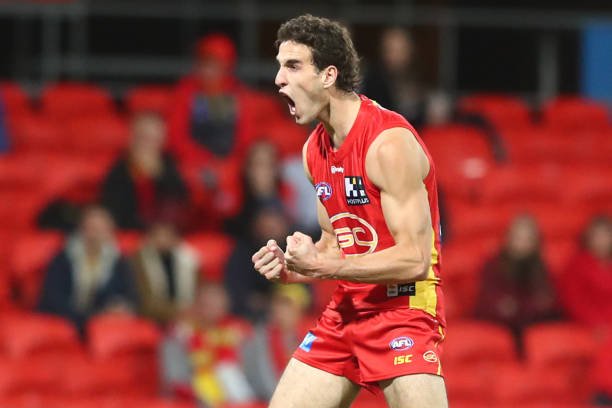 Harrison Jones
Essendon
Age: 22
Games: 31
Goals: 35
Personally, this one could prove to be really interesting and after writing this, am still not sure what to think but Hawks fans; this is your time to shine!
At only 22 years old, Jones has had a horror run with injury in his short career, with a back injury and ankle surgery, ending his 2023 season after just five games.
Jones flashed onto the scene in his rookie season of 2021, playing 16 games and kicking 20 goals, exciting Bombers fans with visions of the future.
Unfortunately for the young man, it has been the injuries that have stopped him, playing only 15 games in the last two seasons.
Without a contract with Essendon for next season, Jones' future at the club is up in the air and considering the need for a young tall forward, is Jones worth a flyer?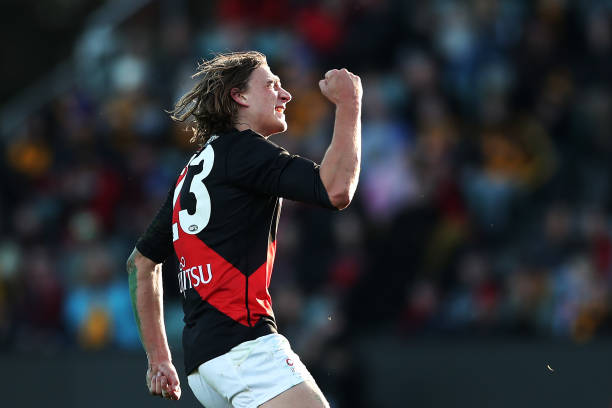 Harry Himmelberg
GWS Giants
Age: 27
Games: 143
Goals: 160
Smack bang in the middle of the list in terms of likelihood, is the Giants swing man, who's link to the Hawks has fluctuated throughout the year.
The oldest of the five, Himmelberg would add a seasoned and experienced figure up front with Lewis and someone who has proven he is capable of consistently producing at the level.
There are a few things that make this fit tricky for the Hawks, with Himmelberg coming off an outstanding performance playing as a key defender in the Giants win over the Suns.
Himmelberg's genuine versatility means he has a wider variety of suitors around the league and the argument can be made he is a better defender.
He has multiple 30+ goal seasons when playing as a true forward and averages over a goal per game in his career, despite the stints down back, but I am not convinced he is a better forward.
Former assistant coach Steve Johnson adamantly states that he is a defender but we wouldn't mind a centre half back either.
Reports in June circulated that his price could be upwards of 800k+ and we do have the salary cap space.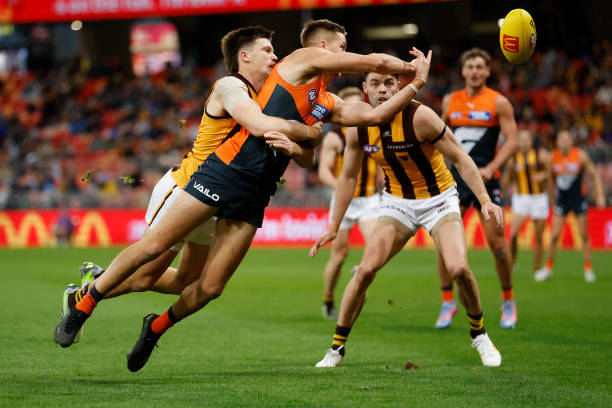 Mitch Georgiades
Port Adelaide
Age: 22
Games: 49
Goals: 65
The price of success for a club up the top of the ladder can be losing young talent, which in the case of Mitch Georgiades, has been heavily rumoured.
Georgiades has only managed two appearances in the senior side this season, struggling to climb above Jeremy Finlayson, Todd Marshall and Charlie Dixon.
When Georgiades did play, he had no issue hitting the scoreboard, with seven scoring shots in two games, but unfortunately for him it only netted him two goals and five behinds.
It was so beyond what we've come to expect, given beforehand he had kicked 63.47 for his career.
Similarly to Jones above, Georgiades burst onto the scene early in his career, kicking 32 goals in just his second season of footy, with his ability to take a massive specky, making him a highlight waiting to happen.
Considering his lack of opportunity at the club he is at now, you could not blame Mitch for wanting a change of scenery and if that is Melbourne, the Hawks seem a great fit!
Jake Riccardi
GWS Giants
Age: 24 (Rd 1, 2024)
Games: 41 
Goals: 42 
Of all the players named throughout this article, Riccardi seems to be the most likely acquisition for the club over the summer.
Riccardi will have just turned 24 when the 2023 season comes to an end, therefore ready to launch into the prime of his career
Playing as a tall forward throughout the season around Jesse Hogan and Aaron Cadman, Riccardi's form has been up and down.
He gave us Hawks fans a very nice audition three weeks ago, kicking three goals from six scoring shots, as well as seven marks in the tight win up in Sydney.
Standing at 198 cm and 100 kg's, he has the frame to come in and handle the load as a second tall forward as well as showing flashes of pure talent throughout his short career.
Well Hawks fans, it is up to you now!
In the comments of this article, let us know which player you want to see at the club next year and which player you think is the most likely to be at the Hawks next season!