My goodness, that is a tough loss to swallow!
After playing some of our better footy for the season, replicating patches of brilliance similar to the Brisbane game, the Tigers stormed home and broke the hearts of the Hawks.
While the raw reaction of the loss will cloud this, there were a lot of positives to take out of this game and the player ratings will reflect this.
As disappointed as I know Hawks fans are and will be, this is a whole game review so please do understand this concept if you struggle to shake the heartbreak of the final result. 
Let's get into the review!
#2 Mitch Lewis ⭐ ⭐ ⭐
When looking at his line in isolation, you may wonder where the fourth star is, but I assure you it isn't a typo.
Yes, Lewis' 14 disposals, seven marks and four goals were crucial and he was the only target which provided his value but also hurt the Hawks going the other way.
His direct opponent, Noah Balta, was a driving force for the Tigers with 19 disposals and a massive 14 marks and nearly 600 metres gained.
#3 Jai Newcombe ⭐ ⭐ ⭐ ⭐
Had one of the all-time shanks early in the first quarter and seemingly put the kick away for the rest of the contest, damaging with his hands.
Duke had 30 disposals, 23 of those being handballs, as well as six clearances, five score involvements, 28 pressure acts and kicking a goal.
While he may not have flashed like his midfield mate in James Worpel, the work he did was equally as important.
#4 Jarman Impey ⭐ ⭐ ⭐
Despite not blowing up the stat sheet this week, Impey made a strong defensive impact and showed his desperation with multiple fourth-quarter efforts
Impey had 15 disposals with five tackles, six intercept disposals and four marks while helping to patrol the defensive half.
They aren't career-best numbers, but he was a critical player on the day.
#5 James Worpel ⭐ ⭐ ⭐ ⭐
The Worpedo just keeps on keeping on, continuing with his rich run of form with another beastly performance.
Worpel was a menace around the ball, with 27 disposals, 13 of them contested, nine clearances, including seven of them out of the centre, six inside 50s and kicked a goal.
For someone who came into the season with his future at the club in question, you can only admire the way he has played his footy this year.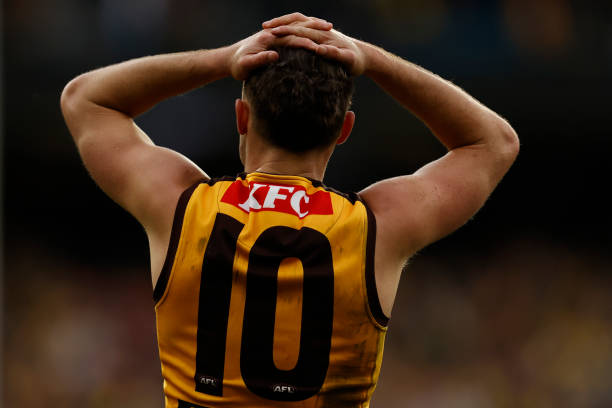 #6 James Sicily ⭐ ⭐ ⭐ ⭐ ⭐
What a difference it makes having the skipper back on the field and despite the result, he was a wall down back.
The skipper had 28 disposals, and 13 marks including a league record-equalling 10 intercept marks, 93% disposal efficiency and five score involvements.
The evidence is in the game when Sicily went off to get his ankle re-strapped, the Tigers kicked three consecutive goals, the perfect example of his positive influence on the side.
#7 Ned Reeves ⭐
For the first time in a long time, Ned finds himself back amongst the stars, but my goodness he only just scraped in.
He had 37 hit-outs, marginally beating out his direct opponent, as well as nine disposals, three tackles, four clearances and four score involvements.
Unfortunately, the negatives still sit heavy on the front of the mind, dropping countless important marks in the last quarter, giving away multiple free-kicks and showing his distinct lack of footy IQ, unable to park himself down the line to create a contest when required in the last quarter.
It looks as though Reeves is set for a holiday, with a second-quarter tackle on Soldo sure to draw attention from the MRO.
#8 Sam Frost ⭐ ⭐ ⭐
Another positive week for the man I like to call the snowman, limiting the impact of Jack Riewoldt and pinch-hitting in the ruck with a positive effect.
Frost had 14 disposals, four marks and three hit-outs while keeping Riewoldt to one goal from 12 disposals, granted that Jack's inaccuracy helped our man Frosty.
The peaks of my frustration with Frosty stemmed from his lack of defensive responsibility relative to his status, but in the last two weeks, he has taken the big jobs well.
#10 Karl Amon ⭐ ⭐ ⭐ ⭐
What an absolute star pick-up this man has been and once again, he delivered the goods for the Brown and Gold, playing his role to perfection.
27 disposals for Karl at 85% efficiency, seven marks, five score involvements, 10 rebound 50's and 720 metres gained, in what was a brilliant performance.
The number of negative comments regarding Karl on a Talking Hawks Facebook post during the week was bewildering, with this game summarising his body of work for the season.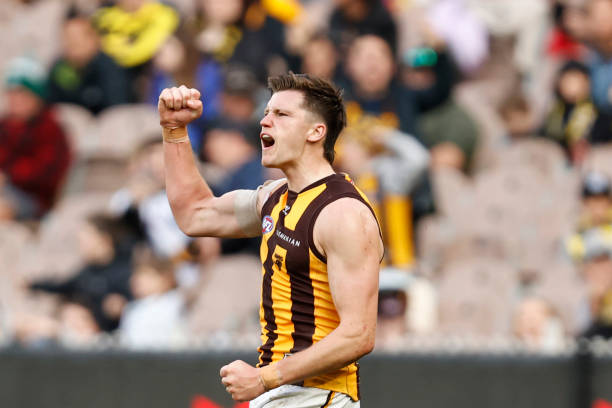 #11 Conor Nash ⭐⭐⭐
This one is a little bit of a funny one because Nash didn't have a massive impact on the eye, but his numbers don't lie.
The big Irishman had only 18 disposals, however, seven of those were clearances, he had seven inside 50's and six score involvements, all at 83%.
I don't think he put much time into the Tim Taranto matchup, which in hindsight was a mistake considering the impact Taranto had and the similarities in frame and playstyle.
#12 Will Day ⭐⭐⭐
We had to say goodbye to a club favourite due to retirement a few years ago in Shaun Burgoyne, while Day isn't of his quality yet, he looks set for the same "Mr Fix it" role.
After playing mostly around the ball in the first three quarters, with big impact having six inside 50s from 13 disposals, he got thrust back as the loose man when Richmond was surging.
Day had five fourth-quarter disposals, three marks, two inside 50s and two rebound 50s and despite the result not panning out, would have been a big reason for winning the game.
#13 Dylan Moore ⭐⭐
I feel as though whenever I talk about Dylan Moore, I have an internal crisis about judging him too harshly, but I feel as though his impact wasn't large.
He had 16 disposals, four marks, and four tackles and kicked a goal in the third quarter, however, only had three inside 50s and no tackles inside 50.
Let me know in the comments of this article Hawks fans, if my lofty opinion of Dylan Moore is resulting in me judging him harshly.
#14 Jack Scrimshaw ⭐⭐
This rating may be a reflection on the coaches more than Scrimshaw, as the decision to move him forward potentially affected the rating.
I thought Scrimshaw's first half was really good, looking solid down back with some good defensive wins and ball use out of the back half.
However, with the substitution of Denver Grainger-Barras, Scrimshaw was thrown forward and his momentum stalled, struggling to run out the game in the fourth.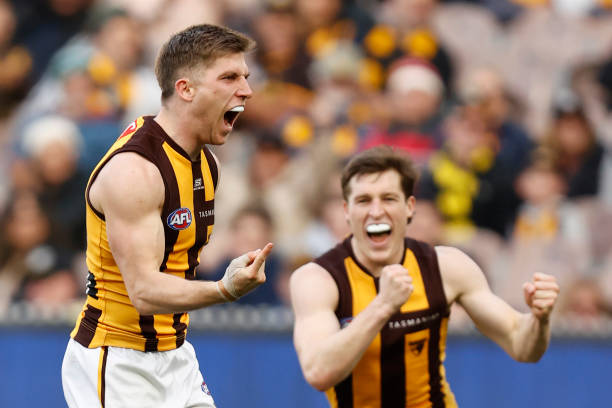 #15 Blake Hardwick ⭐⭐
It is rare for me to say that Blake Hardwick could not win his one-on-one matchup, but he found his match in a red-hot Dustin Martin.
Granted, Martin played up the ground at times, but Dusty had 24 disposals, took seven marks and kicked two important goals, both directly on Hardwick.
Dimma himself didn't have the usual offensive numbers, with only 15 disposals, two marks and five rebound 50s.
#20 Chad Wingard ⭐⭐⭐
Along with a teammate who will feature soon, this was the most straightforward rating for me in this entire article; a five-star first half with a zero-star second half makes three!
It was the vintage Chad of old, seemingly everywhere in the first half with 16 disposals, eight score involvements and two goals, including a goal-of-the-year contender!
Unfortunately, after his third of the game one minute into the third quarter, Wingard would not touch the ball again, fading out of the game horrifically.
This game is just another example of the giant tease Wingard's Hawthorn career has been, with polar opposite production within the same four quarters.
#22 Luke Breust ⭐⭐
As is the respect for this man from coaches around the league, Richmond rotated a double team of Nathan Broad and Dylan Grimes on Breust throughout the game.
Punky did what Punky does this season, find the scoreboard despite a lack of production in statistical categories.
Breust kicked two goals, however, his miss at the start of the fourth quarter will haunt him, potentially missing the opportunity to put the game away.
#24 Denver Grainger-Barras
Well, this has been the easiest no-star game of the season and it won't be topped, however, I am not here to bash DGB.
Yes, he was subbed out of the game in the third quarter with two pressure acts to his name and nothing else, but like I have been saying for three weeks, the coaches have set him up to fail.
He is not ready to be the second tall forward in an AFL side and asking him to play that role, watching him fail at that role and subbing him out is doing NOTHING for his development.
The likely scenario is that he will be omitted, sent back to Box Hill with his confidence in tatters and struggle for form; a genuinely unfair end to the season.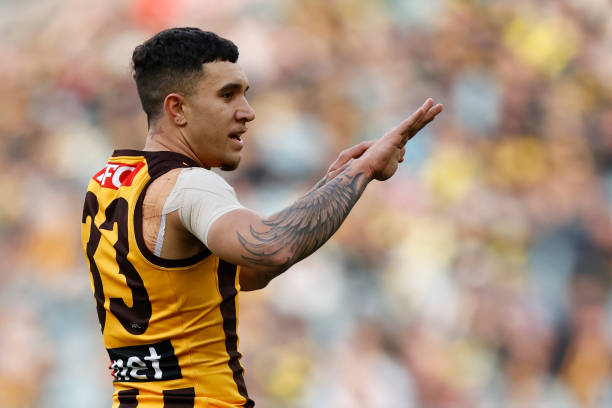 #25 Josh Ward ⭐⭐⭐
If there was a player who encapsulated Hawthorn's day more than Josh Ward, I would be very surprised.
Ward's first three quarters were solid as a rock, with 18 disposals, six score involvements, four marks and another clean performance on the wing.
However, like his team around him, he ran out of legs in the last quarter with only two disposals, highlighting the need for a few more preseasons.
#27 Ned Long ⭐
It's always tough coming on as the sub, especially with the role Long was expected to play when he replaced Grainger-Barras in the game.
He had only three disposals and two tackles in his 41 minutes of game time, making more of an impact than who he was subbed for, but still a quiet day.
Long has been amazing all year in the VFL, so I am hoping this isn't his lone opportunity in the senior side for the rest of the season.
#31 Connor MacDonald ⭐⭐
After a rich run of form lately, seemingly mastering the high half-forward role, this was a bit of a down game for the flying mullet.
He had 15 disposals with six score involvements, four inside 50's including a bullet to Chad Wingard on the lead, but that was about it.
Similarly to Ward, a game like this late in the season is bound to find a second-year player lacking, so another couple of pre-seasons under his belt will be invaluable.
#32 Finn Maginness ⭐⭐
After training as a forward all week, Maginness got the job on Dan Rioli and did a pretty good job limiting his impact, even kicking himself a goal!
I don't think it is a coincidence that Rioli got off the chain in the last quarter while Maginness spent big-time minutes on the bench.
The problem with his game isn't even the lack of disposals, it is what he did with the footy, not counting his goal, six of his seven disposals were ineffective including an egregious missed target to Mitch Lewis.
There is no doubt that he is a great tagger, which holds value, but until he can fix his skills, I just can't see him as an AFL-standard talent.
#33 Tyler Brockman ⭐⭐
Another young player who started the game well in the first half, but faded out of the game late, making some costly mistakes, noticing a trend?
Brockman's first half was really good, looking dangerous around goals with eight disposals, three marks and two goals. 
Unfortunately, Brockman couldn't continue this form into the second half, with only three disposals and a poor turnover at a key point in the last quarter.
#37 Josh Weddle ⭐⭐
This is an interesting one, as I have seen a lot of fans concerned with Weddle's "Frost-like tendencies". 
The running man had 17 disposals at 59%, four marks and only the 131 metres gained which is down on his usual drive.
What I see with Weddle, is a young kid in his first year, testing the limits of what he can and can't get away with, learning on the run if you will!
#40 Seamus Mitchell ⭐
The impressive youngster has consistently been a player review favourite, most likely in the top ten when talking about stars per game average. 
However, this was far from the quality we have become accustomed to, with his 15 disposals lacking polish and calmness. 
I hate to be a broken record, but Mitchell is a baby in terms of AFL footy, so this is symbolic of the usual struggles late in the year