Best win of the season!
Best win of the last four years!
Best win under Sam Mitchell! 
WHAT A WIN! 
If you're not still on cloud nine, skip this and go down to the ratings because oh my goodness! 
Two premiership contenders have been knocked off which does open up the questions of a) where has this been all season? and b) how good is Sam Mitchell's coaching? 
So, how did every player go? 
Spoiler alert; unbelievably. 
Harry Morrison ⭐️⭐️⭐️⭐️
Matched Josh Daicos for impact in the first half and then blew him out of the water! 
After the completely crazy "double-goal" to Dan McStay and Nick Daicos, Morrison found himself free forward of the stoppage and nailed the 40m shot to wrestle back momentum, something the Hawks haven't been able to do. 
Had 21 touches at 71%, six score involvements, five marks and 378 metres gained. 
Just because there were only three tackles, every single one of them was defensively gifted and stopped the Pies from setting up a scoring chain. 
Well played Harry. 
Mitch Lewis ⭐️⭐️⭐️
The Hawks kicked 105 points while Lewis contributed just 13 of them but had an elite impact around the ground. 
Took ten marks against a Darcy Moore/Nathan Murphy/Jeremy Howe/Isaac Quaynor aerial defence, had five inside 50s and three score involvements that weren't his own. 
Jai Newcombe ⭐️⭐️⭐️⭐️
Jai's in the top three for goals in fourth quarters and his goal in this one made Hawthorn fans pop the corks around the country. 
The Prince of Poowong had himself 28 disposals but just nine of those were kicks and had less than ten metres gained per disposal. 
Had ten contested possessions, seven score involvements, six clearances, five marks, five tackles, four inside 50s and 75% efficiency. 
That's usually a three-star performance but Jai showed significant leadership in two key spots:
Remonstrating with Darcy Moore after he collided with Brandon Ryan. 
Stood in the hole with Moore & Nathan Murphy barrelling down on him after delivering the ball from the back half 
Long live the Prince of Poowong! 
Jarman Impey ⭐️⭐️⭐️
Wasn't the most impactful performance from Jars but like every other defender, stood up and played a very mature role. 
Loved the way he came up and met Jack Crisp, Beau McCreery and Jordan De Goey on the rare occasions that they left the front of the stoppage. 
Took seven marks, with some of them being very important and also had five rebound 50s and four score involvements.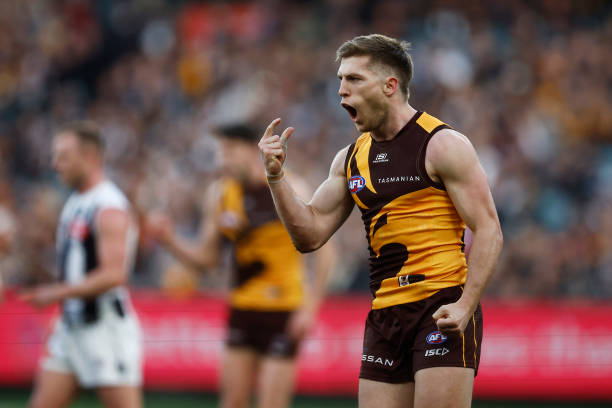 James Worpel ⭐️⭐️⭐️⭐️
Jimmy Worpel having 23 disposals and being an elite midfielder would've seemed impossible 12 months ago but here we are. 
82% efficiency, nine contested possessions, seven clearances, six score involvements, six tackles, five centre clearances out of 22 centre bounce attendances and 26 pressure acts. 
If we at Talking Hawks hear anyone complain about the Titch & Jaeger trades, stop it. 
James Sicily ⭐️⭐️⭐️⭐️⭐️
This man is a genuine freak and we are so incredibly lucky to have him as our captain! 
The great man decided to deal a myriad of damage to the Pies, listed thusly: 
Nothing more to say. Sis is a star! 
Ned Reeves ⭐️⭐️⭐️⭐️
The disposals don't matter but Noodle was incredible! 
It was probably the best all-around game we've seen from him, with 39 hit-outs, five tackles, five one-percenters and a beautiful set shot goal from a nice grab. 
Hawks won the hitouts to advantage handsomely, dominantly won centre clearances and even Sis complimented him in the post-match. 
Conor Nash ⭐️⭐️⭐️⭐️
Loved the first half from the Irishman as he was one of the best in the park, 
Nashy had 31 touches with 327 metres gained, nine marks, 81% efficiency, seven score involvements, six clearances, six tackles, four inside 50s and 18 pressure acts.
His frame and positioning in the contest was also a key contributor to  Jordan De Goey having zero impact in the contest in the first half.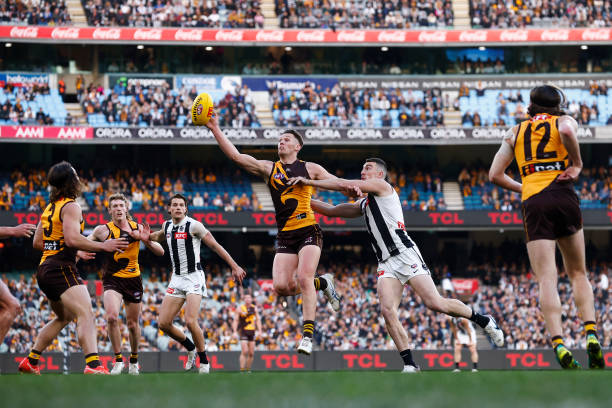 Will Day ⭐️⭐️⭐️⭐️
How do you not love this man?
Future captain, current superstar and the new Shaun Burgoyne, in that you can put him anywhere and he dominates. 
29 disposals for the SA local, with 369 metres gained, 76% efficiency, 14 contested possessions, 17 pressure acts, eight inside 50's, seven clearances, six score involvements and was one of the absolute best. 
Went down back and had the five intercepts, should've kicked a goal and was the best at bursting away from the stoppage. 
When there's a Will, it's a Day! 
Dylan Moore ⭐️⭐️⭐️⭐️
Another one with over 300 metres gained, Moore was elite up and back all day, with a diving mark in the defensive 50 and kicking two goals the epitome of his work rate. 
22 disposals, 82% efficiency, nine score involvements, eight contested possessions, five marks, four inside 50s and 16 pressure acts. 
Still not a massive fan of how easily he goes to the ground and tries to draw a too-high free kick but everything else was golden. 
Jack Scrimshaw ⭐️⭐️⭐️
On the stat sheet, Scrimma didn't have a great game and in the second quarter, there was a moment on the wing where he seemed to give up defensively after a turnover. 
From then, he was dominant, taking down Jamie Elliott and Bobby Hill in contests and even not letting Dan McStay out mark him in big spots, including one in the goal square. 
Still had the 20 touches, six marks and used the ball well, at 85%. 
Blake Hardwick ⭐️⭐️⭐️⭐️
It was an unreal battle between Dimma and Jamie Elliott, with both having moments of brilliance. 
Dimma had 16 touches at 94% efficiency, with eight marks, seven intercepts and five rebound 50s. 
Since he's adopted the half "Suckling-esque" kicking style, he's added that penetration to his game.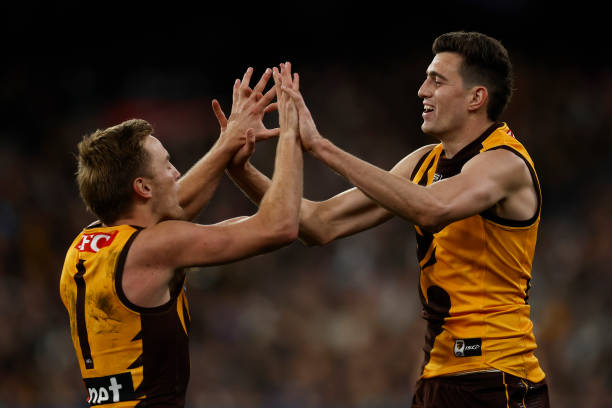 Chad Wingard ⭐️⭐️⭐️⭐️
All hail Chad! 
Where's this come from?
Is it a swansong and ensuring he finishes on a high note or getting a new contract for 2024? 
Had 26 disposals and 284 metres gained, along with seven score involvements, six marks, and five inside 50s and had a third of his disposals in the contest. 
Luke Breust ⭐️⭐️⭐️
Used his eight disposals last week for pure scoreboard impact and had 16 disposals for 3.1.
That also includes nine score involvements, six marks and 14 pressure acts. 
This man is a downright force, to begin with, and has kicked 523 goals in an extraordinary career. 
Jacob Koschitzke ⭐️⭐️⭐️
If Kosi can have that kind of impact, that's a huge tick. 
Had 10 hitouts including one of the best of the year, kicked a nice goal, had six score involvements out of his nine disposals and took three contested marks. 
Played Kosi, very well played. 
Josh Ward ⭐️⭐️⭐️⭐️
Had some moments where he was slow to deliver the footy and got caught a few times again but the work rate was elite. 
The more contested the situation, the cleaner Ward looked, with his ability to impact contests with smothers, daft knocks and absorbing tackles when needed. 
Was second for the Hawks with 410 metres gained, had 23 disposals at 83%, nine marks and seven score involvements.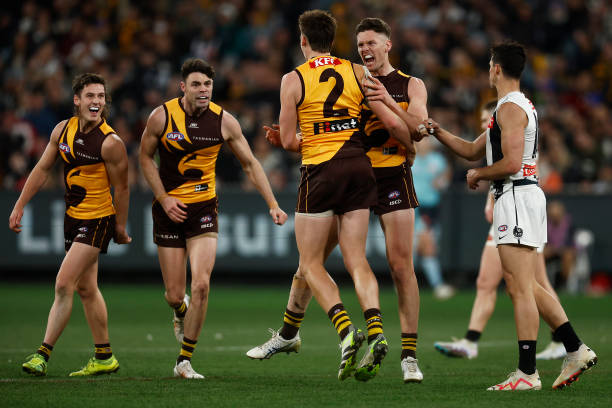 Cam MacKenzie ⭐️
Did have 60 metres gained off three disposals but went at 33% in half an hour of footy. 
It probably is harsh but compared to his compatriots, didn't deliver an impact in his minutes. 
Connor MacDonald ⭐️⭐️⭐️
Had 348 metres gained from 18 disposals and used the ball impeccably, at 83%. 
Took nine marks, had seven contested possessions, 16 pressure acts and never lost his cool. 
Came in and out of the game a little bit, with 12 touches coming in the two quarters that the Hawks kicked to the Punt Road end. 
Finn Maginness ⭐️⭐️⭐️⭐️⭐️
A joint five-star performance? What is this? 
How do you not give the maximum to the job that Finn gave a potential Brownlow Medallist, keeping Daicos to five disposals, of which: 
1 was a kick out 
2 were dubious free kicks 
1 turnover delivering inside 50.
Showed his courage going back with the flight in the goal square as well. 
Well played Finn. Outstanding. 
James Blanck ⭐️⭐️⭐️⭐️
Anchored the backline. Why was this man ever the sub? 
Barely lost a contest all day and what he does with the ball is irrelevant. 
Mihocek kicked a point, McStay got lucky with a couple and the Pies only took two contested marks in their forward 50. 
Josh Weddle ⭐️⭐️⭐️
Had a massive impact did "Frosty Jr", having 400 metres gained from his 18 disposals.
Went at 78%, had six inside 50's, kicked a ripping goal (and he loved it too the great man) and had four marks and four score involvements.
We've got a ripper in the Weddler.
Seamus Mitchell ⭐️⭐️
Was tactically subbed out at three-quarter time after having just eight disposals.
Went at 75%, had near on 200 metres gained and half a dozen pressure acts.
Brandon Ryan ⭐️⭐️⭐️⭐️
Speaking of finding one!
Sticks jumped at everything and we loved it when he kicked three in his MCG debut!
Took five marks amongst his nine disposals but did have some turnovers.