After missing the best review of the year so far, I was nervous about mozzing the Hawks down in Tassie with my return, but what a win!
The young Hawks did what they have struggled to do throughout the year, winning a close game that was on a knife's edge late.
From individual brilliance to unselfish team first roles, it was another week that proved tricky when looking for negatives. 
With finals out of the picture this year, it shapes to be a summer full of excitement before season 2024, with scary parallels to the 2006 season. 
But before we get too far ahead of ourselves, let's enjoy and analyse the win against the Dogs, with each player individually reviewed. 
#1 Harry Morrison ⭐ ⭐ ⭐
This performance was the living and breathing definition of solid, not being amongst the top echelon of performers, but playing a vital role in the win. 
Sharing a wing rotation with Josh Ward and Karl Amon, Morrison had 21 disposals, six marks, four tackles and four score involvements. 
There has been some outside noise about Morrison's future with the club, but the past two weeks have done nothing but improve his chances of being a Hawk in 2024. 
#2 Mitch Lewis ⭐ ⭐
Arguably one of the more impressive things about this win was the fact that Lewis didn't have his best day and we could still deliver a winning score!
He wasn't poor but was well-checked by the tall Bulldogs defenders, with 12 disposals, six marks and one goal from a fortuitous turnover. 
With the other two talls playing key roles, Lewis didn't have to dominate and that can only be seen as a positive moving forward.
#3 Jai Newcombe ⭐ ⭐ ⭐ ⭐ ⭐
If I could keep writing stars I would because this goes into the nominees for the easiest five-star decision of the season. 
Newcombe went full beast mode in his 50th game, with a career-high 40 disposals, 12 marks, 10 score involvements, four clearances, four tackles and a goal. 
It is genuinely remarkable that this guy has only played 50 AFL games, consistently making experienced players look like primary school kids with his brute strength. 
If this 50-game trajectory continues, we could be looking at one of the club's great all-time midfielders, what an absolute star!
#4 Jarman Impey ⭐ ⭐
The veteran took a little bit of a back seat in this one, with Sicily, Hardwick, Scrimshaw and Amon driving a lot of the rebounds out of 50. 
Impey had 18 disposals and five marks, but only 192 metres gained which is well down on his usual production. 
It has been a seriously good campaign and the famous Hawthorn saying from the three-peat days comes to the other end of the ground, others got a lick of the ice cream!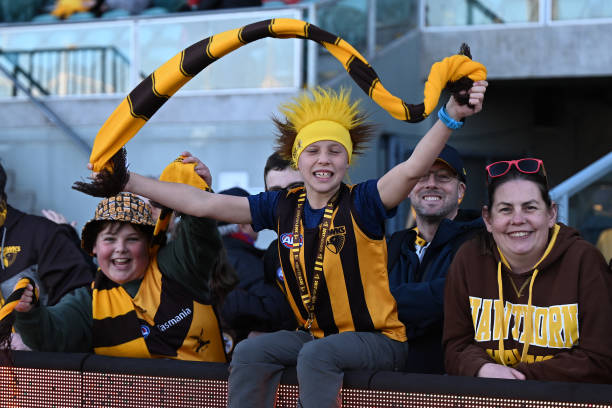 #5 James Worpel ⭐ ⭐ ⭐ ⭐
The Worpedo continued his rich run of form in game 100, upping his value by the week with another bull-like performance. 
He had 25 disposals, seven clearances, six score involvements, six inside 50's and kicked a goal, while seemingly battling Newcombe for most tackles broken. 
By all reports, Worpel is keen to stay in Brown and Gold and based on the dynamic of this midfield this season, we need to make it happen in any way possible. 
#6 James Sicily ⭐ ⭐ ⭐
As is the effect our skipper has on opposition forward lines, he had another player sitting on his back today with Rhylee West tasked with the job. 
While West did a good job limiting Sicily's impact in the air with only six marks, the captain still had 22 disposals and three score involvements. 
Despite an awkward moment where he got pinned holding the ball playing on from a kick-in, the quarterback steered the ship beautifully late. 
#7 Ned Reeves ⭐ ⭐ ⭐ ⭐
I will put my hand up and acknowledge that I have been one of Reeves' most prominent critics throughout the year, but his last two weeks have been genuinely excellent. 
Coming up against All-Australian favourite Tim English, Reeves comfortably won the hit-outs with 43, laid seven tackles, had 10 disposals and took some strong marks, including a big pack mark in the defensive 50 late in the game. 
Not only did his performance flash, he kept English quiet for his standards, with only 10 disposals and five marks. 
For every criticism I hand out throughout the season, I am more than happy to celebrate the wins and the Big Noodle's last two weeks have been MASSIVE wins!!! Well done big man. 
#10 Karl Amon ⭐ ⭐ ⭐ ⭐
Considering I lead the "Get Karl Amon to Waverley" club from 2018-2022, the vindication I am feeling right now is immense. 
It was an awesome return to the side for Karl, with 32 disposals, 13 marks, six rebound 50's, six inside 50's, a goal and the game-saving tackle. 
Amon has had his doubters amongst fans, from the sizable contract he signed to form, but I think it is undeniable now that his presence has been a giant addition to this club.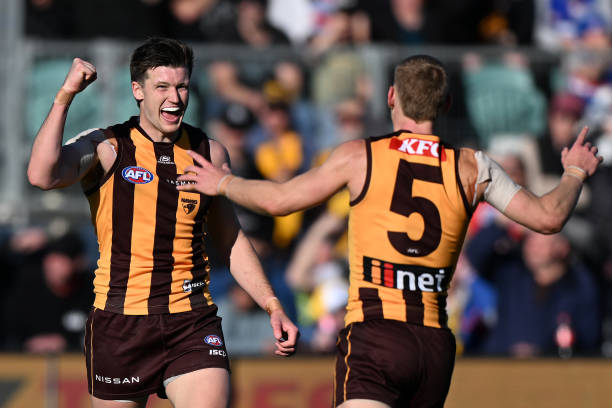 #11 Conor Nash ⭐ ⭐ ⭐ ⭐
If you can find me a stronger and more physically dominant midfield trio than Newcombe, Worpel and Nash, I will eat my hat. 
The big Irishman was at his wombat-like best, burrowing in and winning the tough ball with 26 disposals, eight clearances and four score involvements. 
Sam Mitchell is responsible for a lot of positives around the club and will get his credit over the off-season, but Conor Nash the midfielder deserves more recognition. 
#12 Will Day ⭐ ⭐ ⭐ ⭐
Fellow Talking Hawks writer and contributor Daz has labelled this kid "Silk 2.0", which brings big expectations, but my goodness he lived up to this label in this one.
Day had 24 disposals, six marks, five clearances, five score involvements, five inside 50s and kicked a goal, looking dangerous in the forward half, but also went back late to save the game. 
The versatility this young star has shown is ridiculous, proving what a valuable asset he shapes to be moving forward. 
#13 Dylan Moore ⭐ ⭐ ⭐ ⭐
Throughout the season, I have found myself a tough marker of Moore, but this was him at his absolute best. 
With a damaging 24 disposals, six score involvements, six marks, four tackles and a goal, Moore worked up the ground and contributed big time. 
With the early injury to Chad Wingard, Moore looked to play the role Chad has been playing in the last month, benefitting Moore in a big way.
#14 Jack Scrimshaw ⭐ ⭐ ⭐ ⭐
My first ever article for Talking Hawks was about Jack Scrimshaw, where I officially titled myself the CEO of his fan club and let me tell you, the CEO was pumped in this game.
Playing the majority of the game on the inform Jamarra Ugle-Hagan, Scrimshaw stood up countless times, with 17 disposals, seven marks and multiple key defensive acts.
Scrimshaw has always had a beautiful left foot kick, but the evolution of his defensive skill set throughout the season has been awesome to watch.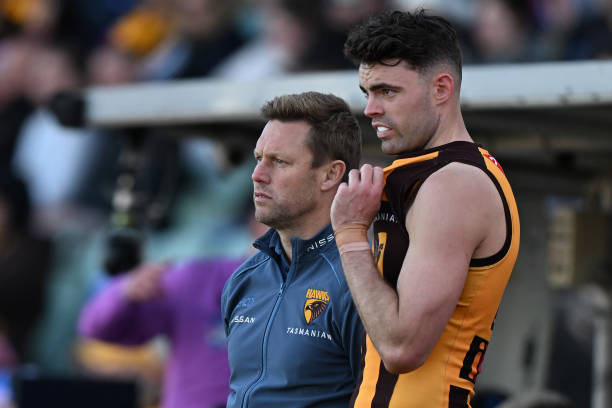 #15 Blake Hardwick ⭐ ⭐ ⭐ ⭐
Another absolute masterclass is small defending from Dimma, strengthening his dominance of Bulldogs' young gun Cody Weightman. 
Hardwick kept Weightman to five disposals and no score while having 22 disposals and 11 marks himself in what was the definition of a bath.
Weightman isn't the first, and won't be the last small forward clamped by Dimma, but nine disposals in their last three head-to-heads is a scary level of dominance by Dimma!
#20 Chad Wingard 
There is no such thing as perfection in this world, with the injury to in-form Chad Wingard the black cloud hovering over the win. 
After an awesome month of footy, Wingard suffered an apparent Achilles rupture early in the game, a devastating blow for a fan favourite. 
Whatever the future holds for Chad, I speak for everyone at Talking Hawks when wishing him all the best in his recovery!
#22 Luke Breust ⭐ ⭐
Punky had a date with premiership teammate Taylor Duryea in this one, with Doc remembering the savvy veteran's signature moves. 
We all know that Breust can't go a game without hitting the scoreboard, with an important third-quarter goal, but was held well overall. 
It is an absolute credit to him that opposition coaches still view him as the priority defensively, ageing like a fine wine!
#23 Jacob Koschitzke ⭐ ⭐ ⭐ ⭐
Similarly to Morrison up the top, Koschitzke is seemingly playing for his career and in my eyes, this was easily his best game in Brown and Gold!
Kosi was a colossus down the line, specifically in the fourth quarter, but overall he had 16 disposals, eight marks, eight score involvements and kicked a goal. 
His ability to take a contested mark, spot a target in the middle of the field and execute the kick was exceptional, this being the blueprint for his future!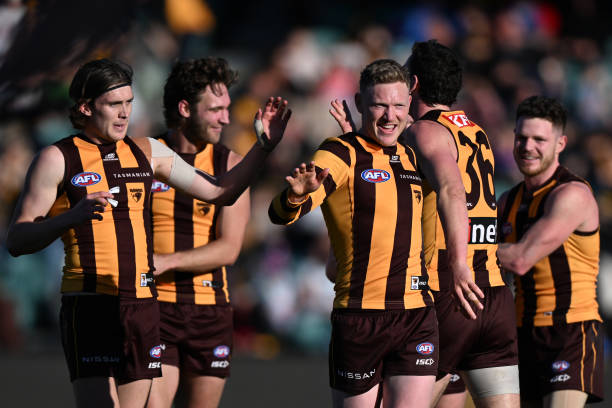 #24 Denver Grainger-Barras ⭐ ⭐
The late inclusion of the ill Brandon Ryan, DGB played his role as the third forward well, presenting a good target on the lead and crashing packs. 
DGB had nine disposals, took five marks and kicked a fourth-quarter goal in what was his most impressive performance as a forward so far. 
It's going to be an exciting selection next week, will they go back to Sticks or give DGB another crack at it? 
#25 Josh Ward ⭐ ⭐ ⭐
I could copy and paste everything I said about Harry Morrison into this section, with the two players sharing the opposite wing to Karl beautifully. 
Ward had 21 disposals at 81%, seven marks and four score involvements in what was a performance as solid as you could hope. 
Apart from a dodgy handball in the fourth quarter, Ward is one of the safer ball users on the side and has moulded himself into a seriously steady wingman.
#31 Connor MacDonald ⭐ ⭐ ⭐ ⭐
It is so great to see some mullets flying over the top of the brown and gold jumpers again, with this mullet putting together a strong display. 
Playing as that high forward where he has thrived, C-Mac was at his damaging best, with 21 disposals, six score involvements, six inside 50s and 552 metres gained. 
One of the trademarks he showed in his draft year was kicking skills and after testing the boundaries early, he has found his kicking mojo with some beautiful inside 50 entries. 
#32 Finn Maginness ⭐ ⭐ ⭐ ⭐
I feel like Finn is turning into a Swiss army knife, but instead of all the different things involved, it just has different versions of the same thing. 
After Tom Liberatore was subbed out early with a concussion, Maginness went to multiple different opponents in multiple areas of the ground, shutting them all down.
He had six tackles, showed genuine hunger around the contest and made the most of his eight disposals and all around it was another big win for the young tagger.
#36 James Blanck ⭐ ⭐ ⭐ ⭐
The Blancket went head to head with the AstroNaught in one of the nickname battles of the year, with our big fullback coming out with the points. 
Naughton took two towering marks which were impossible to stop, but apart from that was kept very quiet and didn't trouble the scorers on the day. 
Blanck is a genuinely old-school full-back, who doesn't want to touch the footy unless he is running through an opposition player and I love that about him!
#37 Josh Weddle ⭐ ⭐ ⭐ ⭐
What an unbelievable first season this kid has had, with all the credit in the world needing to go to Mark McKenzie and his team for the draft night trade. 
It wasn't the biggest stat day for Weddle, with only 18 disposals and eight marks, but he used the ball at 94% and stood up in big moments late. 
In most other seasons, Weddle would be a favourite for the rising star award, but even if he doesn't get the national attention, Hawks fans know and appreciate his rookie year.
#42 Bailey MacDonald ⭐ ⭐
Given the chance as the sub, MacDonald probably wasn't prepared for the early entry into the game after the unfortunate Wingard injury and it showed.
The youngster had some forgettable moments early, with some nerves showing with the ball in his hands but he managed to settle into the contest after quarter time.
He finished the game with 15 disposals, five marks and got his first win in Brown and Gold, a moment that he and his family will never forget!