By Liam McAlary
After a long off season, the AFLW crew are almost back in action and we here at Talking Hawks cannot wait for the upcoming 2023 AFLW season. 
Led by the club's best recruit in at least half a decade in coach Bec Goddard, and our captain courageous Tilly Lucas-Rodd, the team are locked, loaded, and ready to go again. 
In our historic first AFLW season and the competition's seventh, the crew went 3-7 to finish 15th in the 10-round season, exceeding almost all external expectations, playing a brand of "ferocious and offensive" footy and epitomising a never say die attitude.
This game style was especially impressive,  despite losing leaders Tamara Luke and Lou Stephenson for much of the season due to injury. 
Let's take a little refresher course in the past and present of the girls before previewing the future. 
List Changes:
We may have lost Jess Duffin and Eliza Shannon amongst others, but our recruits for this season are tantalising. 
Having watched the practice matches, superstars Emily Bates and Greta Bodey (ranked 10th and 20th respectively in Sarah Black's top 30 list) are as good as advertised, 
Melbourne Victory goalkeeper Casey Dumont has come across as a 31-year-old rookie who brings size, athleticism, and professionalism to the squad and is likely to be deployed as a back up ruck and will also provide defensive cover.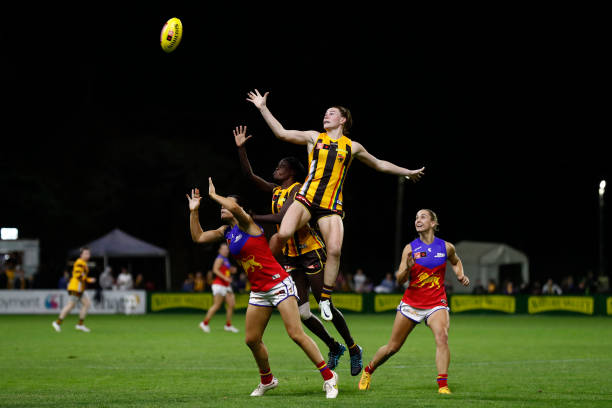 From the draft, Mattea Breed is a 21-year-old athletic sensation with the ability to cause chaos in the forward line and Kristy Stratton is a mature 27-year-old small forward and midfielder who loves to tackle and knows where the goals are. 
Breed has been especially impressive in the pre-season and looks like she could make a real mark early in the season.
Heads up, heard it here first, she will fly for mark of the year if given the chance. 
Players to Watch:
Aside from the superstar recruits, we have plenty of young talent which could be talked about all day (and frequently are), although here are a few of the names to really watch out for.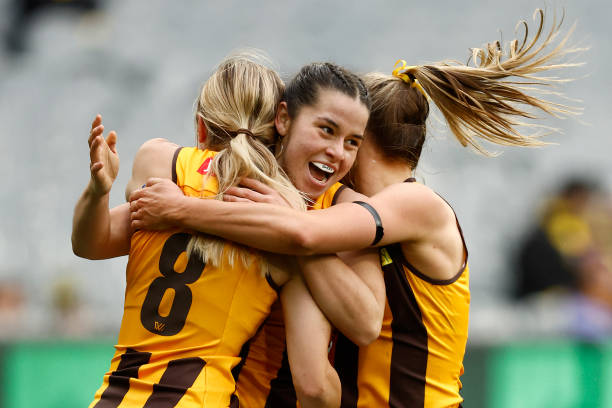 Jasmine Fleming
Coming third in the rising star last year despite only turning 18 in November (after the season), our young number 5 looks set to be a star.
Quick and a strong ball carrier, Fleming loves to drive the Hawks forward out of the middle and is also strong in the contest, already becoming a crucial part of the on-ball brigade. 
Eligible again for the Rising Star after a rule change and no longer dealing with Year 12 whilst playing elite footy, Jas could SERIOUSLY take the competition by storm this season, especially with Emily Bates helping to divert attention away from her.
Aileen Gilroy  
Much older than the other names covered here, Gilroy is a game breaker and our "Mayo Marvel" is worth the price of admission on her own, with a make or break game style that is a joy to watch.
A booming kick, a superb athlete with good positional size, and a chaos agent in the best way possible, Gilroy knows only one way, which is to attack and drive the Hawks forward.
Our number 7 is a versatile player who can play in the middle, at half forward or off half back, and her ability to change a game with just a couple of disposals makes her a unique part of the side and a thorn in the side of opposition teams.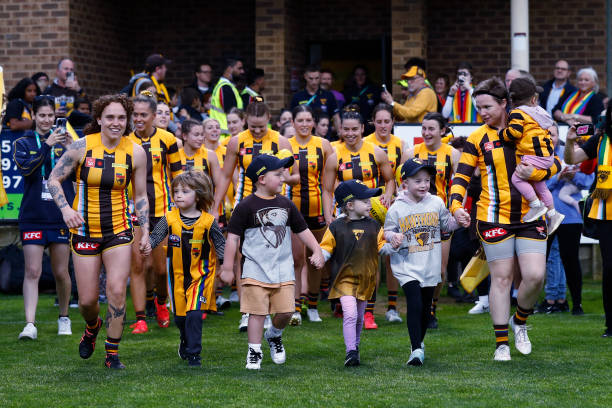 Mackenzie Eardley 
Mack is a player with truly limitless potential as a ruck sized key defender who is athletic, a smart interceptor, and a very strong one on one defender.
Our best player in the practice match against the defending premiers, Melbourne, Eardley more than managed the match ups with both Tayla Harris and Alyssa Bannan, two stars of the competition, despite the fact Eardley only turned 19 in January. 
However, Eardley also possesses a booming right foot kick in the mould of James Sicily, leading the Hawks for metres gained per disposal in Season 7, so how Bec Goddard deploys that weapon to launch attacks from the back will be worth keeping an eye on.
Tilly Lucas-Rodd
The skipper won the best and fairest comfortably last year, with the diminutive tackling machine being an incredible asset in the midfield. 
They led the Hawks in many major statistical categories and don't let their lack of size get in the way, more than making up for it with heart, courage, leadership, and effort.
Incredible in close at stoppages and a relentless competitor, there is nobody better to be captaining our young side than our first ever best and fairest winner and one of the nicest humans you will ever meet.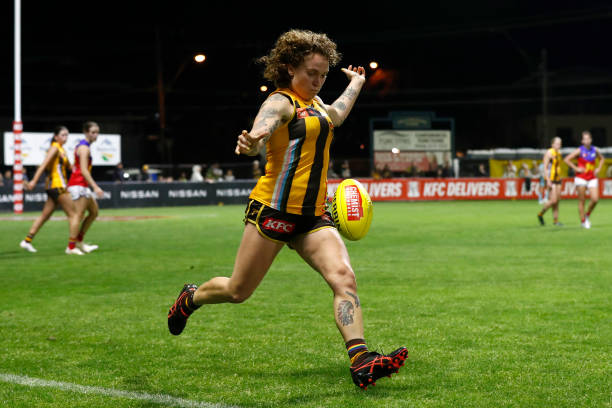 Lucy Wales 
Finally, would it be a Liam article if we didn't talk about a ruck? 
The 20-year-old was forced to ruck pretty much solo last year and her ability to turn up every week and be among our best players, despite not having played a lot of footy, showed the talent we have in our young star ruck.
Athletic and a strong mark of the ball, Wales was also nominated for the Rising Star last season and is eligible again after the rule change, and as a ruck at such a young age who should have more support this season, her scope to impress further is immense. 
The Fixture:
We have a much harder draw this year than last, playing five of last year's top eight including the two grand finalists, and our draw ranks as the third hardest by opponent score differential from last season. 
The Hawks play four home games in Frankston (Rounds 1, 4, 5, and 9) and also make trips to Cairns for a Round Eight home game, Ballarat, Perth, Sydney, and Geelong, while playing our only metro Melbourne away game in Round Six against the new-look Saints. 
The draw will challenge us and be a great test for our very young but talented group and even though we may not win a massive amount of games (I think we will win a similar amount to last year), the progression and development this team look set to show is something. 
It all kicks off against that red and black lot at Frankston on Saturday 
You can get your tickets for Rounds 1-9 online or, even better, become an AFLW member.
Of course, Talking Hawks will be providing content about the AFLW throughout the season, although if you want all the AFLW content you could desire, with a sickening degree of Hawthorn bias, the Soaring to New Heights Podcast is your go