Well, that draws the curtain on season 2023 with somewhat of a disappointing effort, souring the massive amounts of progress we have seen in the last month. 
Expecting a bang to finish the season, the Hawks looked like a young side who were well and truly ready for the off-season break. 
Despite the 37-point loss, there were still some reasonable individual efforts littered throughout the lineup and some significant ramifications for the Talking Hawks MVP race. 
So for the last time in season 2023, let's review every Hawk who played against the Dockers at the MCG. 
#1 Harry Morrison ⭐
For someone whose name has been thrown around in trade rumours, I am not sure this was the performance Harry would have been hoping for to consolidate his spot for 2024.
He may have had 17 disposals, but he always looks rushed with the ball in hand, as well as being exposed defensively on Michael Frederick and Liam Henry. 
The Hawks wanted to play a slow and methodical style, which didn't suit Morrison with his lack of explosive pace meaning he struggled to find space in the Freo zone. 
#3 Jai Newcombe ⭐ ⭐ ⭐
Commentators throughout the call posed the question if Newcombe was playing sore, not looking as explosive and powerful as usual, which may be true. 
He still had 23 disposals, six marks, six score involvements and kicked a goal, just highlighting the star factor of this 22-year-old, that this stat line would be average.
His fourth-quarter goal cemented his spot in third for the Hawks this year in terms of fourth-quarter goals, a man who will step up in the bright lights shortly!
#4 Jarman Impey ⭐ ⭐ 
What a really weird day for one of my personal favourites, with his best and worst being so far apart!
He had 24 disposals, nine marks and four rebound 50s on the day, his first quarter was so uncharacteristically poor I thought someone had stolen his number four jersey!
Impey did end up having his moments throughout the day, but looked like a player who has battled injuries and was ready for a well-earned break!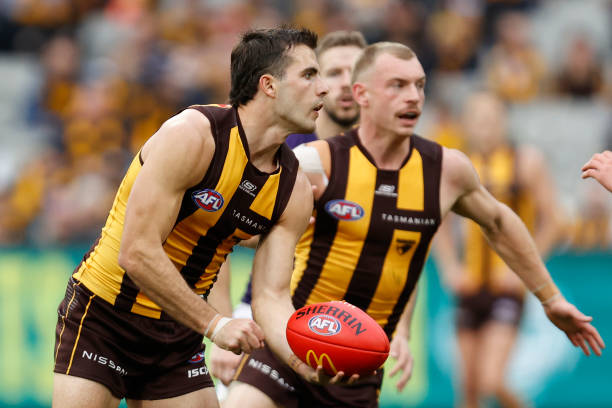 #5 James Worpel ⭐ ⭐ ⭐
What an awesome campaign for the Worpedo. 
This game means he played in every match this season which is an awesome sign after injuries hurt him in 2021 and 2022. 
While it probably wasn't his best game of the year, he still had 23 disposals, four marks, four tackles, four score involvements and kicked a goal. 
He still had those head-scratching kicks going forward, so that will be the biggest point of improvement through the off-season, but what a successful season overall!
#6 James Sicily ⭐ ⭐ ⭐ ⭐ ⭐
After being robbed of an All-Australian jacket last season, our captain did his best to remind the selectors for this year's team just how dominant he is. 
Sicily had 25 disposals, 12 marks, 11 intercept disposals, nine rebound 50's and five score involvements, standing out like a beacon in the back half. 
He is like a magnet for the footy, even after going forward he somehow found a way to draw the ball in contests!
#7 Ned Reeves ⭐
This one is unfortunate because I thought Reeves started well again, but the rolled ankle was an obvious hindrance and curbed his impact on the game. 
Reeves had six of his eight total disposals before the injury, as well as struggling with his jumping in the ruck contests with that proppy ankle. 
I have been a hard judge of Reeves this season, but this rating isn't critical of Reeves as a player, but rather the circumstance of the game and his injury!
#10 Karl Amon ⭐ ⭐
Similarly to last week, Amon played a lot of the game behind the ball and was the obvious target to have the ball in hand, but with differing results. 
He did have 23 disposals and even kicked himself a goal, but his ball use was uncharacteristically poor, as well as some losses in contests in the back 50. 
If you have followed the series this season, you will know I am Amon's biggest fan and the acquisition has been a massive tick as a whole, but this wasn't his best to finish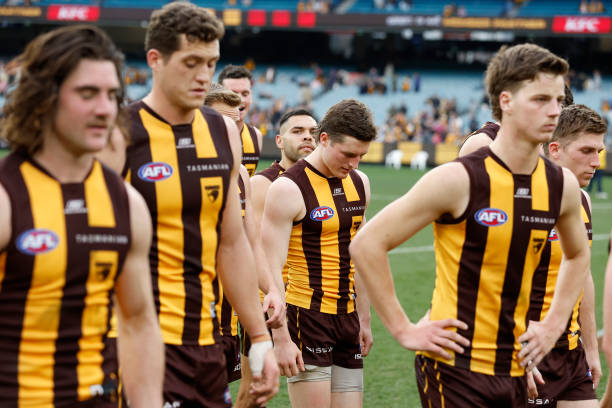 #11 Conor Nash ⭐ ⭐ ⭐
Without knowing the ins and outs of the inner sanctum, I can't help but feel like instruction to Nash has been to handball at all costs, because his ratio is crazy!
23 disposals overall on the day, with only four kicks and a whopping 19 handballs, six marks, six score involvements and five clearances. 
We have seen the evolution of Nash as a regular midfielder this year and this was the contested type of performance he loves!
#12 Will Day ⭐ ⭐ ⭐ ⭐
This season will be remembered for a lot of things, but the breakout of Will Day will be something I remember fondly because this guy will be a genuine superstar!
He led the Hawks with 30 disposals, had six clearances looked fantastic in the centre bounce, had five score involvements and five inside 50s. 
Day's ability to free his hands in a tackle and find a handball is uncanny, as well as his smoothness and time with the ball in hand, a scary proposition for opposition midfield coaches for years to come!
#13 Dylan Moore ⭐ ⭐ ⭐ ⭐
This man can consider himself very unlucky not to have an extra star next to his name, putting in an awesome display to finish out the year.
The vice-captain had 27 disposals, nine marks, seven score involvements and six tackles while kicking himself a goal and missing some other chances. 
Being worried about judging Moore harshly will still haunt me after a four-star rating, with his numbers very close to a five-star worthy game!
#14 Jack Scrimshaw ⭐ ⭐
While it wasn't a great finale for Scrimma, he looked our best marking option down forward, more of a disappointment regarding the selected talls than the praise of Scrimshaw.
The utility had 13 disposals, took six marks, had five score involvements and kicked a goal for the day, missing out on some other chances. 
I don't think Scrimshaw is a natural or comfortable forward, with his best footy being down back, but the experiment was worth it in round 24!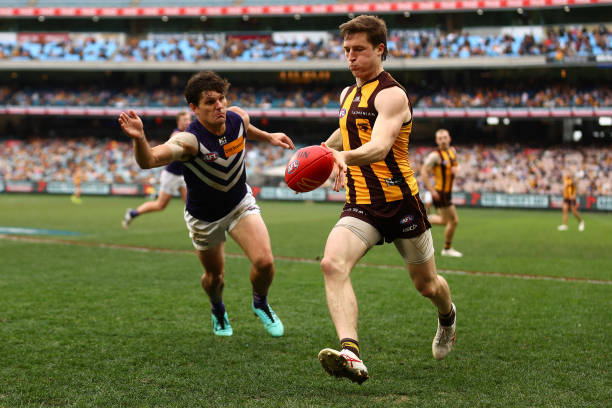 #15 Blake Hardwick ⭐ ⭐ ⭐ ⭐
Mr. Reliable and Mr. Consistent wrapped into one, Hardwick rounded out another elite campaign with another elite individual performance. 
He had 20 disposals and nine marks down back in the first three quarters, before being thrown forward for the last quarter and having five disposals, looking dangerous at times!
With the ebbs and flows that are associated with a young and inexperienced team, having someone as solid and consistent as Hardwick is invaluable going forward!
#17 Lloyd Meek ⭐ ⭐ ⭐
Having a ruckman as the sub is always a bit of a head-scratcher for fans, but I don't think big Lloyd could have done much more in his time on the field!
In 45 minutes of action, Meek had six disposals, 13 hit-outs, four tackles, three clearances and two marks. 
The breakout of Reeves as the sole ruckman late in the season has left Meek's position going forward vulnerable, but he didn't do his chances any harm in 45 minutes today!
#22 Luke Breust ⭐ ⭐
A star per goal has been a theme for our legendary small forward, closing out another brilliant year with two more sausages for the career BBQ. 
He had 12 disposals and four score involvements, with opportunities to hit the scoreboard more at times throughout the game but just not quite working out. 
Assuming health stays on his side, Breust should notch up game number 300 next season which is something to pencil on the calendar as soon as fixtures are released!
#23 Jacob Koschitzke 
After creating a positive impression over the last few weeks down forward, the weight of the number one forward role sat too heavy on his shoulders today. 
He had six disposals, took one mark and kicked a goal, both thanks to an elite Josh Ward kick in the first quarter, but lacked impact. 
Without a contract for next season, Koschitzke's place on the list is up in the air and I am not sure this was the performance he needed before the off-season.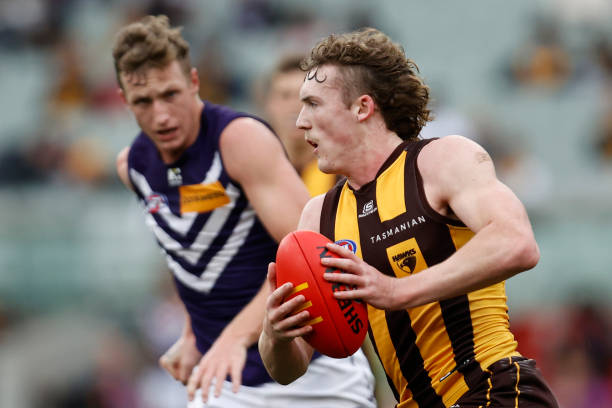 #25 Josh Ward ⭐ ⭐
Had brought his footy to the G in the first quarter, but that was unfortunately confiscated and things slowed down a touch from there. 
Ward had 19 disposals, five marks and four score involvements on the day, looking to slowly run out of gas as the game went on. 
The development of Ward was recognised with nomination for the 22 under 22 squad and while not officially making the team, a massive accolade for year two. 
#29 Jai Serong ⭐ ⭐ ⭐
One of the bright spots out of what was an overall disappointing loss was seeing the first and only full game from Serong for the season. 
Despite not lighting up the stats sheet, I thought he looked assured and strong down back, having 15 disposals, seven marks and a massive seven one percenters.
Like Koschitzke, Serong is currently without a contract for next season, but some strong VFL form and a fantastic final impression will certainly help his cause. 
#31 Connor MacDonald ⭐ ⭐ ⭐
Seemed to get better as the season went forward and with another pre-season to focus on his role, he will be a star going forward.
In this contest, he had 20 disposals, took seven marks, had five score involvements and laid four tackles in a very even performance.
For someone in just his second year, the fact he has improved as the season got longer is an awesome sign of mental strength and physical endurance
#32 Finn Maginness ⭐ ⭐
These are the types of games that make things difficult to judge Finn because he did each task fairly well, but overall it didn't help.
That may seem harsh, but Finn held Luke Ryan to just one disposal in the first quarter, which is a great effort of course, but Freo still held a good lead. 
He then moved to Caleb Serong and held him to four disposals in the second quarter after a hot start, but Freo still won the quarter convincingly. 
This is a player-by-player review, so Finn still gets two out of three stars for the first half but was essentially invisible after being freed up and trying to win the game. 
#36/39 James Blanck ⭐ ⭐ ⭐
With all of the scrapping, wrestling and blood rules throughout the year, the Hawks had run out of 36 jumpers, with Blanck resorting to 39 for the last half of 2023!
He was stout and solid again while looking strong in the air with three nice intercept marks and although his opponent Amiss kicked three, two of them were not on Blanck.
With rumours of Hawthorn targeting a key back during the trade period, I don't think Blanck needs to be the Hawk worried about his spot in the team, with his form strong.
#37 Josh Weddle ⭐ ⭐ ⭐
Some fans have gained concern throughout the year about his kamikaze style, but my goodness does it make watching us fun!
Weddle was good again, with 16 disposals, seven marks and some of his signature dashing runs leading to scoring chains.
One of the big wins of this season has been the rapid rise of Weddle, justifying the decision of the list management to trade them back into round one of the draft to take him.
#44 Henry Hustwaite ⭐ ⭐
Not quite the same impact he was able to make in his debut game, but this kid looks smooth as silk and will have Hawks fans excited about his future beyond 2023
He had 13 disposals, three tackles, and three marks and used the ball at 100%, showcasing that trademark poise that was spoken about in his draft year!
Blooding young kids like Hustwaite and Serong late in the year, on top of the development of Weddle, Ward, MacDonald and Mackenzie are big ticks for the club!
#46 Brandon Ryan
After securing cult figure status after two games, influenza hit big sticks at the wrong time and he never looked right in this one.
Only the one disposal for the big man in his two and half quarters and was a logical and required substitute as he was never involved in the game.
It was disappointing that the illness came in because five goals in two games was an awesome start and it would have been great to see him against the Dogs and Dees!