After taking two big scalps, the third time wasn't the charm for the Hawks, going down to Melbourne by 27 points at the MCG. 
With the costly exclusions of Mitch Lewis, Jai Newcombe and Chad Wingard, it was always going to be a tough task against another top opponent. 
The plan was clear for the Hawks; control the ball at all costs, and it worked well for two and a half quarters, until the fatigue set in and the Demons veterans pounced.
Whilst there were quite a lot of positives to take from the match, there were some glaring holes in some parts of the ground. 
So, let's get into the individual player reviews!
#1 Harry Morrison ⭐ ⭐ ⭐
I thought it was a real up and down sort of day for Harry, showing some really good determination and effort but also lacking some polish at times.
Playing the majority of the game on the wing, Morrison had 19 disposals, took nine marks, had four tackles and 23 pressure acts, but also used the ball at just 68%. 
The third quarter chase and effort to set up a Connor MacDonald goal was awesome to see, but sometimes the decision making with ball in hand can let him down.
#4 Jarman Impey ⭐ ⭐
This one was a really difficult one and may seem harsh at first glance, but I just didn't see the usual Impey flash in this performance. 
He was one of the higher disposal winners on the ground with 23, but only three marks, four pressure acts and 161 metres gained were down on his usual output. 
After some tough moments with injury in recent times, Impey may be someone ready for the off-season with his body feeling the pinch. 
#5 James Worpel ⭐ ⭐ ⭐ ⭐
For the first time this year, the Worpedo was less nuclear, with his midfield mate a late withdrawal from the game.
Worpel was at his contested best, with 30 disposals, with half of them being contested, 11 clearances and five score involvements. 
The fact that over one third of his disposals were clearances speaks to his determination and strength around the contest.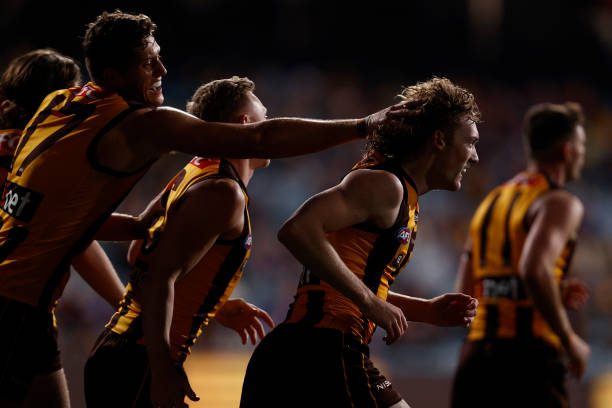 #6 James Sicily ⭐ ⭐ ⭐
Seemingly a weekly occurrence now, a Melbourne forward was sent to Sicily and Melksham was able to be really damaging for the Demons.
The captain was thrown into the midfield and had a really nice third quarter, with being his usual damaging self with ball in hand. 
Sicily had 23 disposals, seven marks, five score involvements and used the ball at 83%, but Melksham's three goals and eight shots on goal were pivotal. 
#7 Ned Reeves ⭐ ⭐ ⭐
After two very good weeks, it was time for Reeves to test his form against the best in the business and honestly did a really solid job. 
The big noodle had 26 hit-outs, 13 disposals and four strong intercept marks in the defensive half of the ground, something I have personally been crying out for. 
While Gawn still probably got the points overall, Reeves only gained more admiration and respect from supporters with this performance. 
#10 Karl Amon ⭐ ⭐ ⭐ ⭐ ⭐
After some consistent four star performances of late, Karl finally cracks the barrier and gains that fifth star! 
The game plan was obvious for Karl; get the ball to the great man and let him kick the footy and my goodness did he do this really well. 
He had 27 disposals  (24 of them kicks) at 82% efficiency, took 14 marks, had seven rebound 50's and over 600 metres gained. 
#11 Conor Nash ⭐ ⭐ ⭐ ⭐
With a large amount of disposals and clearances opened up with the absence of Jai Newcombe, the big Irishman was at his contested best. 
He had 25 disposals, 15 of them contested, eight clearances, four tackles, four marks and 21 pressure acts. 
The Hawks needed someone to step into the shoes of Duke and Nash was able to do this to the benefit of his teammates.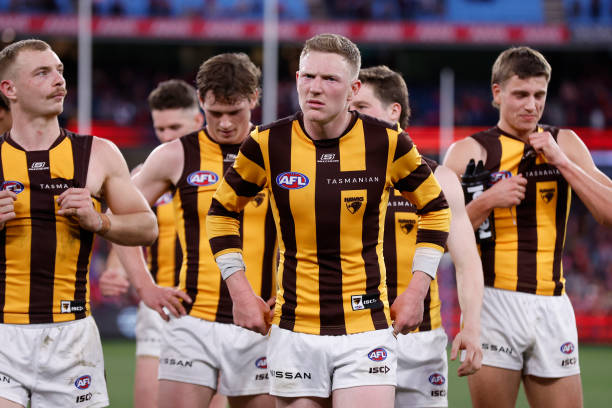 #12 Will Day ⭐ ⭐ ⭐ ⭐
Unfortunately for Day and Hawks fans everywhere, his day was cut short with injury and had no fourth quarter action after a massive third term. 
He had 20 disposals, nine marks, six score involvements and a goal within the first three quarters, acting as a brick wall in a defence that was being bombarded. 
Hopefully for Day and all of the Hawks fans, it isn't a serious injury because boy what a campaign it has been by the young superstar. 
#13 Dylan Moore ⭐ ⭐ 
Like a broken record, I have a feeling I am being hard on Moore, but it was a scrappy kind of day for the vice-captain. 
He had 18 disposals at only 56% efficiency, five score involvements, five marks and a goal, while missing a few other opportunities. 
The effort that Moore puts in every week will never be something I question though, highlighted by a big effort on the members wing to pressure the Demons. 
#14 Jack Scrimshaw ⭐ ⭐ ⭐
It seemed like a bit of a theme throughout the day, but Scrimshaw started like a house on fire before cooling off and being thrown forward. 
He would have 20 disposals and five marks on the day, with half of those coming in a massive first quarter, helping to control the ball in the back half. 
With Max Ramsden coming out of the game at three quarter time, Scrimshaw was thrown forward to try and add something, but without great success. 
#15 Blake Hardwick ⭐ ⭐ ⭐ ⭐
Mr Consistent does it again, with Hardwick claiming one of his biggest scalps of the season so far.
This week was the in-form Christian Petracca but Hardwick had 22 disposals, eight marks and four tackles of his own, while holding Petracca to just 13 disposals and no score in three quarters, before he was moved to the midfield.
Despite not getting any national media attention, Hardwick is undoubtedly one of the best small defenders in the entire competition.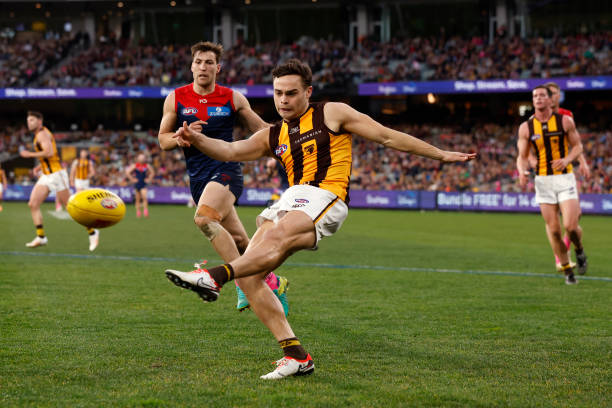 #22 Luke Breust ⭐ ⭐ ⭐
Name a more iconic duo than Luke Breust and kicking goals around the corner on his trusty right foot! 
The brilliant small forward was dangerous as always, with 11 disposals, seven score involvements and two goals. 
Breust is on track for another season leading the goal kicking for the fifth time. 
What an absolute marvel he is!!
#23 Jacob Koschitzke ⭐
After his best game in brown and gold last week against the Dogs, the absence of Mitch Lewis was always going to hit Kosi the hardest.
With Steven May being one of the best full backs in the AFL following him around, Kosi had 12 disposals, four marks and failed to hit the scoreboard. 
He battled hard in the air, providing a strong presence, but May was simply way too good and curved the impact of the big Hawk.
#24 Denver Grainger-Barras ⭐ ⭐
As mentioned in the previous section, the absence of Mitch Lewis was a tough blow and meant Grainger-Barras had Jake Lever for company. 
I was impressed with his first half, having six disposals, taking five marks and kicking a major, making good positioning and commanding the ball on the lead. 
Unfortunately after halftime, DGB struggled with Lever taking command behind the ball, with the Hawk forward having only two disposals and not hitting the scoreboard.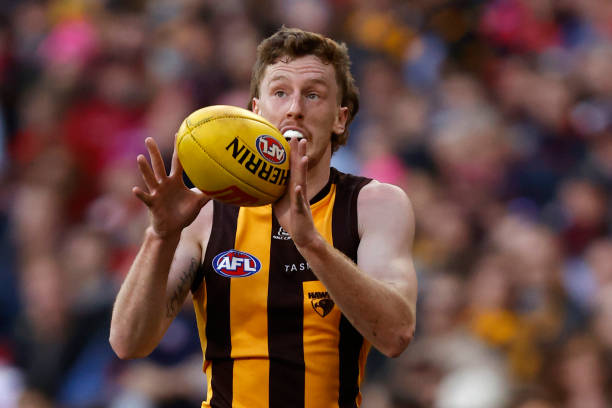 #25 Josh Ward 
The second year star looks to have hit the end of season wall, struggling to have any sort of influence on the game at the G. 
Ward would have only eight disposals and three marks from his 87 minutes of game time, never really impacting the contest. 
He has had a seriously good second half of the season after coming back from injury, but he may be running on empty at this point in the season.
#27 Ned Long 
Another of the Hawk youngsters who struggled to have much of an influence on the contest, but the experience was invaluable after a great year at VFL. 
Long had 12 disposals and two marks without adding a lot more around the contest
Although Long remains without a contract for 2024, his VFL form has warranted an extension and he has certainly shown signs at AFL level prior to today. 
#29 Jai Serong ⭐ ⭐ ⭐ ⭐
As far as coming on as the sub goes, I am not sure the young man could have done much more to impress!
In his only quarter for the game, Serong had six disposals at 100% efficiency, three tackles, five pressure acts and looked at home down back. 
For his first appearance for the season at AFL level, I can't help but consider this a massive tick for Serong and something he can use to fuel his pre-season.
#31 Connor MacDonald ⭐ ⭐ ⭐ ⭐
I loved everything about this game from MacDonald, who was clean around goal, impactful up the ground and rugged defensively. 
The Doveton flyer had 19 disposals, took eight marks, had four tackles and kicked two goals on the day. 
The positives out of this season for MacDonald have been strong, making the high half forward role his own and learning to play it consistently in the back half of the season.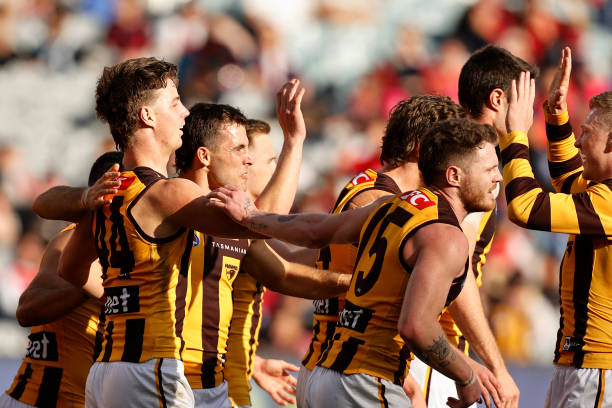 #32 Finn Maginness ⭐ ⭐ ⭐ ⭐
The best stopper in the AFL claimed another victim at the MCG, with Clayton Oliver the man in his sights this time. 
One of the biggest ball magnets in the league was held to only 10 disposals by Finn, showing his frustration at quarter-time by starting a melee. 
The tag was released at three quarter time in an attempt to win the game, but there is no arguing that Finn did his job about as well as you could have hoped. 
#36 James Blanck ⭐ ⭐
I usually have a tough time with the Blancket's ratings since I have to be leaving statistics firmly out of the picture and going purely off the eye test. 
He had some awesome individual defensive efforts, using his big frame to spoil balls and crash packs in the back half. 
HIs opponent in Jacob Van Rooyen kicked three goals on the day, including one from an egregious fifty metre penalty, but probably just got the points, stopping Blanck from getting that third star.
#37 Josh Weddle ⭐ ⭐ ⭐ ⭐

While some of his fellow youngsters in brown and gold around him showed signs of fatigue, Weddle would do no such thing in a very strong outing.
Although 16 disposals isn't his biggest haul, he was sure with ball in hand, while also taking 10 marks and having four score involvements.
In previous years a campaign like Weddle's would challenge for Rising Star honours and while I don't think that will be the case this year, he is one of the biggest bright spots.
#38 Max Ramsden ⭐
As has been the constant throughout this series this year, if you are subbed off without an injury designation it is usually zero stars, but I couldn't do that this week.
Although Ramsden had no injury, I thought his efforts were worthy of at least one star, with some nice contested marks early in the game down the line.
It is still a working progress with the lanky ruck-forward, but I don't think there is any doubt that there is something there with Ramsden.
#44 Henry Hustwaite ⭐ ⭐ ⭐ ⭐
Coming in as the late inclusion is never easy for a player, let alone when it is your first game but my goodness did this kid make it look easy!
It was a casual 15 disposals at 80%, five tackles, five score involvements and two goals for the debutant in what was a very exciting first impression on Hawks fans.
Talking Hawks draft guru Daz will not stop comparing him to Scott Pendlebury and while they are lofty expectations, he showed the ability to slow down time in game one!
Well done young man and here is to many more!!