He's known as the Prince of Poowong.
He's Talking Hawks' very own. 
He's one of the upcoming stars in the AFL.
He's a Hawk… through and through. 
Jai Newcombe celebrated his 50th game in the win over the Doggies, putting up a career best performance. 
Big time performances like this have become the norm for Newcombe, putting up career best averages across the board in his third season for the Hawks. 
When considering Newcombe was a mid-season draftee before his AFL debut, the rise has been rapid. 
The young gun was enormous in Tassie, with 40 disposals, 12 marks, 10 score involvements, four clearances and a massive goal from 55. 
With 50 games down, it is time to deep dive into just how good Newcombe's numbers are, comparing them with some club and league greats after the same number of games!
Looking at Newcombe's numbers, he averages 22 disposals, five tackles, four clearances, four marks and four inside 50's over his short career. 
These are exceptional numbers, with minor boosts to disposals, marks and clearances from 2022 compared to 2023, with the increased role in the new-look midfield.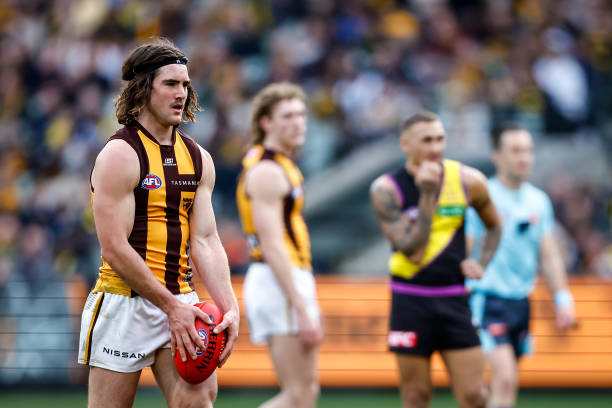 Considering the AFL's wonder kid Nick Daicos is averaging 28 disposals, three tackles and three clearances, but gets significantly more national attention shows how underrated Newcombe is. 
At just 22 years of age, Newcombe should be nationally regarded as one of the best young players in the entire sport and not just amongst us Hawks fans, but going under the radar is not necessarily a bad thing ever. 
It would be remiss to not put the ridiculous start to Newcombe's career into a historical context, with some statistical comparisons to club and league legends. 
What better place to start than his current coach and Hawthorn playing legend, Sam Mitchell, who also had an alternative pathway to stardom. 
In Mitchell's first 50 games, he averaged: 
17 disposals
6 clearances 
4 tackles 
3 inside 50's
2 marks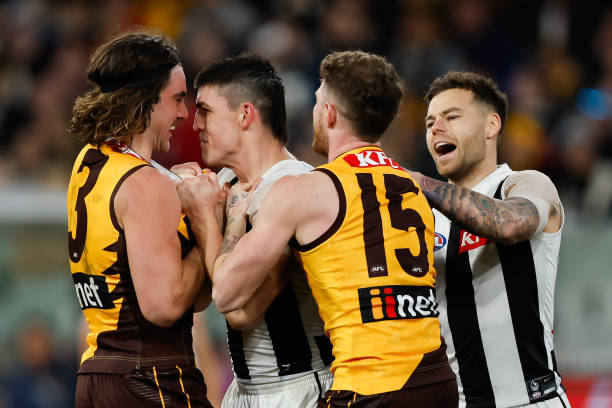 Whilst there are some factors that affect these numbers like increased time spent on the bench and less overall disposals, Newcombe's numbers reign supreme. 
In order to have extremely comparable averages, let's have a look at a recent Brownlow medalist who has an extremely similar frame and play style to our number three.
Ollie Wines was selected at Pick 7  to Port Adelaide in the 2013 draft, making an instant impact in their struggling midfield before winning a Brownlow in 2021.
In his first 50 games of AFL footy, Wines averaged: 
22 disposals
4 clearances 
4 tackles 
3 marks 
3 inside 50's 
These numbers are eerily similar and considering Wines would go on to become the best player in the game for a season, that is seriously exciting.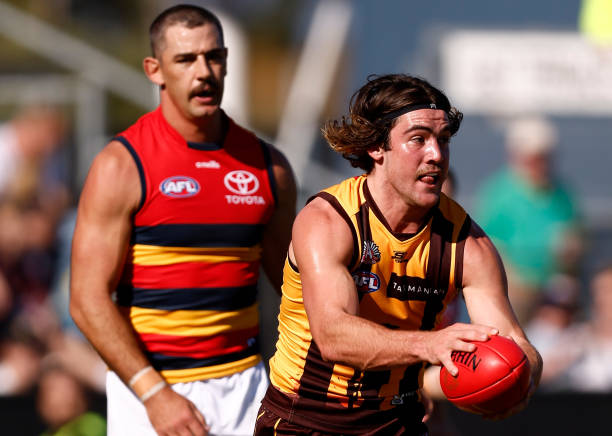 Last but not least, we need to really put these Newcombe numbers to the test and what better way to do that than against the best young player since the turn of the century. 
Chris Judd took the AFL world by storm, winning the Brownlow medal, club best and fairest and making the All Australian team in his third season in 2004. 
Judd's 50th game fell early in that third season, but the writing was already on the wall after an awesome first two seasons, so let's look at the numbers!
Like Mitchell, Judd averaged 17 disposals in his first 50 games, as well as: 
4 clearances 
4 inside 50's
3 tackles 
2 marks
Again, Judd's numbers may suffer a little bit because of the era he played in, but this is one of the all time greats, who is regarded as one of the best young players we have seen!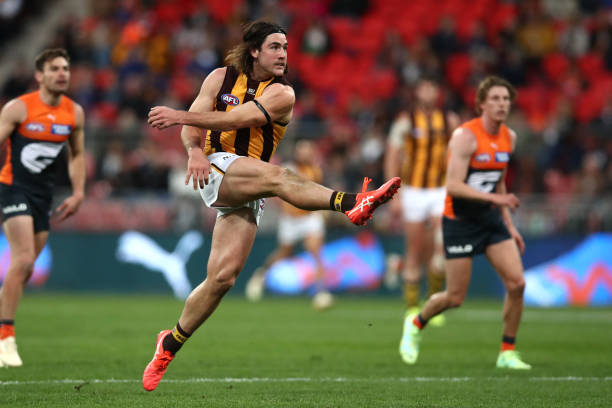 Does all of this mean Jai Newcombe is going to be better than all of the players mentioned today?
No, of course not, that would be silly but the flip side of that coin is that numbers don't lie! 
Are these numbers significant in highlighting the growth and dominance of Newcombe with only two pre-seasons under his belt? 
Take his debut for example; indoctrinating himself in the #44 guernsey, he laid more tackles than anyone else in their debut. 
The good and the bad of that was evident; Jai's reputation was pigeon-held as a "B-grade talent" (Nathan Buckley) and "never a top end player" (Matthew Lloyd). 
Fair to say 2023 has seen Newcombe prove the doubters wrong and not just in Round 22 either. 
From Round 4 onwards, he's only dipped below 20 touches once (19) and had less than four clearances once (two vs the Suns). 
In Gather Round against the Giants, he had 31 touches and five clearances and backed it up in Round 6 with 26 disposals and 10 clearances. 
Even though James Sicily is undoubtedly in line for the three Brownlow votes in the win against St.Kilda, Jai should have his name read out as well for his 31 touches, nine clearances and seven tackles. 
Since the Round 16 loss to Carlton, he's averaged 29.8 disposals and 6.3 clearances. 
PCM in sight perhaps? 
We can reveal this though; he is leading the Star ratings with two rounds to go but it is wide open with that aforementioned fortnight remaining. 
However, it has been a genuinely awesome start to a career and I speak for all of us at Talking Hawks when saying it is an honour to sponsor this man (get involved people!). 
The sky is the limit for Newcombe and with more development and growth, I would not be shocked to see Jai as a Brownlow fancy at some stage in the next five years.