What a time it is to be a modern Hawk fan. 
A top eight spot is ours coming into Round 6, we're at the home away from home in Launceston, we have a 3-2 record and the youngsters are looking excellent. 
The young and exciting Hawks are taking on a young and exciting Swans side who are in an elite place themselves, in what is promising to be an underrated yet mouth-watering contest. 
Last Time We Met 
Round 13, 2021 
Hawks – 14.5.89 
Swans – 7.9.51 
Disposals – Mitchell 34, Jiath 28, O'Meara 26
Goals – Koschitzke, Breust, Moore, Phillips 2 
The Hawks were coming off five straight losses coming into the Round 13 clash, against a Sydney team who were 8-4 and sitting sixth on the ladder. 
After a six point lead at quarter time, the Hawks put their foot down, kicking 5.1 to 2.1 to get some seperation, in which they didn't give up all day. 
Team News
In – Chad Wingard, Will Day, Max Lynch, Finn Maginness 
Out – Ned Reeves (shoulder), Tom Phillips (hamstring), Mitch Lewis (hamstring), Liam Shiels (managed), Changkuoth Jiath (hamstring) 
The Hawks knew they'd be without Ned Reeves when the Noodle was writhing in pain and his shoulder out of its socket, which broke the hearts of every Hawk fan. 
Mitch Lewis it was revealed hurt his left hamstring in the third quarter but played the game out, including the sealer which gave every Hawk fan the ultimate sense of euphoria. 
Hawks fans then felt the opposite of euphoria waking up on Saturday morning to see the news that Changkuoth Jiath had a hamstring injury of his own and would be missing. 
Tom Phillips has a niggle so he'll sit out and Liam Shiels is being managed, which given he was only back for a week, seems peculiar. 
Max Lynch returns for Ned Reeves to go up against Peter Ladhams and Chad Wingard returns for Mitch Lewis so the Hawks can go small inside 50 to expose the Swans' backs. 
Will Day and Finn Maginness for Tom Phillips and Changkuoth provide run, dash and especially for Day; class.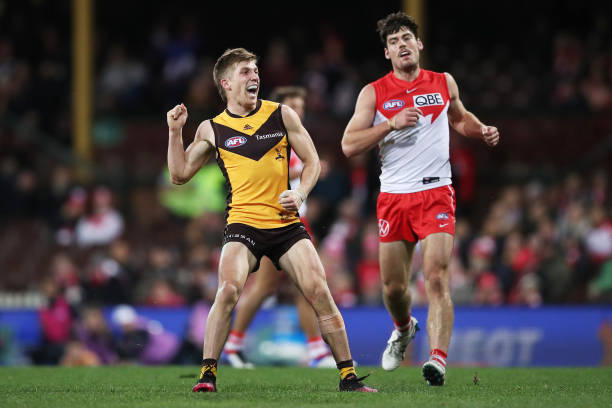 How the Hawks win: 
The Swans had the fear knocked into them by North Melbourne when they met a fortnight ago and have only got the one loss for the year (against the Dogs). That said, both teams laid a blueprint to take this Swans unit down. 
For the Dogs, they completely shut down the corridor and didn't allow the Swans to get any easy disposals and entries inside 50. 
Using that method, the Dogs only allowed 49 inside 50's and 15 scoring shots, numbers the Hawks are going to need to emulate. 
Although North were unbelievably accurate (11.1 at 3QT and 12.3 for the game), their ability to rebound and make the Swans defence isolate and be accountable was note worthy. 
Jack Ziebell kicked five and exposed the Swans' intercept markers by getting on the lead, and that is something Jack Gunston can, and should, exploit. 
North's rebounders in Luke McDonald (27 disposals and nine marks) and Aaron Hall (25 touches and seven marks) were amongst their best and all eyes are on the Hawks' rebounders to punish them by foot. 
They should be threatening the entire game, with James Sicily going at 88% with 22 kicks (along with 15 marks), Jarman Impey at 85% with 15 kicks and Jack Scrimshaw at 83% with a dozen. 
With the quick ball movement Sam Mitchell has instilled into this group, the Swans can be exposed and that's how the Hawks can get the job done. 
The location of Launceston has been an extremely happy hunting ground for the Hawks, playing 70 times for 52 wins, 17 losses and a draw. 
What makes the ground such a happy hunting ground is the conditions and the ground shape. The wind at Launceston can trouble teams who haven't played there regularly, and the likes of Gunston, Shiels and Breust have plenty of experience at the ground. 
Concerns:
The Swans have scored the third most points for the year (486) and conceded the fourth least points (373) so they're in extremely good form. 
One of the reasons for that has been Sydney's fixture; GWS, North and West Coast aren't near the eight, Geelong are and they were fantastic, but the Dogs shot themselves in the foot by kicking 9.17.
The Swans' forwards are going to cause problems as Lance Franklin is still a superstar, Isaac Heeney is top 10 in the Brownlow so far, and Hayden McLean has been an underrated gem with 8.1.
That's not all, with Errol Gulden, Will Hayward, Ben Ronke (who has history), Sam Wicks and Luke Parker all able to hit the scoreboard, this requires a team effort to stop and any slip up will see the match slip.
The Hawks are currently 17th for inside 50's which isn't going to fly against this strong Sydney unit so taking territory and working the ball forward is going to be key.
The Swans are also +5 in clearances compared to the Hawks, but the Hawks are in good form in the last fortnight, being +4 against the Saints and -1 against the Cats. 
Letting Luke Parker, Callum Mills, James Rowbottom, Justin McInerney, Chad Warner, Ollie Florent and Isaac Heeney dictate terms in the middle will spell trouble for the Hawks.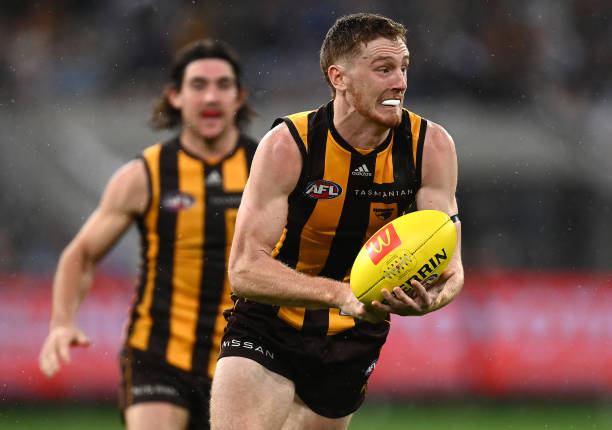 TH Spotlight: Denver Grainger-Barras
There's plenty of stories in footy and matchups inside bigger matchups, but none more exciting we would argue than between DGB and Logan McDonald. 
The pair have been rivals since coming together in the WAFL in a game that certified Denver as the best key back in the 2019 Draft, keeping McDonald goalless in the second half after McDonald kicked three from five contested marks in the first half (not on Denver).
Hawthorn looked destined to take whomever of Denver and McDonald in that draft that Sydney didn't take (the Hawks really wanted Braeden Campbell as well but the Swans took him as well) and with a game that needs tall defenders to stop their opponent, the Hawks have got a gem in Denver. 
What a matchup this will be!
Frost v Buddy and more in the Round 6 Game Preview Hawks v Swans