After a dream start in the opening 16 minutes by kicking five goals to nothing, the Swans kicked themselves into gear and overran the Hawks to win by seven goals. 
The Hawks didn't answer a whole lot of questions but we need to answer one; how did each Hawk go? 
Harry Morrison
Harry did a lot right throughout the course of the day, but his ball use and his execution kept HMo away from a four or five star performance. 
Had the ball 20 times, 15 pressure acts, 399 metres gained, six marks, four tackles, four score involvements and three intercepts. 
However, just 60% disposal efficiency wasn't a flattering result and five turnovers in those conditions wasn't good enough. Certainly nowhere near a poor performer. 
Tom Mitchell
We don't do half stars which is poor because 3.5 would've been perfect for Titch, who would've been on track for five after three quarters. 
Led the Hawks in disposals (26), had seven tackles, seven score involvements, six marks, 23 disposals and three clearances. 
However, when the game was on the line and the Swans were smacking the Hawks around the ball in the midfield, he had one clearance and two kicks. Not best on ground worthy. 
Jarman Impey
This hurts because Jarman is a fan favourite and he delivered two disposals. 
Did have four tackles, but only two touches! We blitzed Jimmy Worpel for five possessions, but two in over 75% TOG? 
James Worpel
On a day where after quarter time, you concede 58 inside 50's, you've got to look at the midfield group and he wasn't it. 
Kicked a goal, laid three tackles, had three clearances and 17 pressure acts, yet eleven disposals is nowhere near the production required. 
Got brought back thanks to luck and it may have run out. 
James Sicily
This man is known for many things and one of them being field kicks; so seeing him absolutely butcher the footy under minimal pressure was enough to rip your hair out. 
Maintains his status as the No.1 player in the competition for marks, had ten rebounds, eight intercepts, 520 metres gained which are all excellent but Sydney scored 3.3 off his eight turnovers. 
Did his best to stand up under a tirade of Swans entries late in the game but had six of his turnovers across the second and third quarter. 
Sam Frost
Frosty makes the hard look easy and the easy look hard at times, and Buddy did lower his colours on the weekend. 
Frosty found it 21 times as one would with the ball living down there, but six turnovers (four by foot) were killers 
Eight rebounds, seven intercepts and five one-percenters all read well however his opponent beat him and he went at 62% efficiency.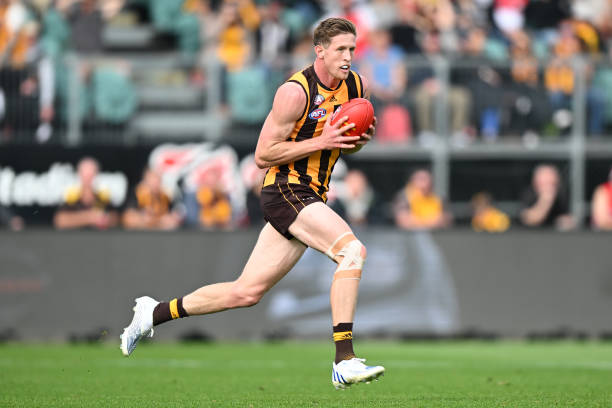 Jaeger O'Meara
Going to be a controversial best on ground here, but when the Hawks slowed down in the second half, he went to another level. 
In the second half, he had 13 touches, five clearances, four tackles and three inside 50's to finish with ten tackles, 75% efficiency, 338 metres gained, 26 pressure acts and ten clearances! 
Was the best Hawk on the park for the entire day and gave a real skipper performance.
Conor Nash
The relief ruckman is not a role we want to see Nashy play consistently but with the injuries to McEvoy and Reeves, it's a necessity. 
Had a real, genuine crack all day, laid five tackles, five score involvements, 18 pressure acts, four clearances and went at 71% efficiency. 
Nash has sometimes struggled with showing his soul on a footy field, but this is was the epitome of a heart and soul performance. 
Will Day
The most composed of all the defenders on Monday as the former Pick 13 showed why every Hawks fan wants this kid playing 200+ games. 
Day had 18 touches at 94% efficiency (including 15 kicks), six marks, five score involvements, three inside 50's and rebounds, amassed 419 metres gained and showed his poise.
Had to play on Hayden McLean and Logan McDonald at times and did an admirable job. 
Dylan Moore
Talking Hawks in 2021 crowned Moore '19&1' and we are feeling vindicated after he had (you guessed it) 19 disposals and kicked a goal. 
Moore still hasn't kicked a goal in a third or fourth quarter which is a problem, yet he used the ball at 79% efficiency, had seven marks, five score involvements, 14 pressure acts and 323 metres gained.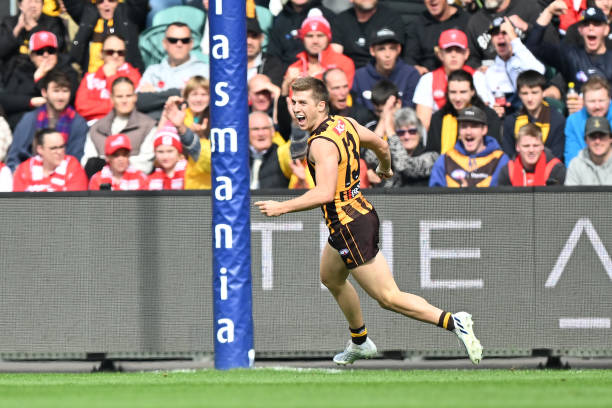 Jack Scrimshaw
Scrim for the first half was the highest disposal getter and perhaps the best player on the park for the Hawks, but had a single, solitary disposal in the second half. 
Seven marks, five intercepts, 84% efficiency, four inside 50's and 345 metres gained read beautifully, however going to a four star rating needs more than one disposal in the last 68 minutes of game time. 
Blake Hardwick
Hard to sum up just where Dimma is at at the moment but we called for him to take Isaac Heeney and he did early and completely shut him out of the game which was fantastic.
Didn't have a great day with the footy but given Heeney finished with just 15 disposals and a goal, it's a tick for sure. 
Max Lynch
For his performance alone, returning and playing his second game for the Hawks, Lynch was outstanding in the first quarter and a half and finished in a serviceable way. 
However, Peter Ladhams had 19 disposals at 89%, eight score involvements, seven marks, six clearances, five inside 50's and 34 hit-outs so Lynch needs to take a lot out of this because Max Gawn and Luke Jackson await. 
Jack Gunston
Jack's had a couple of good performances but this wasn't one of them. 
On a day where the Hawks were missing Mitch Lewis, they needed the talls to stand up. Gunners gave us 10 touches, 1.1 and one mark in the last two and a half quarters. 
Chad Wingard
The Chadwick returned after a fortnight out and although he was solid enough without using the ball (five marks, four tackles, a dozen pressure acts), Wings couldn't find the footy enough. 
Finished the game with twelve touches and although 75% efficiency is good enough, we need a greater output going forward. 
The role is an interesting one as it took three quarters to be around the ball in the midfield. 
Luke Breust
Took his limited chances in kicking a couple of goals, with only a handful of touches and a couple of tackles, which isn't the Luke Breust we are accustomed to. 
Dane Rampe played him really well and although after the first quarter the supply dried massively, he couldn't make any impact. 
Jacob Koschitzke
There can't be any complaining about a tall forward kicking three goals which Kosi did, and Launceston is proving to be a happy hunting ground, with 17 goals coming in his six games. 
Only taking two marks can be a little cause for concern as the Hawks were outmatched in the air for a lot of the day without Mitch Lewis; but coming in, would we take three from Kosi? 
It's a yes, everytime. 
Denver Grainger-Barras
Thought this was one of, if not the best performance Denver's had, especially in the contest. 
Logan McDonald and Hayden McLean kicked 2.2 between them and DGB had a big part in that, as well as collecting seven marks, going at 80% efficiency and five intercepts. 
The Swans smalls dominated but DGB stood tall.
Josh Ward
The toll of only limited Under 18's footy seemed to strike our Pick 7 as he struggled to get into the game at times. 
Played 100 minutes of game time for 14 disposals and gave away a couple of free kicks, but whilst he didn't do a lot wrong, Wardy didn't stand out in any big way, although 18 pressure acts for a player as young as he is, was pleasing.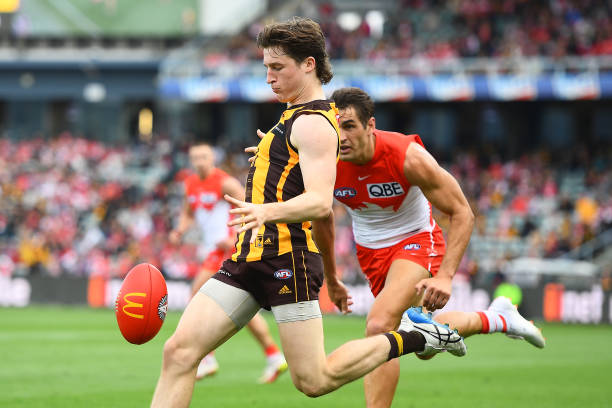 Connor MacDonald
If Ward could potentially need a week off, C-Mac definitely does. 
Not in a negative way but he faded out of the contest and didn't have an impact in the second half. 
Used the ball at 89% and we can only imagine how good he will be in a year or two when he's averaging 20 touches and doing these things. 
Finn Maginness
Was brought back in and it became abundantly clear that the father-son prospect needs to dominate in the lower level to get his confidence back. 
Took nine marks which was really encouraging, but he's infinitely more damaging without using the ball and than with it, which isn't the go moving forward. 
Five turnovers and 50% efficiency were ugly reading but six rebounds, 414 metres gained and 15 pressure acts are encouraging but the question needs to be asked if it's enough. 
Jai Newcombe
Could not have started better in this game; at the 24 minute mark of the first quarter, he had nine touches at 100% efficiency, with five score involvements, four inside 50's and four contested possessions. 
Kind of like the Hawks, he finished slower but ended up with 23 touches, six tackles, 535 metres gained, six inside 50's and 21 pressure acts. 
Not only did he win the nomination but he is a rising star.