We at Talking Hawks want to give Hawthorn fans an experience. Subscribe to Talking Hawks for exclusive fan experiences and get involved in livestreams with Hawthorn players
A game of momentum ebbs and flows ended with the Hawks falling over by 23 points but the game plan looked as solid as ever. 
The ball movement was terrific for significant periods and for a side with two premiership players (versus Richmond's 21), the big picture is intact. 
However, there are still frustrations, agitations and irritants that all need to be discussed as well so the ever so frequent question needs to be asked and more importantly; answered. 
How did every Hawk go? 
Harry Morrison
Has had a really good year but struggled to find the footy for long periods. 
Only two touches in the last 38 minutes of footy wasn't the expected output for Harry. 
Finished with 15 touches and 19 pressure acts but didn't have 4+ of anything statistically so a bounce back is needed. 
Mitch Lewis
For the first time in 2022, Lewy and Kosi played together and did a really good job, considering the lack of supply in the second and third quarters. 
Kicked 3.1 from twelve touches, four marks, six score involvements and double digit pressure acts is always a tick. 
Jarman Impey
Was the Hawks' best across all quarters as he still had moments in down moments of the game.  
Took eight marks, went at 80%, had half a dozen score involvements, five rebounds, three clearances, three inside 50's and 499 metres gained. 
Kept his composure on most occasions and is alongside Sam Collins, Charlie Ballard and Dougal Howard in the Tom Lynch Whacking Blokes Club, after copping an elbow but was fine. 
James Worpel
Bermuda Triangle. 
Loch Ness Monster
Abominable Snowman
Amelia Earhart 
A broad list of enigmas there; mysteries if you will. 
The mystery of the Worpedo's form has well and truly earned its place amongst those historical mysteries. 
No Tom Mitchell in the team so if there was ever a chance to take over the midfield, this was it. 
And he had six touches in the first three quarters. 
Sure, he had six and kicked a goal to keep the Hawks in the game late but it means little. 
Can't stay in the side based on the now sixth game this season with under 16 disposals. 
James Sicily
For all the SuperCoaches out there, you'd be throwing your device seeing a three star performance, given he had 141 points. 
For all the stats watchers, you'd read 24 disposals (23 kicks), a dozen rebounds, a dozen one percenters, nine marks, eight intercepts, 680 metres gained and wonder what's going on. 
Eight turnovers and for 24 kicks, to have two score involvements wasn't Sis at his penetrative best.
Played on Tom Lynch all day and conceded half a dozen marks and four goals (albeit less than the 6.5 he's averaged in the last fortnight) so he loses marks for that. 
Harsh? Maybe.
Sam Frost
Started on Dustin Martin and once he attacked the footy, he got into better form but he's struggling for form the Snowman. 
Had 14 touches with four marks and three tackles, along with seven intercept possessions. 
Understandable why he didn't play on Riewoldt so the Hawks could get the experience into Denver Grainger-Barras but not standing Lynch for longer was strange. 
Jaeger O'Meara
Has copped some criticism in the media for a lack of worth in the side but Jaeger's actually playing his role quite well. 
Had 19 CBA's but worked really hard defensively (also a criticism in the past) for his 19 disposals but had seven score involvements, four tackles, three clearances and 20 pressure acts.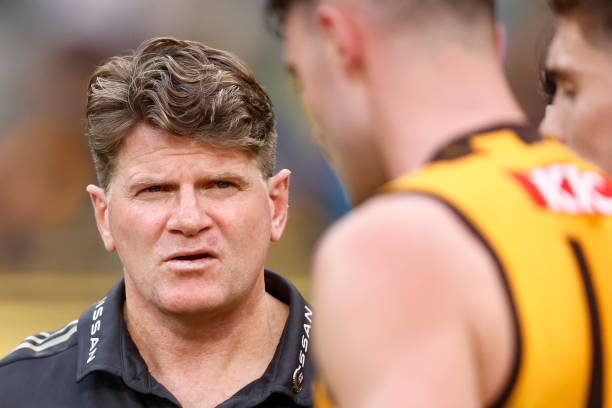 Conor Nash
Keeps growing before our eyes does our favourite Irishman. 
Had 19 touches, seven clearances (team high),  four marks, four score involvements, four inside 50's and a couple of goal assists but his pressure was beyond the charts. 
27 pressure acts is outstanding and all four of tackles were not broken by any Tiger, and led to a holding the ball and a frustrating non-call late but can hold his head high. 
Will Day
Speaking of maturity, our first round pick in the 2019 Draft keeps going from strength to strength. 
I've written in the past about the want for Day to play midfield but 17 touches, eight intercepts, five tackles, four marks, three clearances, 18 pressure acts and 374 metres gained later, his nous as a defender is profound. 
Dylan Moore
He had to have one down game right? 
Whilst there weren't big periods of the game where Moore wasn't involved, when he was, the production value was down. 
Five inside 50's is a huge tick for a half forward flanker and four score involvements was pleasing, especially given how hard he worked up the ground. 
However, it wasn't his day but he's one of a very small list that can have some credits in the bank.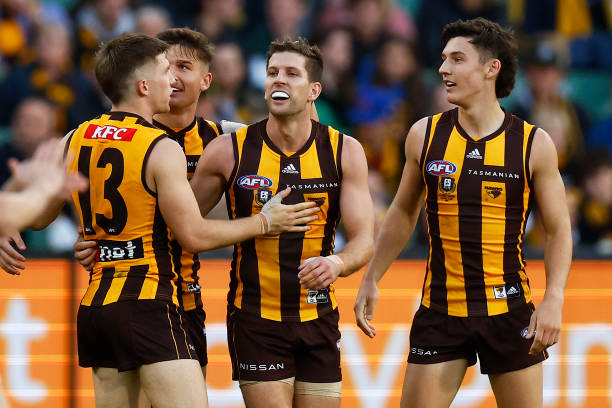 Jack Scrimshaw
Another one who didn't have the days he's had in the past but a huge tick for the way he played on Jack Riewoldt as he was the only Hawks defender who played on Jack who didn't concede an uncontested mark. 
Had seven intercept possessions, took five marks and had four score involvements but loses makes for the following statistics: 
One tackle from 12 pressure acts 
39 metres gained   
Season low for disposals 
Blake Hardwick
Played on Shai Bolton when he was closer to goal and Maurice Rioli for the rest of the day and didn't have a goal kicked on him as a direct opponent which for a defender, is his number one job. 
15 disposals was slightly down for Dimma but given how easily Richmond were able to slice through the midfield in big parts of the game, he had to defend for his life. 
Used the ball at 87% and had four intercepts on the day but without the ball, he was very good. 
Lachie Bramble
Welcome back to form Lachie! 
Whilst some fans may point to a couple of moments he was caught in no man's land post a midfield turnover, Bramble was damaging with the ball. 
20 disposals at 75% efficiency, six intercepts, six rebounds, four marks, four score involvements, 419 metres gained and ten pressure acts read his day and he looked his old self. 
Max Lynch
Nathan Buckley on the Fox coverage noted how good of a competitor Lynch is but can't ruck all day and how right he was proven. 
However, Lynch isn't the number one ruckman at the Hawks and shouldn't be but with the injuries to Ned Reeves and Ben McEvoy, he's had to be. 
In an ideal world, Reeves would be the tap ruckman and Lynch would ruck in the forward half or be the goal square presence as Jacob Koschitzke and Mitch Lewis can cover the ground.
Kicked a goal, had three tackles and ten pressure acts across the day but Nankervis was dominant and the midfield battle was comprehensively lost. 
Jack Gunston N/A
Hurt his ankle on the quarter time siren and played some time in the second quarter before being subbed out for Connor MacDonald. 
Had five touches with a goal in the first quarter, including two other score involvements and a couple of marks. 
Chad Wingard
In his 200th game, Chad was allowed to move up the ground at times, leading a lot of Hawthorn fans to exclaim the notion of 'About Time!' 
Finished with 17 disposals, two goals, 71% disposal efficiency, six score involvements, 22 pressure acts, 355 metres gained, five inside 50's and four clearances. 
Oozed quality across the afternoon.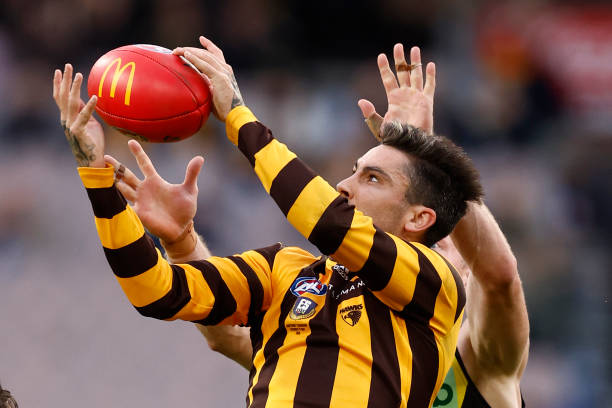 Luke Breust
Was the most dangerous forward for the Hawks for long periods, crumbing everything and showing off that footy IQ that is so synonymous with Punky. 
3.1 from 14 disposals read Punky's day, with a 71% DE, seven score involvements, 327 metres gained, a dozen pressure acts, three inside 50's and is the only forward to punish Nathan Broad for playing off them, something other teams need to look at. 
Jacob Koschitzke
Whilst many fans would look at the goal aspect (2.1) or the hit-out aspect (7 from 39 contests) but Kosi was genuinely terrific throughout the day. 
He laid four tackles across the day, had 293 metres gained, 11 pressure acts, six score involvements, five marks and ten contested possessions. 
This young man is a beauty and once he can play his true role, will only keep growing. 
Denver Grainger-Barras
Here's something controversial but hear it out; playing on a three time Coleman Medallist is actually a great thing for Denver's growth! 
In the first quarter, DGB looked a touch lost but why we love him is how he responded and kept attacking the footy. 
Even in the last important play, he hit the contest and knew the Hawks had to go quick in order to snatch a win. 
The ball got smothered and Jason Castagna kicked the sealer but the endeavour and dash was unbelievable and should be encouraged. 
Riewoldt did kick 3.2 but this is a really encouraging two star performance. 
Sam Butler
Got a good taste of the action and will only get better from here.
Had his first goal taken off him (in a correct goal) and laid a couple of tackles. 
Whether he's given some consecutive games or he's had a taste and goes back to BH, he looked okay and looked like he wasn't overawed by the occasion. 
Connor MacDonald
I love this kid. 
No Hawk had more pressure acts per minute than C-Mac, who had that knock on him coming out of his draft year. 
Won't come close in the Rising Star race but the base that's being built is a good one. 
His half forward beginning to his career reminds us of Darcy Parish and we know Sam won't wait six years to put him in the midfield but with so much time out with COVID, he's gotta have his midfield frame fill out first. 
Finds the footy, is really composed, had four score involvements and attended a couple of centre bounce attendances which was pleasing. 
Put his head over the ball as well, with ten contested possessions. 
Finn Maginness
After a fortnight on top of the pile, Finn came back to earth a little but didn't disgrace himself by any metric. 
Had five score involvements and 235 metres gained but didn't have a great impact on the contest.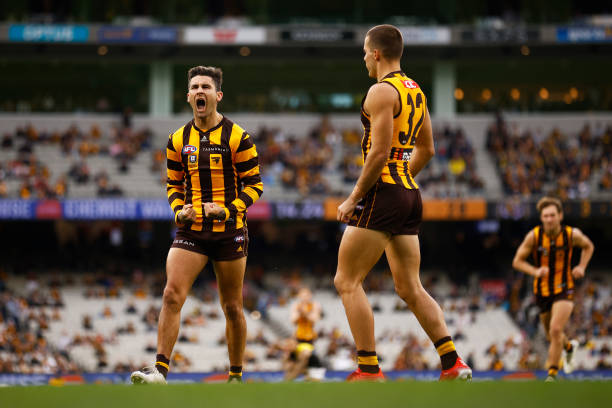 Jai Newcombe
Is now the Hawks No.1 midfielder which given the Hawks have got a Brownlow Medalist (albeit didn't play), a former No.1 pick (in a mini draft), a best and fairest winner, that is both exciting and terrifying. 
Jai had 22 touches, seven score involvements, seven rebound 50's, four tackles, four clearances, three intercepts, 529 metres gained and 31 pressure acts! 
Was unlucky not to be BOG but is a close second, it's just the eight turnovers (Richmond scored 3.2) that hurt him but no one can question the endeavour.