Talking Hawks want to give Hawthorn fans an experience. Subscribe to Talking Hawks for exclusive fan experiences and get involved in livestreams with Hawthorn players
The Hawks have had a lot of questions thrown at them in the last couple of months and with just one win in their last seven, a trip back to the winners list is on the cards, like it was in 2021 when the Hawks put the in form Lions to the sword. 
Last Time We Played 
Round 20, 2021, UTAS 
Hawks – 14.8.92 
Lions – 12.8.80 
Goals – Breust (3.1), Wingard (2.2), Moore (2.0) 
Disposals – O'Meara (35), Mitchell (34), Wingard (32), Worpel (26) 
The Hawks were up by 53 points at three quarter time and took the foot completely off the pedal in the last as Brisbane clawed their back to two kicks.
The Hawks went at 73% efficiency throughout the day and had ten individual goal-kickers, with Jaeger O'Meara (three votes, 35 touches, ten tackles and 2.2) and Chad Wingard (two votes, 32 touches, six tackles and six clearances) amongst the Brownlow votes. 
Team News 
In's – Changkuoth Jiath, Tom Mitchell, Daniel Howe
Out's – Connor MacDonald (medi-sub), Jack Gunston (ankle), James Worpel, Finn Maginess (omitted) 
CJ is back! 
The galloping defender comes back and injects metres gained and good ball use into this side. 
We need to see more kicking from CJ, averaging just 11. Given how beautiful a kick he is, that can be increased.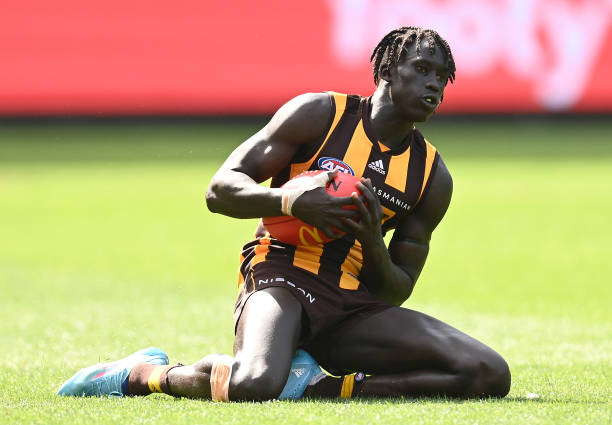 Titch is back and according to Sam Mitchell, "Tom will play in the centre bounce" so he's got a great chance to get back to some terrific form. 
Daniel Howe comes back for some experience and can help on the outside, with Hugh McCluggage and Keidean Coleman able to punish the Hawks on the outside. 
Finn Maginness is unlucky to miss but depth of spots is a good sign, Connor MacDonald finally gets the rest he was promised a fortnight ago and Jack Gunston hurt his ankle at quarter time last week. 
James Worpel has been dropped and won't have a chance to get himself into form as Box Hill have a bye but the lack of form justifies that decision wholeheartedly but the confidence in Jimmy getting back in the side and back in form is high. 
How the Hawks win
The Lions are the third best defence in the competition for points conceded so down in Tassie, making the defence accountable is key. 
Making Dayne Zorko and Daniel Rich defend Dylan Moore and Chad Wingard needs to be priority one as the weakness of most smaller rebound defenders is their ability to stop their opponent when the ball is coming in. 
Down the other end of the ground, Blake Hardwick famously blanketed Lincoln McCarthy in the game last year, keeping him to 13 disposals and scoreless.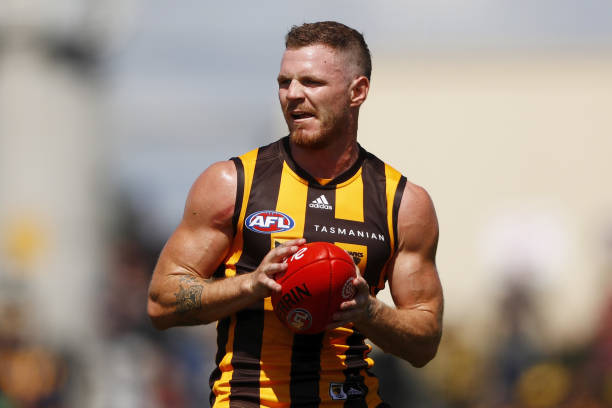 It's going to be a much bigger task for him, with Charlie Cameron in good form, Cam Rayner's back to some of his best, Zac Bailey can kick a goal or two (or six against Gold Coast), the aforementioned McCarthy and others. 
The Hawks need to get the ball off the Lions as far up the ground as they can and repel beautifully; the Hawks are averaging 85 points a game (up on 74.05 in 2021, 59.04 in 2020 but with shortened quarters but would read 74.2 in full games and 79.2 in 2019) and need to put a big score on the Lions. 
Tom Mitchell returns and he averages 34 disposals against Brisbane (third most against all teams) and with no Josh Ward, Connor MacDonald and James Worpel, has more damaging midfielders to feed the ball to in Conor Nash, Jai Newcombe and Jaeger O'Meara. 
The Hawks aren't really a handball happy side (averaging 143 with a competition average of 146,  which will please Hawks fans as lacklustre handballing has been a means of frustration) but in order to punish the Lions on transition and using the corridor, effective forward handballing is key. 
Taking advantage of the stand rule and it's up to Will Day, Jack Scrimshaw, Jarman Impey, Changkuoth Jiath, Harry Morrison and even Jaeger to run in waves and provide options to open up space and have quick entries inside forward 50. 
There is a four quarter effort that is required and the Hawks have struggled in that department but this is by no means a guaranteed loss. 
Concerns
This is the second best team in the competition after all. 
The Lions are humming and with a deep midfield and a stacked forward line, the Hawks have got their hands full. 
Hugh McCluggage is in All-Australian form, Lachie Neale is in Brownlow potential form, Jarryd Lyons has been down because of a strange role but he had 24 disposals, seven tackles and kicked a goal last week and Cam Rayner had himself three clearances. 
Max Lynch has a huge battle on his hands, with Oscar McInerney and Darcy Fort his opponents. 
McInerney should get Brownlow votes for his Crows performance, with 40 hit-outs, four clearances, seven tackles and seven score involvements so Lynch will have his hands full. 
Since Round 3, the Hawks have averaged 107.8 points against so all the rebounding in the world isn't going to help if the Hawks can't stop the bleeding.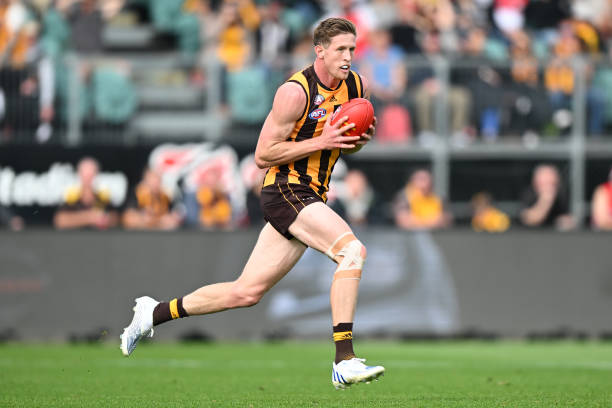 TH Spotlight: Sam Frost 
With no Joe Daniher or Dan McStay in the team, Frosty can have an Eric Hipwood who's only one game back from an ACL. 
Frosty's been out of form for most of the season which has been a surprise but it only takes one game in order for the switch to flip and having it down in Tassie is as good a place as any. 
This is a good contest and not a fait accompli that the Hawks will lose. 
Brisbane didn't come away with a win last year in Tassie and mightn't here either.