We at Talking Hawks want to give Hawthorn fans an experience. Subscribe to Talking Hawks for exclusive fan experiences and get involved in livestreams with Hawthorn players
Win
Of
The
Season! 
When Tom Fullarton kicked truly with seven minutes left in the third quarter, memories of the Sydney and Essendon fade aways were front and centre in fans minds. 
However, an amazing last 40 minutes propelled the Hawks to a 117-112 win in one of the games of the season. 
So, as per usual: 
How did every Hawk go? 
Harry Morrison
Took him about two and a half quarters to figure out not to get brought into the contest and letting Jarrod Berry go free – Berry had four score involvements in the Lions' first seven scores – and stream inside 50. 
Worked really hard in the second half and got on the end of some ball in the third quarter with eight disposals, 88% disposal efficiency and a really nice goal on his left near the three quarter time siren. 
Mitch Lewis
When you kick four goals from four marks and a 55 metre bomb that proved the sealer, you're getting four stars from Daz. 
Had a further three score involvements, 11 pressure acts from a key forward is excellent and wasn't used as a ruckman at any stage – which needs to continue -. 
Was a big reason the Hawks kicked 11.0 from set shots. 
Tom Mitchell
I've been a critic of Titch at times but the fan criticism of Titch's performance is overblown and ridiculous. 
Only attended 48% of centre bounces so it wasn't an increase in role but the week off to freshen up has done him the world of good. 
36 disposals, seven tackles, five marks, five score involvements, 373 metres gained and nine clearances (all stoppage) but the surprising stat was five rebound 50's (the equal most he's had since the Brisbane game last year). 
If that's the role going forward, huge tick. 
Jarman Impey
Got the footy did Jars but didn't really have the impact he's had in previous games. 
Had 278 metres gained, 15 pressure acts, five intercept possessions and four rebounds read his day but one mark and no tackles didn't allow him to springboard himself into the contest. 
James Sicily
Another incredible performance from the current All-Australian back pocket. 
24 touches (19 kicks), 79% efficiency, eleven intercept possessions, ten rebounds, seven marks, 665 metres gained and eight pressure acts. 
He's got some mates fighting for the Peter Crimmins Medal (which is outstanding) but this could be one of the best returns from an ACL ever. 
Sam Frost
Only lost one one-on-one contest for the day and kicked his first goal for the Hawks and the first for his career since 2017 (when he was at Melbourne)! 
Wasn't a highly productive day from the Snowman but it was the freshest he's looked all season. 
Changkuoth Jiath
Back into the fold, CJ got three stars based off the kick to Wingard in the first quarter! 
The speed he was humming along, the angle of the drop punt and the sensitivity of putting the ball into the spot was first class. 
Was really impressed with his pressure (four tackles and 17 pressure acts) and 300 metres gained and four rebounds was a very solid return. 
Jaeger O'Meara
I've flipped my opinion on Jaeger within the last month. 
He's adapted to the half forward line better than I could have gotten my head around as he is a contested bull and he's finding some freshness later in the day and won some key ball late.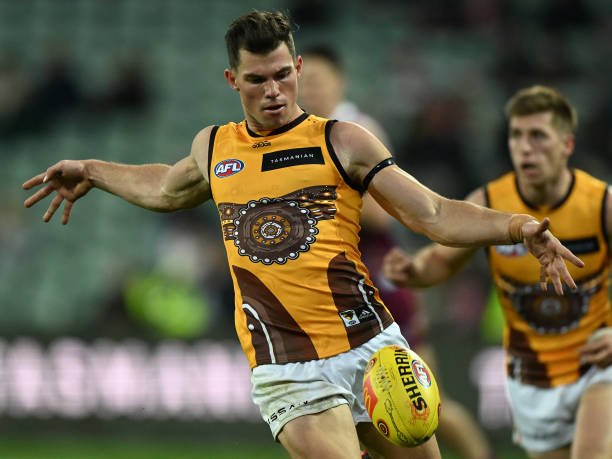 Finished with 18 disposals, five tackles, four score involvements, 18 pressure acts, 324 metres gained and most of all, some composure at the cold face. 
Some young players can get the ball and feel a sense of urgency and just blast away but Jaeger's ability to turn and take the extra step(s) and know the best decision is key for the growth of a younger group. 
Conor Nash
Hawthorn really missed Nash's frame during his absence and that frame was key around the contest at times.
Five clearances, four tackles, four rebounds, 26 pressure acts, 351 metres gained, four score involvements and 71% DE amongst his 17 disposals was a huge tick and no Hawk has flipped fan opinion more in the space of 12 games. 
Will Day
Wasnt Willbur's "day" as it were (I apologise for nothing) as he only had the eight touches and three tackles.
Still had a very nice 13 pressure acts and 220 metres gained but was subbed up for the fourth time in 23 games, which is a huge cause for concern and we wish Will all the best. 
Dylan Moore
Dylan '19 and 1' became Dylan '19 and 2' Moore as he finally broke his streak of scoring in the second half by kicking his goals in the second half (!)
Five score involvements, 13 pressure acts, 356 metres gained, six inside 50's and four intercept possessions read his day from 19 disposals. 
Lock for current top 3 in the PCM. 
Blake Hardwick
Did a really good job on Charlie Cameron for the majority of the day but it was his composure and ability to put himself in the right spots late in the game that stood out. 
91% DE and launching territory from his disposals was essential throughout the day. 
Took five marks and had four rebounds but the stats don't give him the due credit he deserves; watch the game back and watch his positioning. 
Lachie Bramble
I want to give him two and a half stars but I've been told by upper management I can't. 
82% efficiency, zero turnovers, five intercepts and eleven pressure acts ware really pleasing but he needs to be on a wing. 
Lachie was caught out by Cam Rayner and Lincoln McCarthy in the contest on a couple of occasions and the further up the ground he can get, the better because he is "The Weapon".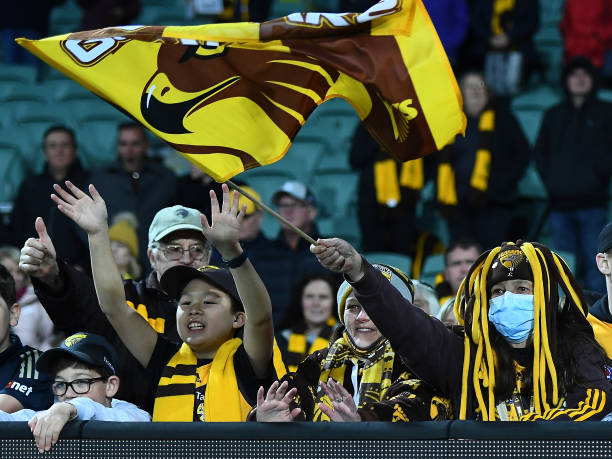 Dan Howe
Did his job and was an experienced body around the contest. 
Didn't have a great impact on the contest but didn't really lose his position either. 
13 pressure acts was more than handy as well but would be the first to drop out of the side if Josh Ward, Connor MacDonald or James Worpel come back. 
Max Lynch
For the first half, Lynch's ruck work and stamina were on display and the ruck contest was an intriguing one. 
21 hit-outs with nine disposals, six score involvements and a really nice goal read his day but has failed his concussion test on Monday morning so we wish him all the best. 
Chad Wingard
Chadwick is becoming the epitome of "quality, not quantity" at the Hawthorn Football Club. 
Had just the eleven disposals but all three of his goals were fantastic, went at 73% disposal efficiency, five score involvements, 15 pressure acts and four inside 50's.
Seven turnovers isn't ideal but he was a classy difference in key moments and continually proves his worth. 
Luke Breust
Punky only kicked the one goal but his day was so much more than that. 
314 metres gained from 11 disposals is elite for a forward, had 13 pressure acts, six score involvements and nine contested possessions was a nice performensce and when he's not kicking goals, there's a worry he can fade out of games but didn't really here. 
Jacob Koschitzke
Good luck to any other Hawk getting a star for every two possessions they had but Kosi had one of the most selfless performances seen for the year. 
Along with his seven disposals, he had six tackles, six hit-outs from 29 contests, eleven pressure acts and was a presence for the entire game. 
Wasn't his day on the stat sheet but he can't be faulted for the endeavour or effort. 
Denver Grainger-Barras
Denver is still learning his craft and did a really good job on Eric Hipwood and Tom Fullarton throughout. 
Had nine contested possessions, seven intercepts, 91% DE, four score involvements, four rebounds and even had two clearances in the back half of the ground. 
The growth is super encouraging and has Levi Casboult next week. Game on. 
Liam Shiels ⭐️⭐️⭐️⭐️
Only had the seven touches but 24 pressure acts, 261 metres gained, 100% DE and kicked a goal. 
However, it was all about the tagging job he did on Lachie Neale.
By the 11th minute mark of the second quarter, the 2020 Brownlow Medallist had 15 disposals and only had a further ten disposals for the remainder of the game.
The Hawks are 2-0 with the tag, with Finn Maginness shutting down Ed Langdon and now with Pup on Neale. 
Unreal effort.
Kyle Hartigan N/A 
Sam Butler
A small forward kicking a couple of goals is a pass for his second game.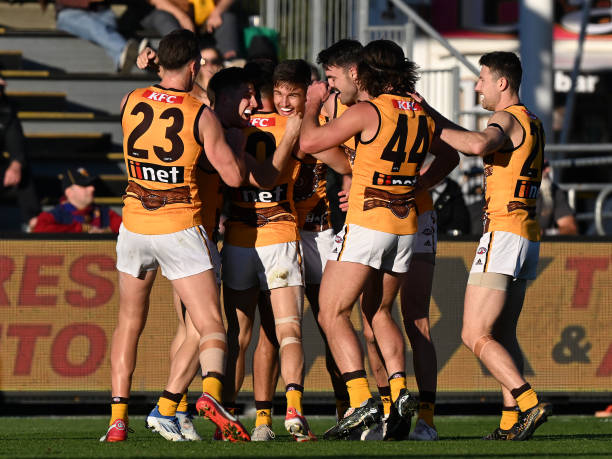 Had five score involvements, a dozen pressure acts, a couple of tackles and nearly 200 metres gained. 
We've got a gem here in "Alfred", no doubt about it. 
Jai Newcombe
2022 
Rising 
Star
Winner 
Right 
Now! 
No one will catch him, period! 
This kid is a bloody gem! 
Let's start with the stats: 
27 disposals 
24 pressure acts 
19 kicks
70% DE
14 contested possessions
12 score involvements
664 metres gained 
9 clearances
6 tackles
6 inside 50's
6 marks 
4 intercepts 
A 45 metre bomb off one step 
His vision, core strength, composure and ability to drive out of a contest with his legs was insane! 
A worthy best on ground, should be getting the three votes on Brownlow night and if he's not winning the best and fairest, he's second. 
What
A
Star