We at Talking Hawks want to give Hawthorn fans an experience. Subscribe to Talking Hawks for exclusive fan experiences and get involved in livestreams with Hawthorn players.
It wasn't a day for good results, disposal efficiency and for a young star, the MRO. 
The Hawks are now percentage off third last so the draft haul looks outstanding (even if we've got Gold Coast's third and Fremantle's fourth). 
However, it's not about the draft, it's about the seventh loss at Giants Stadium that Daz-stradamus;  the Talking Hawks philosopher, sits in a sunken office and ponders the weekly question that would bring a mortal to their knees; 
How did every Hawk go? 
Harry Morrison
Disposal efficiency on a day like that was never going to be taken into account so who can complain about leading the club in inside 50's (seven) and had 25 disposals himself. 
Also had six intercept possessions, six tackles, six intercepts, four clearances, 638 metres gained, 36 pressure acts and was one of the better Hawks on a disappointing day. 
Mitch Lewis
26 pressure acts for a tall forward is a tick even if it's wet but it wasn't his day at all. 
Jesse Hogan caught everything but he was the anomaly; Lewy had a star in Sam Taylor as his opponent, who played him really well. 
Has Jordan Butts, Tom Barras and Aiden Corr as his next three opponents so he'll be licking the lips. 
Tom Mitchell
Was Mitchell-esque conditions so the Brownlow Medallist put his snout over the ball and went to town. 
35 disposals, 519 metres gained, 18 contested possessions, ten intercepts, seven tackles, six score involvements,  five clearances, five rebounds, four inside 50's and 26 pressure acts read his day. 
The unconvincing nature of his future remains but with an injured Worpedo and conditions needed some toughness, he provided some against a deep oppositional midfield. 
Jarman Impey
Didn't see a lot of Jars in this one, with just 11 disposals but on a dirty day, how did the pressure go? 
Only the nine acts and three tackles sees his rating here and six intercepts are encouraging but a bit more from Jars is required, who mightn't be having the season expected of him and needs a big one on the way home. 
James Worpel N/A 
Hurt his shoulder really early into the contest with four disposals but hopefully he's okay and hasn't his future come under the microscope even more? 
Is it his last game as a Hawk? 
James Sicily
The man's a certified freak, period. 
Was second for the Hawks in terms of efficiency with 25 disposals (!) but had an incredible 962 metres gained, fifteen intercepts, fifteen rebounds, 14 one percent acts and was so clearly the Hawks best player. 
A lock for the AA squad of 40 and if he isn't in the 22, we'll organise the protests. 
Changkuoth Jiath
Had 16 touches at 88% efficiency, especially with 13 kicks which was pleasing and 460 metres gained are huge ticks, along with four inside 50's and three rebounds. 
In the wet though, only eight pressure acts and seven contested possessions are low numbers. 
Jaeger O'Meara
Led the Hawks for clearances with seven, had 26 disposals and seven tackles, which are really good numbers. 
Only had 11 metres gained per disposal which we would've loved to seen more of but considering it was a 42-43 clearance count, he gets a tick. 
It's been an underrated season by Jaeger in a different role, he was pretty good on the day and hope he goes head to head with Ben Keays next week. 
Conor Nash
17 touches and eight tackles in miserable conditions is a tick for mine. 
However, didn't think he had an impact on the contest as much as his numbers suggest and only the three inside 50's is a low number. 
If there was a half star option, 2.5 is the perfect number but if in doubt, I look at the scoreboard and that seems to tip the scales. 
Will Day
Was a dirty day for Will, who should see himself getting a holiday from the MRO for a week. 
Had five intercepts, four tackles and 18 pressure acts but we are judges of impact first, numbers second.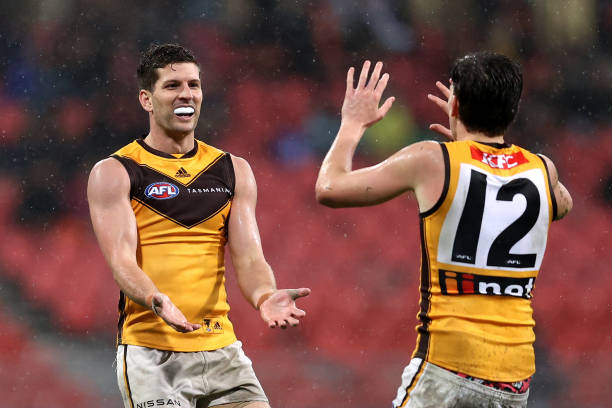 The week off could serve him the world of good to rebound against West Coast. 
Dylan Moore
Fell three disposals short of "19 & 1" but added seven tackles, 31 pressure acts, ten contested possessions and used the ball well. 
We know he'll get robbed on AA selection night but surely won't when he's on the podium on Peter Crimmins Medal night. 
Adelaide aren't conceding massive goals to small forwards recently but if there's one to break that pattern, it's lucky number 13. 
Jack Scrimshaw
Was the only Hawk to out mark Jesse Hogan twice and his continual improvement is not being underrated by the Talking Hawks family.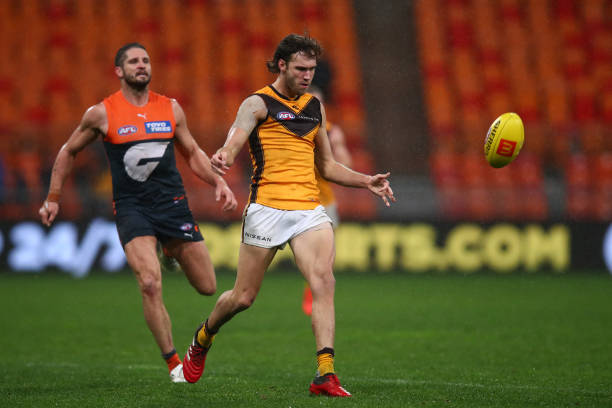 Scrim had 18 disposals, nine intercepts, four rebounds and 446 metres gained but he was slow in using the ball on a couple of occasions. 
After Tanner Bruhn kicked the first of the game, Scrim kept him invisible for the rest of the contest. 
Blake Hardwick
Did Toby Greene even play? 
13 touches, three marks and three tackles are numbers not suiting Greene's talents but they match Dimma's ability to shut down an opponent. 
Got himself 277 metres gained, five intercepts, three inside 50's, three rebounds and eleven pressure acts. 
His last fortnight has been simply outstanding. 
Lachie Bramble
Is there a harder Hawk to tackle at the moment? 
Bramble's sidestep is outstanding and is such a slippery customer with the ball in his hand. 
362 metres gained is a tick, had ten intercept possessions and laid four tackles himself to have a decent day out. 
Loving his development. 
Jack Gunston
Laid four tackles which for a forward is a tick and had 17 pressure acts but it wasn't his day. 
Kicked a point but didn't have an impact but if there's a defence to bounce back to, it's his former side. 
Luke Breust
Had some really intelligent moments in the game but not for the first time, wasn't the greatest day for Punky.
His goal was proof of that intelligence by using the slide and had 22 intercepts, along with three inside 50's and three tackles.
Jacob Koschitzke
How many more times can we write "wasn't built for him?"
Kosi had ten touches and eight tackles amongst ten disposals and 14 pressure acts so he gets a tick for his pressure and he had a really bad free kick paid against him that cost him a second goal.
Thought fans were harsh on him directly after the game.
Liam Shiels
13 disposals, six tackles and a goal for a sub is a tick, with 16 pressure acts.
Pup does provide some maturity and experience for the group but if Josh Ward is to be rewarded for his form, Worpel is the one to come out due to his injury but Pup will remain the 22nd magnet on the board.
Is a club stalwart and does his job but it wasn't an impactful performance.
Sam Butler
Looked ultra dangerous in the first half in patches and couldn't finish a scoring opportunity but only had one touch in the second half.
Had 73% game time for six disposals but made his pressure felt, with 21 pressure acts but that equated to only two tackles.
If Tyler Brockman was fit, "Alfred" might be in trouble for his spot but the experience probably means more right now.
Connor MacDonald
The biggest tick for C-Mac is his want to kick the footy, epitomised by a dozen kicks to three handballs as a ratio.
Took four marks, had 24 pressure acts, three inside 50's and kicked the Hawks first.
After not touching the ball at all in the third quarter, he finished with six touches and three tackles.
The four quarter impact is still the scope of improvement for the boy from Doveton.
James Blanck
Had more intercept possessions than he did disposals and he didn't take a mark or lay a tackle, whereas Hogan/Brown kicked six between them and took twelve marks.
Second game looks harsh but he was beaten and will bounce back, he looks an ultra confident kid and will get better and better.
Doesn't get easier in the next two weeks, with Taylor Walker/Darcy Fogarty and Josh Kennedy/Jack Darling as opponents.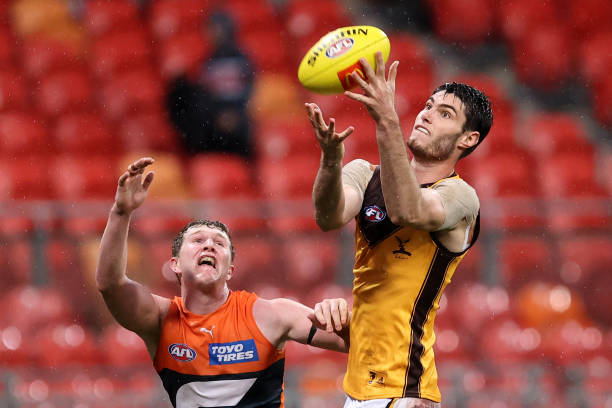 Ned Reeves
Lost the hit-out battle to Matt Flynn 46-39 but had a dozen pressure acts, four tackles and nine one percent acts.
Didn't use the ball well at 38% but he's a ruckman so he doesn't lose points for that but he wasn't on the list of problems for the Hawks in this one.
Clearance battle was relatively even throughout the day so the "Grim Reever" was okay.
Jai Newcombe
Was a very "non-Jai" style performance but he still had an impact.
On a day where he could've had 40 contested possessions and 10 clearances, he still had 13 contested touches but only two clearances.
However, 22 disposals, seven intercepts, six inside 50's, five tackles, four rebounds, 21 pressure acts and 479 metres gained read his day so whilst fans could be slightly annoyed at a non-traditional performance, it was still a good one.