It was a much more encouraging performance by our Hawks against the Pies, but how did each individual player perform?
#3 Jai Newcombe:
The Duke has picked up where he left off in 2022 with a very strong four quarter effort. 
27 disposals, seven marks and eight score involvements for our new number 3 in what is hopefully a sign of things to come for the fan favourite! 
#4 Jarman Impey:
Far from our worst, Impey has shown throughout the pre-season he is back to his before ACL injury form. 
His dash is a feature off half back and he will be a driver of the Hawk Highway. 
A few poor mistakes by foot held him back from a four star game. 
#5 James Worpel:
One of the bigger question marks amongst fans has been what will James Worpel's 2023 look like? 
If this game was anything to go off, I am pumped. 
He was back to his best and fairest form, collecting a team high 30 disposals, with 17 of those contested. 
With Duke covering the ground more, the Worpedo looks to be the bull of the midfield and no one wants him to succeed more than us. 
#6 James Sicily:
The new captain just seemed to cruise through this game, trying to get by in one piece. 
Despite this, Sicily still managed 22 disposals and 10 marks but don't forget; the fact this looked a quiet game a scary thought for opposition. 
He got beat a few times in the air but expect a fully wound up skipper come Round 1.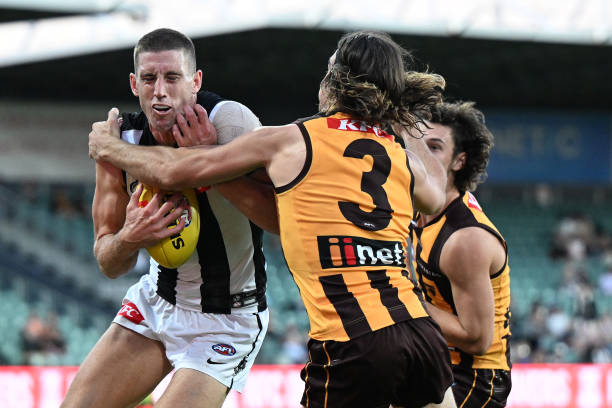 #7 Ned Reeves:
After a pretty solid game against the Cats last week, this wasn't the way big Ned wanted to finish his pre-season. 
He had the least amount of hit-outs on the ground (out of the four ruckmen that played) and struggled to impact around the ground with only three disposals. 
Did kick a goal thanks to a Mason Cox brain fade but that was his only contribution. 
#8 Sam Frost:
One of the players who only played a half of footy, it was a typical Frosty mixed bag. 
He had a near screamer in the first quarter before a beautiful intercept mark in the second led to a clanger and goal for his direct opponent. 
Despite his antics, he plays a key role and will be vital for the Hawks backline.
#9 Changkuoth Jiath:
We saw the good, the great and the ugly from CJ in this one! 
There was the brilliant intercept mark and corridor kick in the second quarter, the intercept marking throughout and a dropped chest mark from a kick in that cost a goal. 
Overall, he looks primed for a big season!
#10 Karl Amon:
The boom recruit of the off-season came in and played his role immediately, roaming the wings of UTAS like he has played there forever. 
23 disposals and nine marks with a disposal efficiency of 70% are certainly numbers I can get behind! 
Had a few little moments late but played a very good game.
#11 Connor Nash:
He is never going to be someone who wows you with statistics, but Nash played a role. 
His tackling is something that will always be a strength and four in this game, while not a massive number, all stood out live. 
With others standing out around the ball, where is his best fit?
#12 Will Day:
A very slow start in this one for Daisy, with only two disposals to his name at quarter time. 
However, when thrown into the midfield he impacted straight away with first touch around the packs a feature. 
Attended just under half of the centre bounces in the game, meaning Will's Day is coming!
#13 Dylan Moore:
Like Frost, Moore only played the first half of the game but boy did he make his impact felt! 
With a lazy 15 disposals and two goals in the first half, our newly appointed vice captain looks set to rise to another level in season 2023.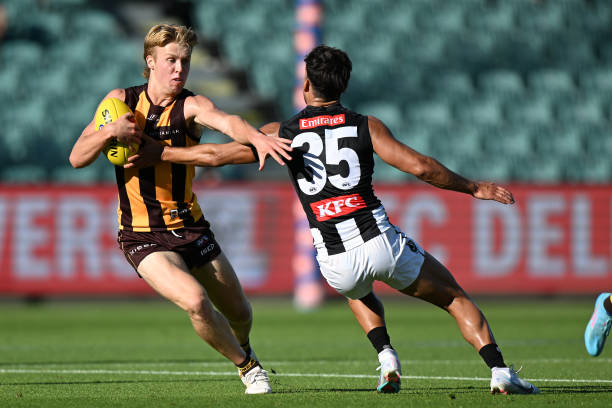 #15 Blake Hardwick:
I feel as though this rating is going to be a genuine anomaly and a sign we are still in pre-season mode. 
Usually our most dependable, Hardwick had his hands full with Jamie Elliott in the first half, as well as an unusually low seven disposals with two clangers. 
#16 Lachie Bramble:
After receiving praise by the coaching staff after last week's game, Bramble followed it up with another solid outing. 
15 disposals, five marks and a goal at 100% disposal efficiency is the type of performance to have his name stuck on Sam Mitchell's whiteboard. 
#17 Lloyd Meek:
The better of the two Hawk rucks, Meek made his presence felt all around the ground. 
He had more hit-outs in less centre bounces as well as creating genuine contests both in the air and one the ground down forward. 
He may have got a bit excited trying to outrun people a couple of times but hey, it's pre-season.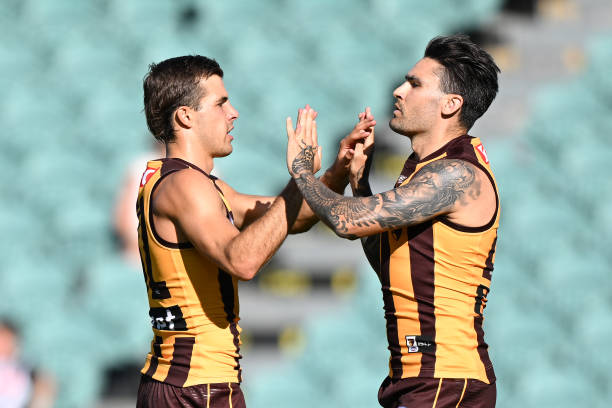 #20 Chad Wingard:
I was really encouraged by the performance of 'The Chad' in this game. 
He was getting high up the ground and using his brilliance entering the forward 50, as well as still looking damaging as a deep forward. 
Could have ended with more than the one goal to his name with some straighter kicking. 
#22 Luke Breust:
Insert Blake Hardwick passage here. 
I think this may be a rare occurrence where Punky doesn't meet the average rating but here we are! 
Three behinds next to his name with a couple of them absolute sitters, this was a real practice-game style performance by our star small forward. 
#23 Jacob Koschitzke:
There were some really positive signs from Kosi that we haven't seen in the last 12 months. 
He took some massive pack marks both inside 50 and around the ground and his forward pressure was great. 
If he wants to cement a spot though, he needs to work on that set shot goalkicking. 
1.4 isn't going to cut it and he deserves more for his effort.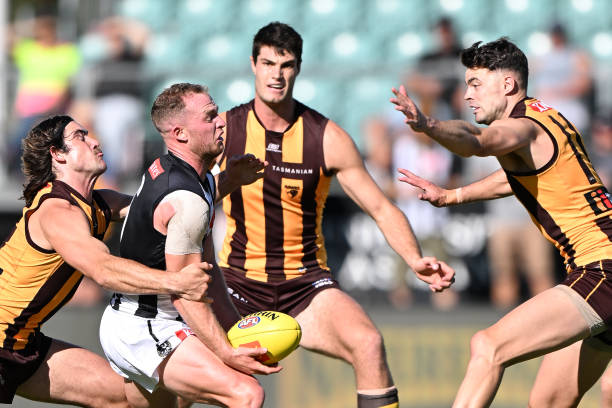 #24 Denver Grainger-Barras:
DGB was one of the four who watched the first half and got inserted in the game at half time. 
He had a positive early touch with a beautiful kick exiting the defensive 50, but that was it. 
One more disposal for the half with two really poor free kicks against doesn't help his case for a start in round one.
#25 Josh Ward:
A fairly quiet first three quarters was quickly forgotten, with a massive eight disposal, two mark and goal last quarter showcasing the class of the kid. 
The big surprise for me was the lack of centre bounce attendances, with Ward only featuring in the group of four on nine occasions. 
#26 Fergus Greene:
While he may not have lit the champion data statistics alight, the impact Greene had was huge. 
For the second week in a row, he looked like the Hawks most dangerous forward, consistently providing a leading target. 
He finished with three goals with a fourth hitting the post. 
Almost certainly pencilled himself in for a brown and gold debut.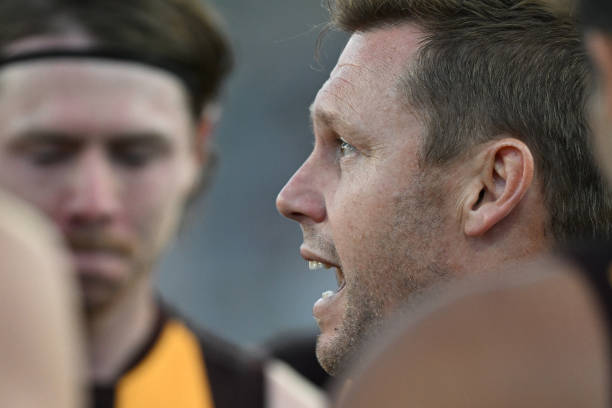 #28 Cam MacKenzie:
My goodness, talk about a positive first impression! 
We had a feeling the lad was going to be good, but this was awesome. 
24 disposals, five marks, three tackles and a goal read his night and MacKenzie looked right at home. 
I am already crowning him the best kick inside 50 on the list, with his ability to pinpoint a target evident from the outset. 
This kid looks like a star in the making!
#30 Sam Butler:
Similarly to DGB, Butler struggled to impact the game after coming on in the third quarter. 
He could only manage three disposals and a tackle in his time on the ground. 
With the form of Fergus Greene, Butler looks to be behind the 8-ball at the selection table.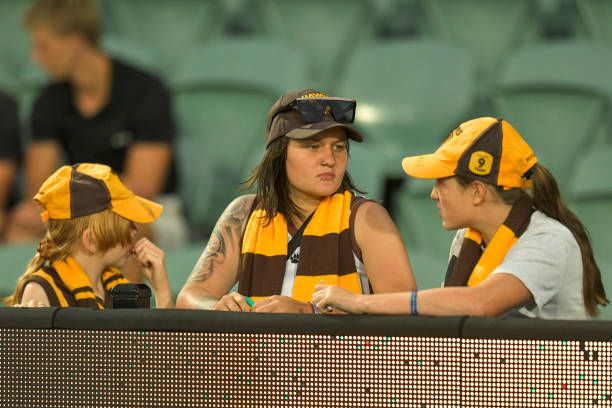 #31 Connor MacDonald:
If i had one word to describe this guys game it would be this: class. 
He only had the 18 disposals, but it felt like everything he touched turned to gold. 
When the Hawks were on the ropes early, he found Chad Wingard with a beautiful pass for our first, before kicking one himself. 
He finished with two goals, seven marks and 10 score involvements. 
#32 Finn Maginness:
With a similar ruthlessness we saw as a player, Sam Mitchell ensured Nick Daicos wasn't going into 2023 on a high, throwing our shutdown tagger to him. 
Finn, like he had done so many times last year, took Daicos out of the game beautifully. 
Not only this, but he also managed to have some important disposals with four score involvements. 
#36 James Blanck:
After getting on top of the Hawks early with two goals, Sam Mitchell put the Dan McStay assignment in the capable hands of James Blanck and he did the job. 
McStay could only manage three disposals after quarter time with the "Blancket" doing what he does best!
#44 Henry Hustwaite:
Another of the halftime injections, Hustwaite managed to have the greatest impact of the three. 
Playing off half back, he was able to use his clean hands around the packs to launch counter attacks. 
He did make some crucial mistakes by foot, but with comfort in his game will only improve!
The countdown to Round 1 is on and we can't wait for this effort and game style against Brad Scott's new look Bombers!