How good was that, Hawks fans?!!!!
It was an electric atmosphere at the MCG as our young Hawks ran over the top of the premiership contending Lions, in what was the defining win of season 2023 to date.
Being at the ground for the first time this season, it gave me a different perspective of the game and the good vibes will carry on from the ground to this article.
It was a massive effort by all players and the majority of the 23 who took the field will be treated to a positive player review.
So without further ado, let's get into it!
#2 Mitch Lewis ⭐ ⭐ ⭐
You look at the goal number and automatically assume Lewis dominated the game, but I thought the battle between him and Jack Payne was extremely even over the course of the game.
Lewis was able to get the better of Payne on the lead, with three of his four goals coming from marks on the lead, but Payne more than held his own in contested situations.
Our big forward still had 11 disposals, six marks, three tackles and kicked his four goals which is a good day, but the three stars signifies the even contest he had with his opponent.
#3 Jai Newcombe ⭐ ⭐ ⭐ ⭐
Duke's first half wasn't anything exceptional, with just 13 disposals and one clearance, but my goodness did he turn it on in that third quarter and flip the game on its head!
In just the third quarter alone, Newcombe had 12 disposals, four marks, three clearances, four inside 50's and a goal assist, with that being a one-step pearler to Mitch Lewis after Connor MacDonaod pulled off one of the kicks of the year. 
His end of game stats were 28 disposals, five marks, four tackles, five clearances, nine inside 50's and 11 score involvements but that third quarter was genuinely special.
WOW!!!
#4 Jarman Impey ⭐ ⭐ ⭐ ⭐
In the opposition analysis podcast about Brisbane (have a listen on podcast platforms if you haven't already), I predicted Impey to get the five stars for best on ground and my lord he is unlucky.
Coming off a contract extension during the week, Impey was enormous with 28 disposals, 12 marks, five tackles and four rebound 50's.
Impey's ability to impact all around the ground was elite, working deep into defence but also having the dare to work into the forward half and create a play.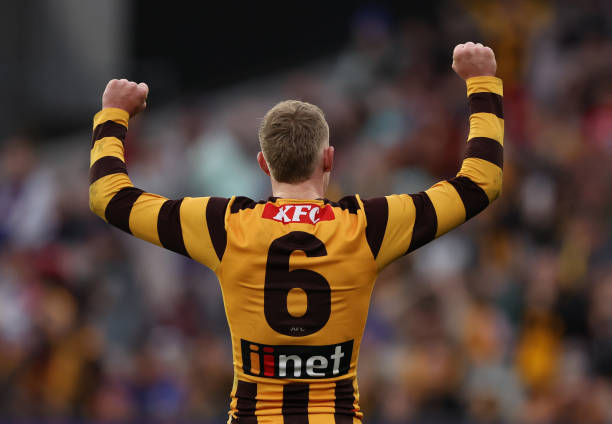 #5 James Worpel ⭐ ⭐ ⭐
This one may seem a little bit harsh because the disposal numbers are high, but the Worpedo's impact wasn't felt as strongly as some teammates.
I don't want this to seem like a criticism of his performance, because 30 disposals and five clearances is still great for an inside mid, but other numbers were lacking a little.
There were only five score involvements, four inside 50's and three tackles while using the ball at 63%, but like I said, three stars is nothing to be disappointed about!
#6 James Sicily ⭐ ⭐ ⭐ ⭐
Coming off the game against St Kilda where I would have given him six stars if possible, it was always going to be a tough act to follow, but the skipper was elite once again.
A massive 32 disposals, 12 marks, seven rebound 50's and some key defensive efforts throughout the match showed the two-way stardom of our captain.
Such is the way of the current AFL, there is sure to be some talk about Sicily's fourth quarter tackle on Hugh McCluggage, but let's cross our fingers for the skipper.
#7 Ned Reeves ⭐
It's a shame that I have to speak critically of any Hawk from this game due to the nature of the victory, but this is an individual rating system afterall.
The big noodle had 18 hit-outs, seven disposals, five tackles and one single mark, which are numbers that don't inspire me for a man of his size.
Momentum swung our way when Lloyd Meek was the main ruckman and considering Reeves' lack of impact anywhere outside of the centre circle, he needs to add strings to his bow before Meek runs away with the number one ruck role.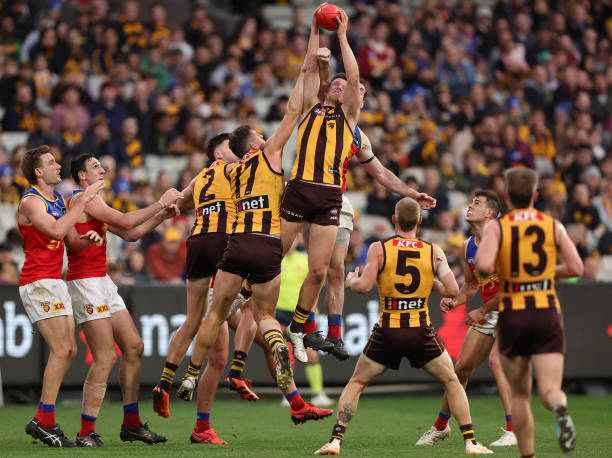 #10 Karl Amon ⭐ ⭐
The man who's fan club I am the CEO of, Amon has had a fantastic season so far but this won't make the podium for his best individual games this year.
Amon still had his 20 disposals, however his inside 50, rebound 50, mark and score involvement numbers were well down.
The smooth moving wingman also made some uncharacteristic skill errors that resulted in Brisbane goals and we have to call it as we see it at Talking Hawks. 
#11 Conor Nash ⭐ ⭐ ⭐ ⭐
Nash has been a clearance beast so far this season, so seeing a zero next to his clearance number in this game may confuse you considering his four star rating.
The benefit of being at the ground was seeing Nash's selfless role at stoppage, allowing Day and Newcombe to have clean clearance by nullifying two Brisbane players.
Individually he still had 25 disposals, six marks and six tackles which are really strong numbers for a midfielder, but the unselfish nature of his game was elite.
#12 Will Day ⭐ ⭐ ⭐ ⭐
This was a really gutsy performance from Daysy and considering the sore ribs he was carrying in and the shoulder injury he had early, it makes it even better.
He had 27 disposals, eight marks, six clearances, five score involvements, five inside 50's and showed some serious guts.
Not long after coming back onto the ground with a taped up shoulder, Day took a towering intercept mark that personified his character and courage.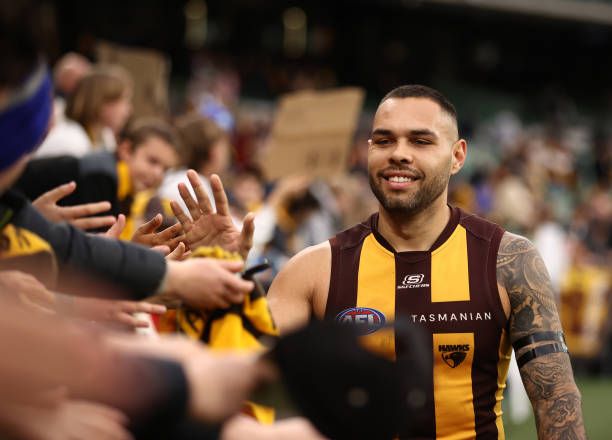 #13 Dylan Moore ⭐ ⭐ ⭐ ⭐
I have been the first to admit that at times I have been hard on Dylan Moore considering the difficulty of his role.
This was the Dylan Moore we know we can see, having 25 disposals, ten score involvements, five marks and kicked two goals, including the sealer late.
Moore's ability to work up and down the ground was on full display, laying a tackle in the Brisbane forward 50 during the first quarter.
#14 Jack Scrimshaw ⭐ ⭐ ⭐
For someone who has been in and out of the side this season and seemingly looking down on confidence, this was one of Scrim's best games of the year.
Asked to play tall on Hipwood and Gunston, Scrimshaw held his own defensively while still having 19 disposals at 95% efficiency.
We know what a classy player Scrimma is when he is up and going; his signature left foot back to slicing up the opposition defence.
#15 Blake Hardwick ⭐ ⭐ ⭐ ⭐
Another fantastic all around game from Dimma in this one, not only driving counterattack but also playing a seriously important defensive role in the second half.
Hardwick finished the game with 22 disposals and nine marks, with his ten fourth quarter disposals helping to put the final nail in the coffin.
Not only was his offensive drive important, he was given the job of stopping red-hot Charlie Cameron in the second half, holding him to four disposals and no score.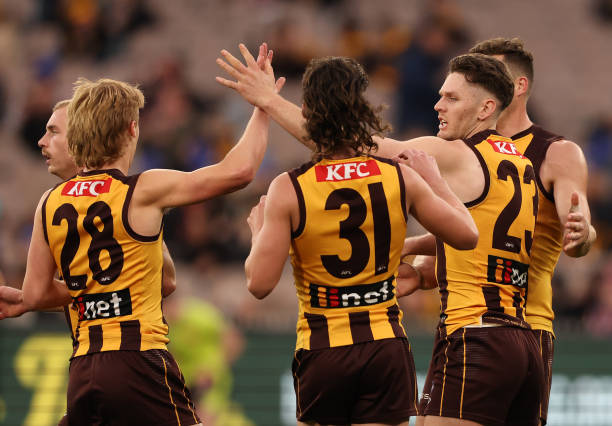 #16 Lachie Bramble ⭐
Bramble finds himself in the very small minority out of this game with a negative player review and he struggled in this game.
14 disposals, two marks, 50% disposal efficiency and a high number of fumbles, Bramble looked a little out of his depth.
With Harry Morrison and Josh Ward dominating at VFL level and Cam Mackenzie awesome as the sub, Bramble will have a nervous wait to hold his spot post-bye.
#17 Lloyd Meek ⭐ ⭐ ⭐ ⭐
Another week and another big step forward for Lloyd Meek's development, highlighted by coach Sam Mitchell as one of the catalysts for the big second half.
Meek was the more effective ruckman on the day but also worked around the ground having 14 disposals, four marks, five score involvements and kicked a third quarter goal.
I have been a big Meek supporter so far this season and after being tactically subbed early last week, he bounced back magnificently.
#22 Luke Breust ⭐ ⭐
Coming off his first five star performance of the season, it was always going to be a tough ask to back that up.
An uncharacteristic miss at the end of the second quarter sparked a Brisbane run on with three goals in three minutes, but Breust started the second half run with the first goal of the third quarter 20 seconds in.
He would be subbed out in the third quarter after suffering a corked quad, with the bye week coming at a good time for the veteran.
#23 Jacob Koschitzke ⭐ ⭐ ⭐
It is essentially a star for every goal kicked, but my goodness did the big man step up when it was required, which was fantastic to see.
He only had six disposals, three marks and a tackle which aren't massive numbers, but he made his moments count kicking three goals straight and taking a massive contested mark in the last quarter.
Considering he had kicked three goals in 2023 before Round 13, the fact he could double this number in one game is a positive step for the maligned Hawk, who's out of contract at the end of the year. 
#28 Cam Mackenzie ⭐ ⭐ ⭐ ⭐
Talk about impact!!!
Frenchie came into the game in the third quarter and was busy from the get go, having three disposals and a goal assist, before having a massive last quarter and being instrumental in the victory.
Nine disposals, four marks, four inside 50's and a goal assist in the last quarter while using the ball at 89% shows what we already knew; this kid oozes class.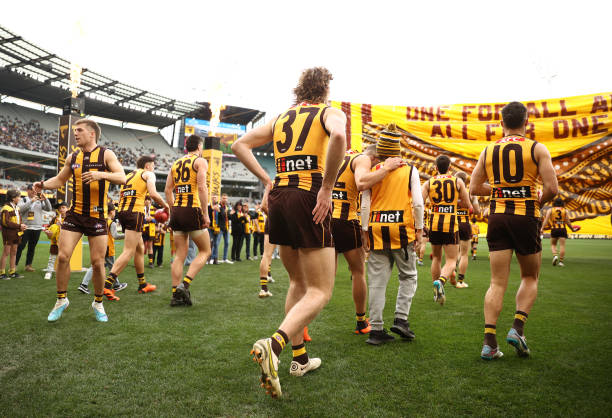 #30 Sam Butler ⭐ ⭐
Similarly to Kosi before, this is kind of a star per goal for the young small forward who made his moments count in a big way.
Just the seven disposals, one mark and one tackle, but the first quarter goal was a highlight before putting the cherry on top with a late goal in the fourth.
Whilst it wasn't his biggest individual performance, the synergy being created with this forward group is so exciting and Butler looms to play a big part in it.
#31 Connor MacDonald ⭐ ⭐ ⭐ ⭐ ⭐
The 20 year-old boy from Doveton claims his first five star award, with his career defining game so far.
28 disposals, 12 score involvements, three direct goal assists, two goals and 19 pressure acts read his day in what was a dominant performance by the young gun.
After being sent to Box Hill, MacDonald's attitude has been unbelievable with two strong performances as the sub and now two strong games in the starting 22. 
There is zero doubt about it; the future is so bright for this kid.
#33 Tyler Brockman ⭐ ⭐ ⭐
Every week we see Brockman creeping further and further up the ground and each week I get more and more excited about his upside.
He had 17 disposals, six marks, five score involvements and three tackles, buying into the forward handball game style with 13 of his 17 disposals being handballs.
I feel like I say it every week, but good things happen when Brockman touches the ball, with Fox Footy commentators agreeing, voicing the same sentiment throughout the match.
#36 James Blanck ⭐ ⭐ ⭐ ⭐
This version of the player review has been the perfect example of stats aren't everything, with James Blanck being the perfect example of this.
If stars were based on disposals, Blanck gets one for every disposal, but holding the red-hot Joe Daniher to 10 disposals and one behind was a massive factor in winning the game.
At no stage did Blanck look vulnerable in contested situations, while also showing his confidence by coming off his man and taking multiple intercept marks.
#37 Josh Weddle ⭐ ⭐ ⭐
The first half of the duo I am coining "the duo of dash", Weddle just keeps impressing with every appearance.
The writing was on the wall with Weddle sent to Charlie Cameron early, before being freed up and allowed to use his run and you guessed it; dash.
Weddle had 18 disposals, took five marks, had 344 metres gained and looked sure down back in what looks to be a home-run first-round pick from the 2022 draft.
#40 Seamus Mitchell ⭐ ⭐ ⭐
Meet the second half of the "duo of dash", with Mitchell slotting back into the side seamlessly which is a fantastic sign for a young player.
Seamus had 21 disposals, four marks, five score involvements and used the ball at 90% in what is one of the great stories of the Hawks playing list in 2023.
Despite having a few shaky moments early, to see Mitchell have the confidence to run and bounce away from Charlie Cameron is insane and the Duo of Dash shapes to be massive parts of this teams future.