Well, I think I speak for the majority of Hawks fans reading this article when saying this was the kind of game where you bank the four points and forget the rest. 
It was an extremely scrappy and sloppy game under the Marvel roof, highlighting the ladder positions of both teams involved in the match. 
Thankfully, the Hawks found their kicking boots at halftime, kicking away and winning by 48 points against a North team that hasn't won since March. 
With a big win considering the result and some massive wins in some key statistical areas, this is going to be a pretty positive review so strap in!
#2 Mitch Lewis ⭐ ⭐ ⭐
If you could accept three goals before the bounce, you would take it every day of the week and twice on Sundays, making this game a three-star performance!
Granted, it wasn't Lewis at his most dominant with just the nine disposals and three marks, but the three goals and six score involvements are beautiful for a tall forward.
When we needed someone to put a stop to the goal-kicking disaster, Lewis kicked two massive goals early in the third which ignited the big run. 
#3 Jai Newcombe ⭐ ⭐ ⭐ ⭐
Newcombe was the man I predicted to storm home and win the Best and Fairest and after a five-star game last week, he backed it up with another monster game.
The Duke had 33 disposals, six marks, nine score involvements and seven clearances while flexing his muscles on the Roos in several scuffles. 
His kick-to-handball ratio was heavily weighted towards handballs, but with ball users like Amon, Ward, MacDonald and Day all racking up the disposals, that isn't a negative!
#4 Jarman Impey ⭐ ⭐ ⭐ ⭐
It was a welcome return to form for Jars, after missing the Carlton game and looking a shell of himself against GWS last week. 
Impey was back to his damaging best under the roof, with 24 disposals, seven score involvements, six inside 50's, 601 metres gained and a goal of his own. 
Despite having some doubters amongst the fan base, I would not be surprised to see Impey poll well come Peter Crimmins night!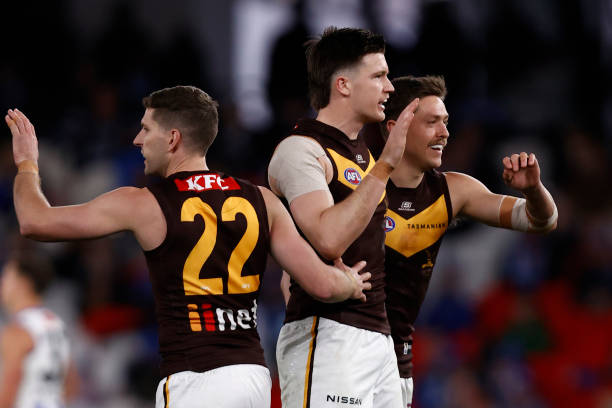 #5 James Worpel ⭐ ⭐ ⭐ ⭐ ⭐
If Newcombe was trying to run away with the Best and Fairest, this guy is not making it easy for him!
The Worpedo was an absolute monster in this game, with 32 disposals, five marks, six tackles, 10 score involvements, seven clearances, nine inside 50's and a goal.
What makes these numbers even more impressive, is the fact he spent a total of 35 minutes on the bench thanks to cramps in the last quarter. 
#6 James Sicily ⭐ ⭐
The skipper was welcomed back from his four-week absence (including the bye) with a hard tag courtesy of Eddie Ford. 
This resulted in a fairly quiet day for Sicily, managing 17 disposals and five marks which for his lofty standards, seems insignificant. 
We have to give some credit to Ford, who followed Sicily around and limited his impact, but there is no coincidence the backline functioned better with the captain back.
#7 Ned Reeves 
Another week, another donut from Ned Reeves and some of you may think it is harsh because he had some flashy hitouts to advantage. 
However, this is a full game grading and when you deep dive into his ruck numbers, as well as watch him away from ruck contests, it was another poor outing.
Reeves had 24 hit-outs from 59 contests, right around a 40% win rate, gave away three free kicks, used the ball at 33% and dropped countless simple marks. 
The coaches and selection panel must be seeing something I am not because to be brutally honest, I am stunned he is still playing AFL footy without a trip to Box Hill.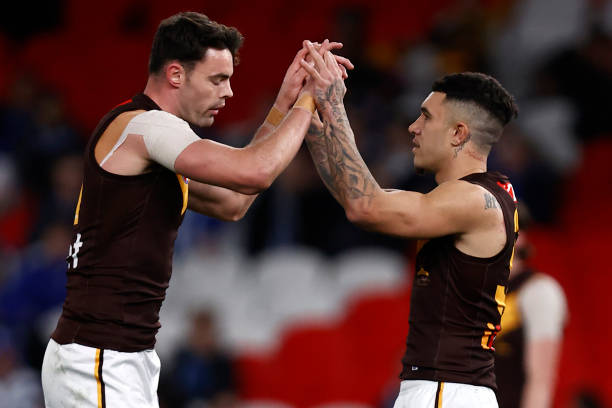 #8 Sam Frost ⭐ ⭐ ⭐ ⭐
The best Sam Frost game we have seen in 2023 by a long, long stretch, with the Snowman doing the kind of job I have been asking of him for months!
With James Blanck out of the side, Frost was given the task of Nick Larkey and kept him to only eight disposals, two marks and one goal while winning multiple key contests.
The positives don't end there, with all of Frost's 8 disposals being effective, ensuring that we did not see one of those trademark Frosty brain fades!
#10 Karl Amon ⭐ ⭐ ⭐ ⭐
Amon has reportedly been playing sore, with his form post-bye suggesting some truth to this, but he was back to his absolute best in this one. 
The silky smooth mover had 33 disposals, eight inside 50's, five score involvements, four marks and kicked a massive third-quarter goal. 
It is fair to say the Hawks have the value for their money in 2023, with Amon being a picture of class and consistency. 
#11 Conor Nash ⭐ ⭐ ⭐ ⭐
I feel like Oprah right now handing out these four-star ratings, but I couldn't give Nash anything less for his work against the Roos.
The Irishman kept his career-best year going, having 32 disposals, nine score involvements, nine inside 50's, four clearances and four tackles. 
The combination of Newcombe, Worpel and Nash was dominant around the middle of the ground, all of them complementing each other's games.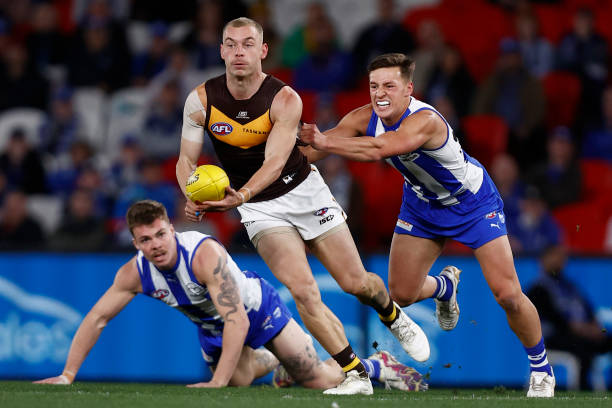 #12 Will Day ⭐ ⭐ ⭐ ⭐
What a smooth-moving midfielder this guy looks to be and despite his centre-bounce attendances not being as high as some weeks, still produced in a big way.
Day had a brilliant balance of offensive class and defensive grunt, with 28 disposals at 86% but also had a team-high seven tackles.
Considering his age and experience in the position, you can't help but be extremely excited about Day as a prospect. 
#13 Dylan Moore ⭐ ⭐ ⭐
I have to be completely honest, I was stunned when I saw Moore's disposal tally at the end of the game but he did impact the game. 
The 27 disposals shocked me, with only eight kicks potentially being the cause of this, but Moore also had six score involvements and five tackles. 
It was a challenging three weeks for Moore as captain, but hopefully now with a bit more freedom, he can finish the season on fire. 
#14 Jack Scrimshaw ⭐ ⭐ ⭐
We are starting to see the best of Jack Scrimshaw come out and it is a welcome sight that is for sure!
23 disposals off half-back, with eight marks, five score involvements and forgetting the near disaster turnover in the third quarter, was solid as a rock with the ball in hand.
I am still a little unsure what Scrimshaw's role looks like from here on out, but he has shown an ability to play tall and small which is in his favour.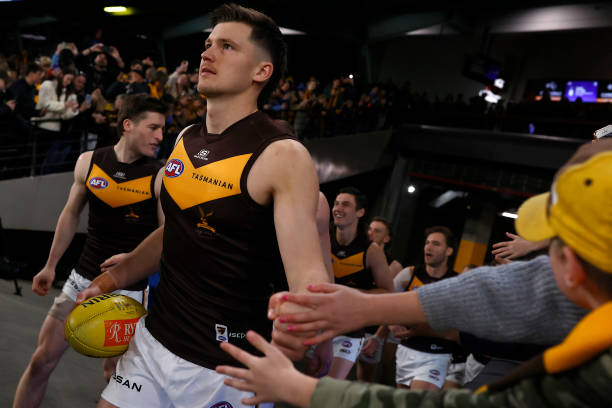 #15 Blake Hardwick ⭐ ⭐ ⭐
Without trying to offend young Cooper Harvey at all in his second game, Blake Hardwick would have taken a deep sigh of relief walking up to him today after his battle with Toby Greene last week.
It wasn't anything special by Dimma, with 17 disposals, seven rebound 50's, six marks and four tackles, but he patrolled the backline magnificently. 
The serious level of consistency Hardwick has played with this year has him sitting pretty in the player review leaderboard and three stars this week won't hurt. 
#17 Lloyd Meek 
Despite our midfield being so good and doing so well in this review article, both of the rucks were again disappointing in my eyes. 
Meek has been my personal favourite out of the two, but wasn't at his best today, with just the 15 hitouts from 37 contests, 10 disposals at 30% and one mark. 
The Hawks duo won the hit-out tally overall, coming up against Tristan Xerri in just his second game post-serious injury, but Xerri outworked both in a big way with eight tackles and seven clearances. 
#20 Chad Wingard ⭐ ⭐ ⭐
I genuinely thought we wouldn't see Chad again in season 2023, but his form has improved, with this probably his best four-quarter game since returning.
Chad had 18 disposals, six score involvements, including three direct goal assists, six marks and four tackles. 
Overall efficiency kept Wingard from getting that fourth star, with just 56% disposal efficiency and kicking two behinds from his two opportunities at goal.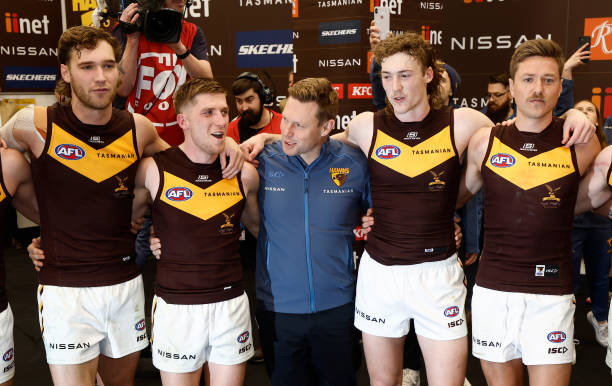 #22 Luke Breust ⭐ ⭐ ⭐
Name a more iconic duo than Luke Bruest and kicking goals, because it is so uncanny with how productive he is. 
He is well past the stage of working up the ground and having big disposal numbers, with only seven to show for in this game, but he kicked three huge goals.
It should have been four, with a snap shot hitting the post, but at this stage of his career, he is doing so much good for this group.
#24 Denver Grainger-Barras ⭐ ⭐
Turns out my comments on the DGB scenario in last week's review (check it out if you don't understand the reference) were spot on, with the youngster demoted to sub this week. 
He came onto the ground and took a mark, which was encouraging, but his initial kick was smothered and the follow-up was a direct turnover. 
DGB did manage to kick a second goal in two weeks and had some garbage time touches late, but unfortunately for the sake of the player, I nailed it last week.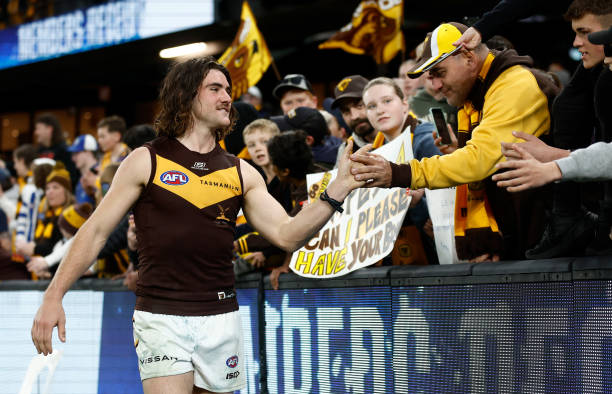 #25 Josh Ward ⭐ ⭐ ⭐ ⭐
Since returning to the side against Carlton, Ward has taken to the wing role opposite of Karl Amon like a hand in a glove, looking very good again under the roof.
Ward had 28 disposals, five marks, five score involvements and four clearances on the day and looked cool and calm with the ball in hand around the ground. 
While all of us Hawks fans love seeing Ward cement his role, a specific player wearing jersey number one could be starting to feel very nervous about where he stands.
#26 Fergus Greene
Have to feel for the Ferg, who was managing to hold his spot in the side thanks to scoreboard production, but today did not help.
After suffering a knee injury, Greene tried to continue playing through but did not look right and was eventually subbed off in the third quarter. 
He only managed six disposals and a behind before the injury, but the most important thing is that the injury isn't serious.
#31 Connor MacDonald ⭐ ⭐ ⭐ ⭐
I mentioned on a Talking Hawks podcast last week (another shameless plug), that MacDonald looked to finally be comfortable in his half-forward role and this game was more proof of that.
Another big day for the flying mullet, with 27 disposals, six score involvements, four inside 50's and he managed to snag a goal late. 
Some fans have been a bit impatient, wanting to see some midfield time for C-Mac, but let's appreciate the growth of C-Mac the half-forward in 2023.
#32 Finn Maginness ⭐ ⭐ ⭐
Similar to my comments on Chad Wingard earlier in the piece, I didn't expect Finn to get back into the senior side this season, but he was solid!
He managed to get 19 disposals, thanks to nine in the last quarter, but used the ball at 90%, had seven score involvements and took four marks. 
It seemed like the coaches weren't 100% set on a role for him, spending time on Tarryn Thomas and Harry Sheezel, but Finn did what he had to do with the ball in hand.
#33 Tyler Brockman ⭐ ⭐ ⭐
The amount of clever taps and knock-ons that Brockman had during this game, was unbelievable, showing that stats aren't everything. 
Brockman had 11 disposals, five tackles, four marks, four score involvements and kicked a goal for himself. 
However, those little acts like the toe pokes, the knock-ons and the harassing pressure, were so much more valuable than the 11 disposals. 
#37 Josh Weddle ⭐ ⭐ ⭐
If there was one piece of play to get you excited about the future from this game, it was Weddle streaming through the centre of the ground and hitting Fergus Greene on the chest.
Weddle didn't have his most industrious day stats-wise, with only 14 disposals and four marks, but he had a whopping 407 metres gained from those 14 disposals.
It is hard not to love watching Weddle and even though some of the time it looks like his legs are moving faster than his brain, the confidence is amazing to see.