There is an old saying in footy that you start the game like you ended your last, and for the Hawks, that could not have been more accurate.
After running out of legs against the Tigers last week, we never had them to start with, allowing a nine-goal first quarter to put us behind the eight-ball.
Whilst the signs were good from there on out, with surges of goals that threatened a comeback, three-quarters of footy doesn't win you a game.
There are some real positives to take out of the game, but also some really poor showings with all to be discussed below!
#2 Mitch Lewis ⭐ ⭐ ⭐
Whilst it wasn't a day where he stuffed the stat sheet, Lewis looked dangerous and minus some uncharacteristic misses in front of goal, would have been a great day.
Only had eight disposals, but seven of those were score involvements, he took four marks and kicked two majors with two misses.
The big forward is drawing the attention of the league, with some of the best defenders keeping a close eye on him lately, which is only improving his development.
#3 Jai Newcombe ⭐ ⭐ ⭐
One of the many midfielders who would have been bitterly disappointed with the first quarter, Newcombe found a way to influence the game from that point.
He had 20 disposals, six clearances, five tackles and 14 pressure acts, showing his brute strength around the contest.
While it wasn't his best game of the season, he still showed his class with some elite goal assists to Mitch Lewis and Will Day from difficult kicks.
#4 Jarman Impey ⭐ ⭐ ⭐ 
Seemed to be one of the only Hawks to bring the heat in the first quarter while others were down, with it not stopping after that.
The dashing half-back had 31 disposals, 11 marks and seven score involvements, as well as 502 metres gained in what was a stand-out game.
There were a few moments he would like to forget in the last quarter, but overall he was one of our best on the day.
#5 James Worpel ⭐ ⭐ ⭐ ⭐
Worpel was the president of the club with few members, the players who had a solid first-quarter performance.
He had 12 disposals and three tackles in the first quarter, the only midfielder challenging the statisticians, before finishing with 30 disposals, eight score involvements and seven clearances overall.
It has been some season by the Worpedo, who now comfortably sits in the top 10 for clearances in the AFL, which is a credit to his work this year.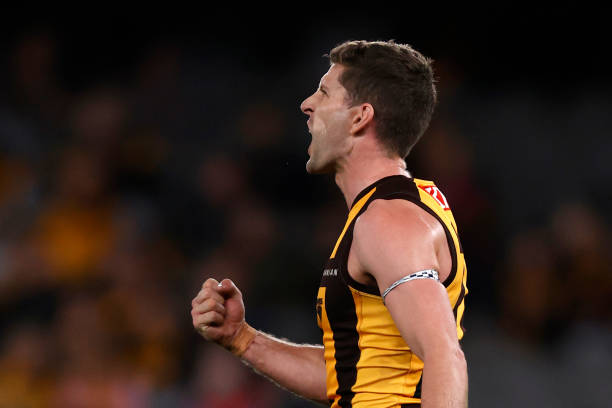 #6 James Sicily ⭐ ⭐ ⭐
The captain was never going to be able to replicate the genuinely absurd numbers he had against the Saints early in the year, but even his 26 felt quiet.
He had Cooper Sharman following him everywhere and didn't have the same impact, despite 26 disposals, seven marks and six rebound 50s.
It was obvious Sicily looked more comfortable with James Blanck on the ground, allowing him to play with some more freedom.
#8 Sam Frost
One silly act was all it took for momentum to be taken away for a short period of the third quarter and stall progress.
Frost had 12 disposals, five marks and four tackles in what wasn't the worst performance, but that one act was inexcusable for a member of the leadership group.
I have been critical of Frost's play at times throughout the season, but this was arguably the most disappointing moment of his season so far.
#11 Conor Nash ⭐ ⭐
This would have to be on the podium for one of the most unassuming 20 disposal games of the season so far, with Nash's work being down inside.
21 disposals (15 handballs), eight score involvements and five clearances, but he lacked the trademark pressure with no tackles and only 11 pressure acts.
While Nash's clearance and stoppage work has been invaluable, it has been the pressure and tackling that sets him apart from the other midfielders.
#12 Will Day ⭐ ⭐ ⭐ ⭐
Congratulations to Daysy on playing his 50th game and here's to hundreds more in the brown and gold!
It was a typically classy and damaging performance, with 22 disposals, 11 marks, six score involvements, six inside 50's, five rebound 50s and two goals of his own.
This was the ultimate Will Day game, with damage forward of the ball, help in defence when required and nothing but pure class.
What a star!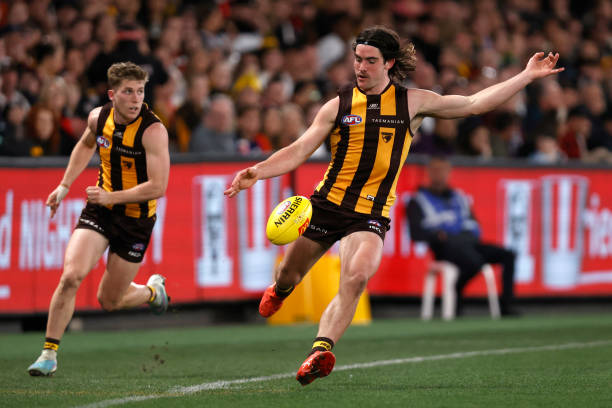 #13 Dylan Moore ⭐ ⭐ ⭐
It was good to see Moore back doing what he does best and that is involving himself in damaging scoring chains.
He had 20 disposals on the day, but nine of those were score involvements, while also kicking a goal of his own.
The marking numbers haven't quite been there compared to last season, but he is at his best when he can impact scoring thrusts.
#15 Blake Hardwick ⭐ ⭐
Dimma was trusted with the job on the dangerous Jack Higgins and it wasn't exactly the number 15 at his shutdown best.
Higgins managed five shots at goal from his 12 disposals, while Hardwick had 19 disposals and only 166 metres gained.
While the Hawthorn backline was under the pump early, it would have been nice to see a leader of the back six group calm the play down and kill the momentum of the Saints.
#16 Lachie Bramble
The option to play Bramble ahead of Scrimshaw in a defensive role was a head-scratcher initially, with the confusion being confirmed at Marvel.
Bramble got his hands on the ball early, with 13 first-half disposals, but used the ball at 37% efficiency and made numerous costly errors.
After halftime, he could only conjure two disposals and with Scrimshaw racking up 32 at VFL level, this selection choice looks like a massive blunder.
#17 Lloyd Meek ⭐ ⭐ ⭐ ⭐
Talk about someone making the most of their opportunity!
The big ruckman has made it near impossible to relegate him back to the VFL next week.
After a tough first quarter, Meek responded unbelievably, undoubtedly winning the matchup with All-Australian contender Rowan Marshall.
Meek had 10 disposals, five tackles and 46 hit-outs, nearly doubling the total of Marshall.
He also showed some ruck craft with some pure hit-outs to advantage, a stat Hawthorn won convincingly.
With Darcy Cameron next week, a similar type of ruckman to Marshall, it would be an egregious decision to bring Ned Reeves back into the side at the expense of Meek.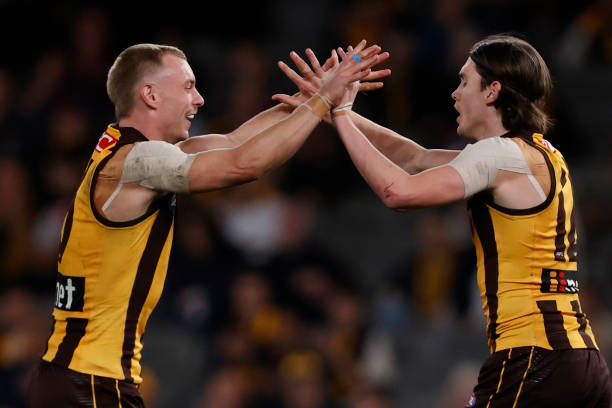 #20 Chad Wingard ⭐ ⭐ ⭐ ⭐
Chad is genuinely playing like a man playing for his career, with the livewire forward producing one of his best games in the brown and gold.
Wingard had 26 disposals, seven marks, five tackles, 10 score involvements and kicked two goals, not only showing offensive X-Factor but also defensive heat.
The Hawks number 20 can count himself extremely unlucky not to have an extra star next to his name, with this next man to feature in the article to blame.
#22 Luke Breust ⭐ ⭐ ⭐ ⭐ ⭐
Class is something that never goes away and Punky is proving this to people week in and week out.
The efficiency he is playing with at the moment is incredible, with his eight disposals and six marks producing six goals straight!!!
When one of the all-time great small forwards equals his career-high for goals in a game, you have no choice but to give them five stars!
#25 Josh Ward ⭐ ⭐
It seems odd that Ward has played great football on the wing since coming back from injury, we are missing our number one wingman, and he doesn't play much wing?
He had one of his lower games since the five-star Carlton game, with only 15 disposals, four score involvements and three marks.
Ward was the one who got hurt the most by Finn Maginness stopping the Sinclair tag, with his position being taken by him and the rotation seemingly stopping him from finding his groove. 
#28 Cam Mackenzie
A rough game for the youngster, who looked to struggle to get back up the speed with the AFL game after a few weeks away.
Only the seven disposals for Mackenzie, who was overwhelmed in the first quarter by an all-conquering Saints midfield when given his chance around the ball.
The trademark decision-making and skill execution even abandoned him, on a tough reintroduction back to senior football.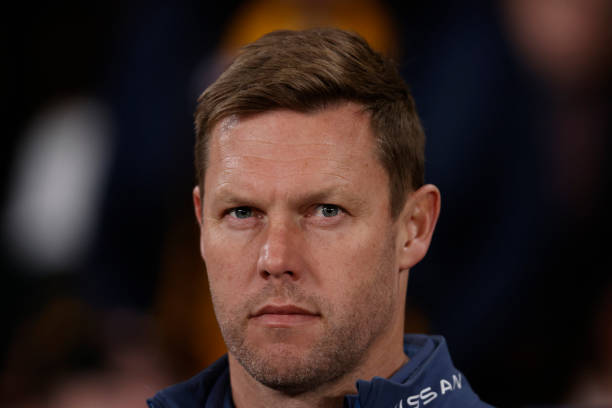 #31 Connor MacDonald ⭐ ⭐
Potentially starting to feel the pinch at the end of a long season, considering he has only recently celebrated his 20th birthday.
In no way was MacDonald poor, with 18 disposals, five tackles and five score involvements, but not quite up to the standard he has shown at times.
A significant time trait of young sides late in a season is inconsistency, which has shown with the side and C-Mac in the last fortnight.
#32 Finn Maginness
Started the game with the job on Jack Sinclair,  and when things went sideways for the Hawks, the tag was released to try and get back into the game.
Maginness played a mix of wing and forward, looking lost for big stretches of the game without someone he had to chase around.
This can be the problem presented by playing a pure tagger because if things go wrong and the tag is released, it can throw off their whole day.
#33 Tyler Brockman
Another of the Hawk youngsters who could be running on empty towards the end of the year, with Brockman lacking his usual zip and flair.
Just the eight disposals, four score involvements and one behind for the usually dangerous forward on what was a day he will be looking to improve on.
Like MacDonald, Brockman is only 20 years old and after no AFL exposure last year, could be hitting the wall at this point of a long season.
#36 James Blanck ⭐ ⭐ ⭐
Arguably the strangest sub choice of the season league-wide, Blanck came in late in the second quarter and instantly made our back six looks more assured.
There was a plan there by the coaching panel, but considering the state of our defence before and after his introduction into the game, it looks like the wrong call.
Not only was he able to sit on one of the Saints' talls and compete, but it also allowed Sicily to become a lot more dangerous in the air and around the ground.
#37 Josh Weddle ⭐ ⭐
With some of his young teammates looking ready for the end of the season, Weddle still looks like he wants to run every chance he gets.
The young flying mullet had 17 disposals at 88% and took six marks, but only had the 78 metres gained, choosing to handball more often than kick.
Some fans are concerned with his decision-making, but I would prefer Weddle to push and find the boundaries now to prepare for 2024.
#40 Seamus Mitchell
The youngster looks like he was the scapegoat for a selection mistake, being subbed out of the game early for Blanck to come in.
I don't think Mitchell did a lot wrong in his 36 minutes of game time, with five disposals at 80% and three marks, but the Hawks needed more height.
Mitchell has been a shining light and despite being subbed out here, this should not kill his confidence for what has been a great first year.
#46 Brandon Ryan ⭐ ⭐ ⭐
One of the big shining lights that will come out of this game is the debut of the man known as Sticks, providing a lot for the Hawk's forward line.
He had only eight disposals, but took five big marks and kicked a goal while having two other shots at the big sticks.
With the gaping hole next to Mitch Lewis, it was nice to see an extensive second forward look dangerous on the lead, compete in packs and hit the scoreboard!